Selena Gomez and Demi Lovato, Former BFFs and Barney Co-Stars, Have Reunited at Last
The pair posed together on the red carpet.
---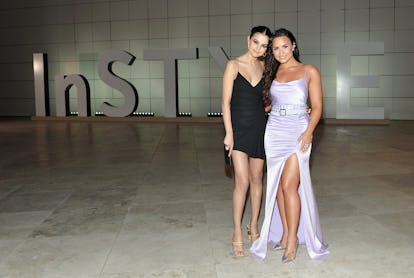 Donato Sardella/Getty Images
There is nothing the world loves more than a good celebrity feud: Mariah Carey vs. J.Lo; Jennifer Aniston vs. Angelina Jolie; Taylor Swift vs. Kanye West; Taylor Swift vs. Katy Perry; etc.
But, there may actually be one thing better than a public falling out: a public rekindling. And on Monday night, everyone was treated to just that, thanks to Selena Gomez and Demi Lovato posing together while attending the InStyle Awards in Los Angeles.
For anyone who is curious as to why this is a big deal, here's a recap of events: the duo first met in 2002 when they appeared on the television show Barney and Friends as the titular friends of the big purple dinosaur. Both seven-years-old, the pair hit it off and stayed in touch throughout the years. By 2008, Gomez was starring in her own Disney Channel series, Wizards of Waverly Place, and Lovato scored the lead role in the Jonas Brothers' Disney Channel movie Camp Rock. It was around that time that Gomez also happened to be dating the youngest of the brothers, Nick Jonas (Lovato would later briefly date Joe Jonas). All was good in the House of Mouse, as the pair made frequent public appearances together at places like the Teen Choice Awards, and even co-starred in their own Disney Channel movie, Princess Protection Program, together.
Cut to 2010, however, and Gomez and Lovato no longer seem to be close friends. Gomez, in fact, had joined the squad of another pop princess, Taylor Swift. Rumors of a friendship breakup seem confirmed as a paparazzi asks Lovato how Gomez is doing. Her response? "Ask Taylor." Yikes. When asked about the relationship in Girls Life magazine the same year, Lovato said, "We're both busy, and I wish the best for her. True friends don't let their friends or family be mean to you. If you can't trust somebody, you can't be friends with them." Again, yikes. But later that year, Lovato checked into rehab, and noted that Gomez was among the first to call her.
From there, the pair made a few sporadic reunions over the years, every so often posting a picture together to tease the Delena army. Just last week, Gomez showed her support for Lovato's new documentary, commenting on an Instagram post, "This was beautiful. I'm so happy for you. You always continue to be bold and real. I wish more people were like you. Love you."
So, it seems that all may be well for our star-crossed pop stars once again, especially now that there is some photographic evidence—for reference, the last official event they posed for together was in 2013. For the occasion, Gomez wore a slinky black dress by Jacquemus, while Lovato seemed to channel the duo's origin story, wearing a slinky purple Alice & Olivia gown and matching eyeshadow—clearly a nod to the big friendly dinosaur who first brought them together.
Related: Demi Lovato Opens Up About Being Single and Addressing Her Addictions In Her New Album
Watch: 7 Infamous On-Set Hollywood Feuds