Leave Selena Gomez's Instagram Alone
By obsessively monitoring, say, which accounts she follows, Gomez's fans are only worsening her struggles with anxiety and depression.
---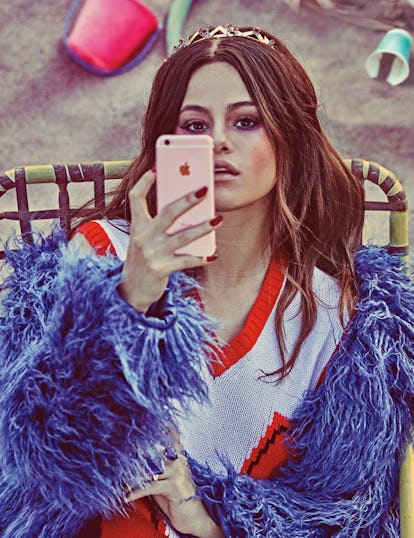 When Selena Gomez pinpointed her most difficult relationship recently, one would have assumed that she was referring to the one with Justin Bieber, especially with all the rumors swirling around their on-again-off-again status. But the most followed Instagram user in the world wasn't even thinking on an interpersonal level. She was talking about her relationship with the app, where her 134 million followers—plus, of course, everyone else who is watching without following—have put her under constant watch and unfathomable pressure. (Her following has also burdened Gomez with added, constant responsibility of making real estate decisions, since she's has been estimated to make $550,000 per post.)
Case in point: Gomez made headlines this week when she unfollowed one of her so-called BFFs, the photographer Petra Collins. Perhaps it was because Bieber is now the only photographer she cares about; perhaps it was because Coach would prefer her to keep her distance from someone so close to Gucci. Perhaps it's because she got word of the rumors that Collins has replaced Jennifer Aniston in the heart of Justin Theroux—or perhaps it was because her finger (or her assistant's) simply slipped on her iPhone!
One may never know, and one likely will never need to know. What's becoming increasingly salient is how absurdly closely Gomez's Instagram is being monitored—never mind that it's been triggering her anxiety attacks. Sure, it's news when Instagram's most followed user takes a break from social media, or suddenly makes her account private, or even suddenly goes on a significant unfollowing spree. As for when her ex deletes several photos of her from his feed, and she unfollows him in return? That's definitely much more questionable.
Still, it's been hard for many—including, of course, [raised hand] this website—to resist, especially when Gomez's Instagram can offer some of the only clues about her life or her relationships, since she prefers to maintain a certain level of privacy. There's only so much of that you can do when you've opted for a life in the public eye, but nevertheless there is a line, somewhere. It has become clear that Gomez deserves some respect. which she has made her case for over the years. She took a break from social media in 2016 in part because it was damaging her efforts to fight off Lupus and depression, and she displayed her anxiety with the platform by making her account private and then public again within the space of less than 24 hours. She also explicitly told the New York Times that she deletes Instagram from her phone "at least once a week" because of its constant influx of negative comments.
Less than a year ago, Gomez also quite publicly said that she didn't even know her Instagram password—she'd chosen to leave the account in the hands of her assistant because, especially since her account became Instagram's most followed, whenever she looks at the app, she "always end[s] up feeling like shit," as she told Vogue in their April cover story.
Whether it was at the hand of Gomez's assistant or herself, she started off the new year by unfollowing more than 270 accounts, including those belonging to noted friends of hers like Demi Lovato. Since then, she's also unfollowed Louis Vuitton designer Nicolas Ghesquière, no doubt in part because she's a Coach girl now, but kept her following count at 37—until she just unfollowed Collins.
You can follow certain people; you can get notifications every time those people post; and yes, from both a cultural or monetary point of view, monitoring who has the most followers does have some merit. Monitoring someone's following count (and then assigning wild theories when it varies), though? That's maybe a step beyond—especially when you consider that Gomez and her mother, for example, follow and unfollow each other all the time, and Gomez and Bieber don't even follow each other.
Besides, Gomez wouldn't lay her cards out that explicitly; if there's anyone who knows how closely she's creeped on, it's definitely Gomez. (If she even remotely cares about keeping up with those close to her via the app, rather than the brands she's paid to represent, she'd make like the rest of us and have a finsta, anyways.) From the start, in fact, when it comes to tools like Instagram, Gomez has always been two steps ahead: "I'm utilizing social media right now because of my age and because, to be honest, everybody else in the world was talking about me, so I wanted a fucking say," she told W back in 2015. "I honestly had to, because I didn't really expect my life to be as public as it was."
Even more than two years ago, though, Gomez was under no illusions that she'd "have to" put up with it forever. "In a few years," she said, "I'll give all of it up." In fact, she might already be in the process of doing so—you can hardly blame her for having a little fun by messing with us first.
Related: Selena Gomez Says Her "Most Difficult Relationship" Is With Instagram
Selena Gomez's Style Evolution, From Disney Days to Fashion Forward Superstar
Selena Gomez arrives to the 23 Annual IMAGEN Awards on August 21, 2008 in Beverly Hills, California.

Getty
Selena Gomez arrives at the Teen Choice Awards 2009 held at the Gibson Amphitheatre on August 9, 2009 in Universal City, California.

Getty
Selena Gomez arrives at the 2009 ALMA Awards at Royce Hall on the UCLA Campus on September 17, 2009 in Westwood, Los Angeles, California.

Getty
Selena Gomez arrives at the People's Choice Awards in Los Angeles, California on January 5, 2011.

Getty
Selena Gomez arrives at Nickelodeon's 23rd Annual Kids' Choice Awards held at UCLA's Pauley Pavilion on March 27, 2010 in Los Angeles, California.

Getty
Selena Gomez attends the "Justin Bieber: Never Say Never" Los Angeles Premiere at Nokia Theatre L.A. Live on February 8, 2011 in Los Angeles, California.

Getty
Selena Gomez arrives at The 53rd Annual GRAMMY Awards held at Staples Center on February 13, 2011 in Los Angeles, California.

Getty
Selena Gomez arrives at the Vanity Fair Oscar party hosted by Graydon Carter held at Sunset Tower on February 27, 2011 in West Hollywood, California.

Getty
Selena Gomez arrives at the 2011 American Music Awards held at Nokia Theatre L.A. LIVE on November 20, 2011 in Los Angeles, California.

Getty
Selena Gomez arrives at Nickelodeon's 24th Annual Kids' Choice Awards at Galen Center on April 2, 2011 in Los Angeles, California.

Getty
Selena Gomez attends the 2012 Nickelodeon Kids' Choice Awards at Galen Center on March 31, 2012 in Los Angeles, California.

Getty
Selena Gomez arrives at the 2012 Vanity Fair Oscar Party at Sunset Tower on February 26, 2012 in West Hollywood, California.

Getty
Selena Gomez arrives at the 2012 Teen Choice Awards at Gibson Amphitheatre on July 22, 2012 in Universal City, California.

Getty
Selena Gomez arrives at the 2013 Billboard Music Awards at MGM Grand Hotel & Casino on May 19, 2013 in Las Vegas, Nevada.

Getty
Selena Gomez attends the German premiere of 'Spring Breakers' at the cinestar Potsdamer Platz on February 19, 2013 in Berlin, Germany.

Getty
Selena Gomez attends the 2013 Vanity Fair Oscar party at Sunset Tower on February 24, 2013 in West Hollywood, California.

Getty
Selena Gomez attends the 2013 Teen Choice Awards at Gibson Amphitheatre on August 11, 2013 in Universal City, California.

Getty
Selena Gomez attends the 2014 LACMA Art + Film Gala Honoring Barbara Kruger And Quentin Tarantino Presented By Gucci at LACMA on November 1, 2014 in Los Angeles, California.

Getty
Selena Gomez arrives at the "Rudderless" – Los Angeles VIP Screening at the Vista Theatre on October 7, 2014 in Los Angeles, California.

Getty
Selena Gomez arrives at the 2015 Vanity Fair Oscar Party Hosted By Graydon Carter at Wallis Annenberg Center for the Performing Arts on February 22, 2015 in Beverly Hills, California.

Getty
Selena Gomez attends the premiere of 'Getaway' presented by Warner Bros. Pictures at Regency Village Theatre on August 26, 2013 in Westwood, California.

Getty
Selena Gomez attends the 2014 American Music Awards at Nokia Theatre L.A. Live on November 23, 2014 in Los Angeles, California.

Getty
Selena Gomez attends the "China: Through The Looking Glass" Costume Institute Benefit Gala at the Metropolitan Museum of Art on May 4, 2015 in New York City.

Getty
Selena Gomez attends the 2014 Vanity Fair Oscar Party hosted by Graydon Carter on March 2, 2014 in West Hollywood, California.

Getty
Selena Gomez arrives to the 2015 MTV Video Music Awards at Microsoft Theater on August 30, 2015 in Los Angeles, California.

Getty
Selena Gomez attends 2015 Glamour Women Of The Year Awards at Carnegie Hall on November 9, 2015 in New York City.

Getty
Selena Gomez arrives at The 58th GRAMMY Awards at Staples Center on February 15, 2016 in Los Angeles, California.

Getty
Selena Gomez arrives at the 6th Biennial UNICEF Ball at the Beverly Wilshire Four Seasons Hotel on January 12, 2016 in Beverly Hills, California.

Getty
Selena Gomez arrives at the 2015 American Music Awards at Microsoft Theater on November 22, 2015 in Los Angeles, California.

Getty
Selena Gomez arrives at the 2016 Vanity Fair Oscar Party Hosted By Graydon Carter at Wallis Annenberg Center for the Performing Arts on February 28, 2016 in Beverly Hills, California.

Getty