Serena Williams Got the Sweetest Video Tribute by Alexis Ohanian Before the U.S. Open Final
Right before her U.S. Open final against Naomi Osaka.
---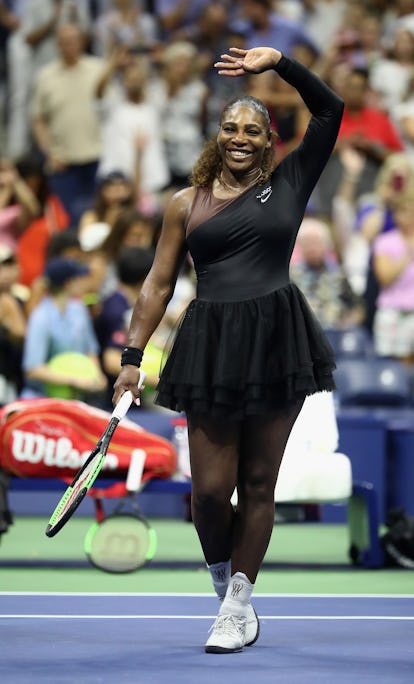 Julian Finney/Getty Images
With just a few hours to go before the tennis champion Serena Williams took on Naomi Osaka in the U.S. Open finals, it was clear that Williams had already won the Sweetest Spouse Ever tournament; her husband, the Reddit cofounder Alexis Ohanian, commissioned a video all about her hard work and inspiring journey. And you can't even get a text back.
Ohanian, who shares his name with his and Williams's daughter, posted the video to Twitter midday Friday, writing, "She fought for her life, for our child, for recognition, for equal pay, for women's rights. She never gives up. I had this made for @serenawilliams last night after her match with some home videos from 1 year ago this week. Help me make sure she sees it! #iloveyouserena."
Yeah, she probably saw it. Also, it seems like maybe this power couple has a video editor on retainer, whereas we all just have that auto-compilation thing your iPhone does with your photos.
In the minute-long video, Williams reflects on the difference a year makes. Around this time in 2017, she was at the hospital, "fighting for her life" after giving birth to her daughter, Alexis Olympia, via C-section, and suffering a pulmonary embolism during recovery. Now, she's grateful to be alive, and on the court.
Thankfully, Williams is clearly back on the path to world domination, and little Alexis is doing just fine as well. While her mom wore a black Nike tutu to compete, the junior Ohanian wore…the exact same thing. Because they have matching custom-designed mother-daughter Nike tutus. Because they are too adorable for this world and may in fact be trying to kill us.
As you swallow the bitter envy over not being in this family, remember that while we may not be internet gazillionaires or tennis champions, we can still fight for equal pay and equal rights. And matching tutus.
Related: Serena Williams Praises Nike for Colin Kaepernick Ad