Meet Serge Ruffieux, the Bold New Designer Re-Inventing the French Fashion House Carven
A behind-the-scenes veteran at big-name fashion houses, Serge Ruffieux comes into his own as the creative director of Carven.
---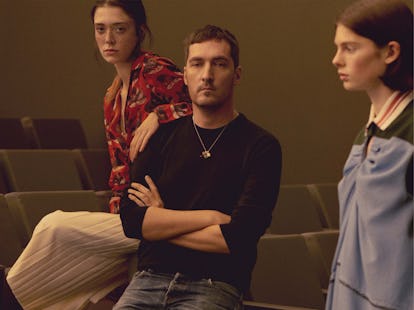 Photographs by Julia Noni; Styled by Elodie David-Touboul
In the fall of 2016, Serge Ruffieux made an appointment with his naturopath. At the time, Ruffieux was somewhat anonymously co-designing the women's collection at Dior as the house searched for a replacement for Raf Simons. The naturopath told him that another client of his was looking for someone to head a fashion house. Soon after, he mentioned Ruffieux's name to Sophie de Roguemont, the CEO of Carven, the Parisian ready-to-wear brand. The name resonated with her: Another friend had spoken of Ruffieux only a few days earlier. Soon, they were having dinner in a discreet restaurant. They met again in New York, and, in January 2017, Carven announced that Ruffieux was coming on as the brand's creative director. In the long and florid history of fashion-succession dramas, Ruffieux may be the only designer who owes his first solo gig to alternative medicine.
"I gravitated toward Paris fashion very early," Ruffieux said the other day, in his office at Carven's headquarters on the Left Bank. He was soft-spoken, maybe even a little nervous, and warmly correct—he's the sort of person who offers tea in a beautiful pot and insists that a visitor pass through a doorway ahead of him. He wore cuffed jeans, a black shirt, and a black and white foulard that he was disappointed to have just accidentally ripped on his chair. "I don't want to bother the seamstresses," he said, when I suggested he could easily get it fixed. Ruffieux grew up in a tiny Swiss village in the Joux Valley, mostly known for skiing and watches. He spent a lot of time ice-skating on the lake. It is perhaps unimaginative to suggest that a Swiss upbringing manifests itself in a person's fastidiousness, but in Ruffieux's case his father was an actual watchmaker. (He worked at Jaeger-LeCoultre, and Ruffieux's older sister is a horologist at Audemars Piguet.)
Details from Ruffieux's debut collection for Carven.|||
"Above all, I want to keep the attention to detail," Ruffieux said, of his plans for Carven. The company is owned by Bluebell, the Hong Kong–based luxury group. "That's something that's part of my family, and where I come from." He was talking about workmanship, rather than the random persnickety manias in which designers sometimes get caught up (even if he did obsess over trying to close the lid on an errant touch-free trash can). Grizzled leather volumes of old fabric samples were piled in a corner of the room. A bowl of fruit whose lack of aesthetic appeal suggested it was actually meant to be eaten sat on his desk. On his still-sparse bookshelves, I found some very cute raffia animals ("We did them for the shoes, but they were too big") and a vintage program from the Clyde Beatty Cole Bros. Circus that Ruffieux had picked up at a flea market. "It's less the spectacle that interests me than the identity," he said.
Ruffieux had a glamorous great-aunt, Clementine, who briefly worked at Schiaparelli before returning to the Jura to marry her childhood sweetheart. "She told me, 'I did it for love, but I always wanted to work in Paris,' " Ruffieux said. "She influenced me a lot." The first time he went to Paris, he was 20. He was a student at Haute Ecole d'Art et de Design Genève, and he'd signed up for a class trip. The train pulled into Gare de Lyon. While his classmates went to drop off their luggage at the hotel, Ruffieux jumped on the metro, headed for the 1st arrondissement. He was unworldly, but he wasn't oblivious; he knew exactly where he wanted to go. "I always bought the Paris magazines," he said. "I had the layout of the city, all its neighborhoods, memorized." Thirty minutes later, he arrived at the Junior Gaultier boutique on the rue du Jour, only to glimpse Madonna walking out the door. " 'It's not possible!' I said to myself," Ruffieux recalled. "From that moment, I was determined."
His first job out of school, though, was in Milan, with Moschino. "Italy is a less snobby place to work when you're starting out," he said. Milan was where his maternal grandparents lived, and Ruffieux grew up speaking Italian and vacationing on the Adriatic Coast. "I found myself in a region I knew by heart, where I'd had my first boyfriend," Ruffieux said. Moschino was a scrappy, freeing education. "I was finally in this reality of a career and of creation," he recalled. "I had to do a variety of things, and I adored that—I, who was a little fixated by this Swiss rigor." After Moschino, he felt ready, at last, to go to Paris, where, following internships with Thierry Mugler and Christian Lacroix, he signed on with Sonia Rykiel. For much of his five years with the company, he served as Rykiel's right-hand man. From there, he went to Dior, where he spent eight years doing basically everything, at one point or another. He is credited, during the interregnum in which he and Lucie Meier served as head designers, for having steadied the brand at a tricky moment, while injecting it with a flirtier vibe. (Meier has since moved on, with her husband, Luke, to Jil Sander.)
After the call came from Carven, Ruffieux went straight to the archives at the Palais Galliera, the fashion museum of Paris, in order to better acquaint himself with the history of the maison. Carven was founded in 1945 by Marie-Louise Carven, who was born Carmen de Tommaso, and was pretty much always referred to as "Madame." She was a character who supposedly got her start designing outfits for her cat, and who later kept kangaroos as pets. For her first collection, she circumvented the postwar fabric shortage with a full-skirted dress that she made from a roll of mint green cotton provisioned from the attic of a château. Fashion historians have surmised that it was probably originally intended for housemaids' uniforms. Anyway, that pastel green became her signature, and Carven's thing became a simple, girly look that was known to work particularly well for small women like Madame, who, at just over five feet, was told that she "would never be elegant."
I am also one of those women, and, as much as I appreciate Carven's cap sleeves and broderies anglaises and shrunken blazers, I've always felt that the house's "sweet, neat, and petite" reputation was a little reductive. It was Carven who abolished stuffing, horsehair, and padding; who thought about Morocco and Mexico before they became the standard inspo troves they are today. "Designers unfortunately think about making their mark on their design," Madame Carven said, at a ceremony for her 100th birthday, in 2009. "I didn't think of my designs like that. I thought about the young girls, the young women that I dressed, even my models, to show off their beauty to the maximum."
A proven keeper of flames, Ruffieux must now demonstrate that he can start his own fires. "The clothes have to be desirable and accessible," he declared, as he walked me through his debut collection in Carven's Paris showroom, which he had redone in plywood and fragments of Aubusson tapestries. There were barnyard prints, swingy little rugby shirts, bright and folksy moccasins that both the press and buyers had loved. Ruffieux had a gentle way of handling the garments. He was aghast, in a polite way, that they hadn't been steamed. He showed me how he was intent on "establishing codes, little by little": locker loops at the back of the neck, decorative stitches with a handmade look, a sort of charm bracelet that he'd added to the label. "I like that we can do things like have pockets," he said, pulling out a gathered periwinkle dress made from a Japanese technical fabric. The reigning aesthetic, he explained, was "a contrast between roughness and refinement—a slight departure for the house." His goal was to transform the basics. "There's a forgotten quotidian, certain tastes that we used to know and we don't anymore," he said. Like rutabagas, or turnips, I exclaimed, and he was surprisingly enthusiastic about my having taken his mission statement in the direction of root vegetables. He showed me how he'd used detachable rope handles, inspired by outdoor activities, for a series of leather bags. Earlier I had spied an old Ralph Lauren shirt hanging on a rack and wondered whether the prep-school button-down might soon be in for the Ruffieux treatment.
Before we left the showroom, to have lunch at a fancy restaurant nearby, Ruffieux paused. He wanted me to try on one of the cropped barn jackets that he'd made, their abbreviated silhouettes billowing out at mid-chest like big top tents. I've interviewed a lot of designers, and I don't think any of them would have ever looked at me and thought, Hey, five-foot-two woman who just had her second baby, why don't you model some of my clothing? The gesture really touched me. Ruffieux handed me the jacket, which was light as foam. I put my arms through the high-cut holes and felt not so much elegant as, frankly, kind of cool. It was a taste I was happy to rediscover. Merci, Monsieur Carven.
Related: Emma Stone on Being the New Face of Louis Vuitton: "It's Literally Like Being in Pretty Woman"
Cuba Tornado Scott, Granddaughter of Ridley Scott, Models This Season's Retro-Futuristic Sunglasses