Sharon Stone Laughs When Asked If She's Experienced Sexual Misconduct on CBS Sunday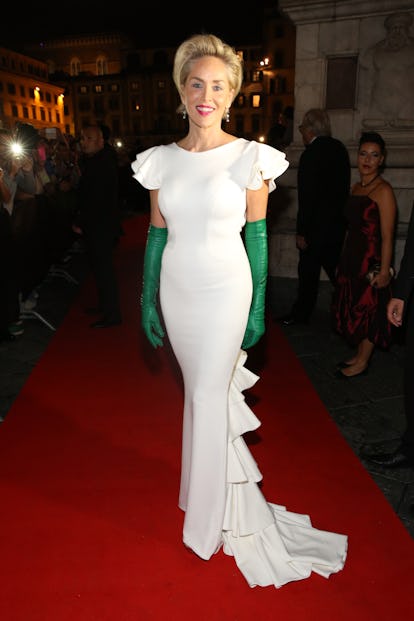 Jonathan Leibson/Getty Images
Sharon Stone had to inhabit the mind of a vulture Hollywood agent for her role in The Disaster Artist, but she may not have had to look very far for inspiration. In an interview with CBS Sunday, the actress opened up about witnessing inappropriate behavior in the film industry, without going into detail. In fact, when first asked if she had ever been in a position where she "felt uncomfortable" by anchor Lee Cowan, Stone just laughed for a good five seconds.
"I've been in this business for 40 years, Lee," she said afterwards. "Can you imagine the business I stepped into 40 years ago? Looking like I look? From nowhere, Pennsylvania? I didn't come here with any protection. I've seen it all."
While Stone didn't elaborate on what exactly she's seen, she did reveal that when she was starting out as a model trying to break into film, she had a negative body image. "I always thought I had the worst body," she said. "In those days, everybody was reed-thin so everyone was nine feet tall and two pounds… No one thought I was sexy and probably I'm not or wasn't, but I was smart enough to realize I had to seem sexy." Stone did so by serving as a cover star for Playboy, which Cowan notes may have played a role in her being tapped to star in Basic Instinct.
When asked if she gets tired of that scene — the one where she shifts from one crossed leg to another — she says, "People thought they saw so much but I, too, have a pause on my remote control. There's not that much to see."
Stone also spoke more specifically about the #MeToo and Time's Up movement, the latter of which she recently showed her support for by wearing all black to this year's Golden Globes in solidarity with other actresses and actors. "We're starting to acknowledge our own gifts as women and not think that we have to behave as men in order to be empowered or powerful or valuable," Stone explained. Stone clearly has stories to tell, and we'll be here to support her if and when she chooses to do so.