Sistine Stallone On Modeling, Vacationing With Kate Moss, And Why There Will Never Be A Stallone Family Reality Show
The 19-year-old model has had a banner year following her turn as Miss Golden Globe in January.
---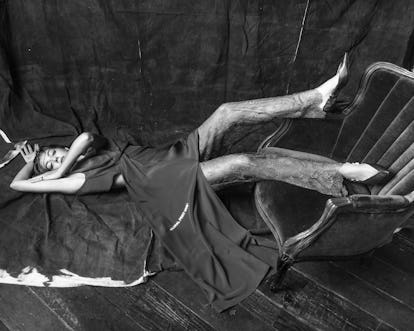 It was a gloomy Monday morning in New York City, but Sistine Stallone was in high spirits. The 19-year-old sat, peering out of the waterfront in Dumbo, Brooklyn, when she offered to put on some music to get everyone—a glam squad, photographers, stylists, et al.—pumped up for the photo shoot ahead. But instead of the barrage of pop music you might expect from a 19-year-old, Stallone DJ'ed an eclectic playlist of hits from the '60s through the '80s, ranging from Dolly Parton to Aerosmith.
"I love this scene in Pretty in Pink," she said as Otis Redding's "Try A Little Tenderness" came blasting through the speakers.
It is worth noting that Stallone was still eleven years away from being born when the Molly Ringwald vehicle hit theaters in 1986. But despite her age, there is an undeniable maturity to the aspiring model, even just one year after her career took off, thanks in large part to her parents, Sylvester Stallone and model Jennifer Flavin.
"To my surprise, [my dad] is very supportive [of modeling]," Stallone said. "He and my mom did a very good job of keeping us away from the public eye. Now, he's like, 'This is your moment. Mine is over, and I want it to be about you. Take every experience that you go through and remember it because it will go by so quickly.' He tells me to cherish every moment of it."
The Ultimate Guide to Holiday Dresses to Buy Now
Stallone is doing her damnedest to do just that, capping off a whirlwind year that started back in January when she and her sisters—Sophia, 21, and Scarlet, 15—were named to be Miss Golden Globe. "It changed our lives completely," Stallone said. "I was very lucky to have my sisters at my side, because I don't think I could have done it without them. And it was more special getting to share it with them. It was a lot of positive feedback. After that, the jobs kept coming for us. I was already modeling, but nobody knew us. [Our parents] had kept us so protected."
The family had previously been approached to do a reality show several times over the years—something of a Syncing Up With the Stallones—and offers only increased following the sisters breakout appearance at the awards ceremony, but the family routinely turned down the idea. "I think that it could work for a lot of people, and it has, but I like that we are kind of a mystery," said Stallone.
That mystery may be slowly fading, however. Since the Globes, Stallone, who is signed to IMG, has further broken out on her own as one of the industry's top rising models, following in the footsteps of Kendall Jenner and Gigi Hadid, walking for the likes of Dolce & Gabbana and Topshop, and appearing on the cover of countless international magazines. But just a few years ago, she didn't think modeling was for her.
"I never thought that I could ever do it," she said. "I loved fashion, ever since I was a little girl, which I know sounds cliche, but it is true. My mom was a model and she would show me her old books, and it was so cool. She would tell me everything there is to know about the business—the good, the bad, the ugly. And I still wanted to be a part of it. [But,] the first time I did a test shoot, I absolutely hated it and wanted to quit. My mom convinced me to stick with it, and I'm very happy I get to be a part of it."
While she is certainly on her way to making a name all her own, growing up, Stallone said she didn't have any concept that her parents were, in fact, famous. "It's my normal," she said. "My normal thing was going to premieres and walking red carpets. We would all be in matching dresses. We would do the whole movie tour; six countries in six days. When people would come up to my dad, I'd be like, 'He's just a dad; he's so annoying.'"
In fact, it wasn't until 2015's Golden Globes, when the elder Stallone received the Best Supporting Actor statue for Creed, that his daughter fully grasped the magnitude of her father's star power. "It was the only standing ovation in the room," she recalled. "It was such a moment because it was so well-deserved and it had been so long since he had been recognized for something he had done. We were all really emotional that day. That made things switch for me like, 'Oh, he's legit.'"
Rediscovering a certain throwback photo of her dad and her own personal modeling idol, Kate Moss, certainly helped to solidify that theory, as well. "My parents tell me that when I was younger, we went on vacation on our friend's boat and Kate Moss was on the boat," she lamented. "My mom was like, 'Sistine, you don't even know who this is.' I was like, 'I don't care.' Now I look back on the photos and I'm like, 'What was I thinking?' There's a photo that my mom took of my dad holding Kate on one of his shoulders, and he's throwing one arm up and she's doing this amazing pose in this bikini. It is insane."
Old images of Moss make frequent appearances on Stallone's Instagram page ("Obviously Kate Moss is all over my Instagram," she said. "That's a given. Everyone loves Kate Moss."), which also features plenty of photos from her travels, professional modeling shots, and goofy childhood photos. When asked if she finds social media—and the 576,000 and counting followers—stressful, Stallone said, "It is and it isn't. I'm a good girl, I don't do anything bad. I'm able to express what I want people to see."
"I think social media is the perfect way to promote yourself," she continued. "I think right now people see [me and my sisters] as a unit, which is fine, but it is about having your own voice, and luckily we have social media to do that. I think that by expressing our own personalities, we will differentiate ourselves."
Next year will also mark another stab at independence, as she just got her first apartment in New York City, across the country from her family's Los Angeles home. "I am [so excited], but I don't think the rest of my family is," she said. "They are really sad about it. It makes sense because I come here so often, and I really want to take my career to the next level. New York is the place to do it."
But first: Christmas at home with the Stallones. Allow her to set the scene.
"We're so much fun. We always throw a Christmas Eve party, and then we do a whole matching pajama thing. Christmas Day we get all the dogs and the cats and make breakfast and open presents and then go to the backyard—because it is always like 100 degrees in L.A.—and we get a speaker and play fun '80s music and dance outside with all the animals."
She paused. "We actually would make a great reality show."
Related: Sistine Stallone Reveals Her Secrets for Flawless, Glowing Skin
9 Famous Kids Who Ruled the Runway at New York Fashion Week 2017