How Sophie Turner Is Doing Wedding Prep In France
She and Joe Jonas' (second) wedding is reportedly this weekend
---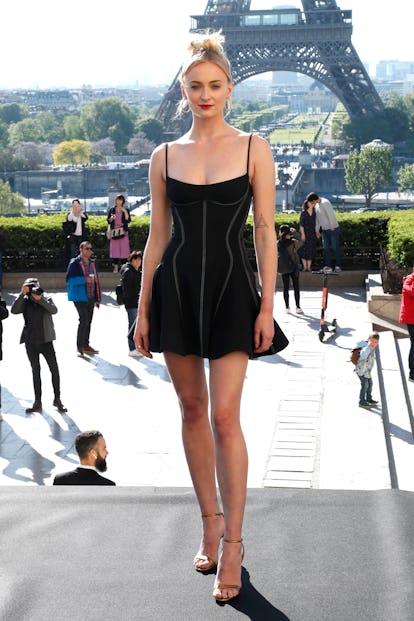 Bertrand Rindoff Petroff
It's the most important wedding between an American and a Brit since Meghan and Harry. Joe Jonas and Sophie Turner are reportedly set to wed (again; they technically got married in Vegas last month) in a chateau in France this weekend, and the festivities and preparations are well under way. Here's absolutely everything we could find about how the couple is spending the run-up to the big day.
Per People, Jonas and Turner arrived at the Château de Tourreau in Sarrians yesterday, where they were greeted by friends (and from the looks of it, staff) under a banner reading "Sophie and Joe." The Game of Thrones star wore a shirt reading "We Should All Be Feminists," which indeed we should.
The pair have been in France for at least a week; they were spotted out to dinner last Thursday, and both posted a picture in front of the Eiffel Tower in Paris. "French me," he he he.
But there's been down time, too. Three days ago, the "Sucker" singer posted a selfie of himself in bed, being napped on by his dog and lady. That dog is a direwolf and you will never convince us otherwise.
The relaxation train shows no signs of slowing down. Yesterday Turner posted an Instagram Story of Jonas lounging in a bathtub, next to another tub presumably meant for her. Don't worry, the picture is saved for all time right here.
Which brings us to today, Friday: the bride and groom were spotted arriving hand in hand for a pre-wedding party, Turner in a white dress, just in case anyone forgot who's getting married this weekend.
According to the reports that have been trickling in from various sources, the wedding won't be an extravagant, multi-day affair like Nick Jonas and Priyanka Chopra's, but it will be pretty big, putting a fun spin on traditional wedding elements. Listen, we're just as hungry for the details as you are. We're standing by, ready to report.
Related: So This Is Sophie Turner and Joe Jonas' Formal Wedding Date?
How Sophie Turner Has Grown Up on the Red Carpet, From Game of Thrones to X-Men
Sophie Turner attends the DVD premiere of Game of Thrones at Old Vic Tunnels on February 29, 2012, in London. Photo courtesy of Getty Images.

Getty Images
Sophie Turner attends the Elle Style Awards on February 11, 2013, in London. Photo courtesy of Getty Images.

Getty Images
Sophie Turner attends HBO's Game of Thrones season three San Francisco Premiere on March 20, 2013, in San Francisco. Photo courtesy of Getty Images.

Getty Images
Sophie Turner attends the Another Me photo-call during the 8th Rome Film Festival at the Auditorium Parco Della Musica on November 15, 2013, in Rome. Photo courtesy of Getty Images.

Getty Images
Sophie Turner attends the Another Me premiere during the 8th Rome Film Festival at Auditorium Parco Della Musica on November 15, 2013, in Rome. Photo courtesy of Getty Images.

Getty Images
Sophie Turner attends the Game of Thrones season four New York premiere at Avery Fisher Hall, Lincoln Center, on March 18, 2014, in New York City. Photo courtesy of Getty Images.

Getty Images
Sophie Turner attends the Arqiva British Academy Television Awards at Theatre Royal on May 18, 2014, in London. Photo courtesy of Getty Images.

Getty Images
Sophie Turner attends the Glamour Women of the Year Awards at Berkeley Square Gardens on June 3, 2014, in London. Photo courtesy of Getty Images.

Getty Images
Sophie Turner attends Entertainment Weekly's annual Comic-Con celebration at Float at Hard Rock Hotel San Diego on July 26, 2014, in San Diego. Photo courtesy of Getty Images.

Getty Images
Sophie Turner attends the 21st Annual Screen Actors Guild Awards at the Shrine Auditorium on January 25, 2015, in Los Angeles. Photo courtesy of Getty Images.

Getty Images
Sophie Turner attends HBO's Game of Thrones season five premiere and afterparty at the San Francisco Opera House on March 23, 2015, in San Francisco. Photo courtesy of Getty Images.

Getty Images
Sophie Turner attends the 67th Annual Primetime Emmy Awards at Microsoft Theater on September 20, 2015, in Los Angeles. Photo courtesy of Getty Images.

Getty Images
Sophie Turner attends Entertainment Weekly's Celebration Honoring the 2016 SAG Awards Nominees held at Chateau Marmont on January 29, 2016, in Los Angeles. Photo courtesy of Getty Images.

Getty Images
Sophie Turner attends the 88th Annual Academy Awards at Hollywood & Highland Center on February 28, 2016, in Hollywood. Photo courtesy of Getty Images.

Getty Images
Sophie Turner attends the X-Men: Apocalypse Global Fan Screening at BFI IMAX on May 9, 2016, in London. Photo courtesy of Getty Images.

Getty Images
Sophie Turner arrives at the premiere of HBO's Game of Thrones season six at the TCL Chinese Theatre on April 10, 2016, in Hollywood. Photo courtesy of Getty Images.

Getty Images
Sophie Turner attends the Louis Vuitton show as part of the Paris Fashion Week women's wear fall/winter 2016/2017 on March 9, 2016, in Paris. Photo courtesy of Getty Images.

Getty Images
Sophie Turner attends the Kineo Diamanti Award Ceremony during the 73rd Venice Film Festival on September 4, 2016, in Venice, Italy. Photo courtesy of Getty Images.

Getty Images
Sophie Turner arrives at the 68th Annual Primetime Emmy Awards at the Microsoft Theater on September 18, 2016, in Los Angeles. Photo courtesy of Getty Images.

Getty Images
Sophie Turner attends the Louis Vuitton show as part of the Paris Fashion Week women's wear spring/summer 2017 on October 5, 2016, in Paris. Photo courtesy of Getty Images.

Getty Images
Sophie Turner attends the 74th Annual Golden Globe Awards at the Beverly Hilton Hotel on January 8, 2017, in Beverly Hills. Photo courtesy of Getty Images.

Getty Images
Sophie Turner attends the Louis Vuitton show as part of the Paris Fashion Week women's wear fall/winter 2017/2018 on March 7, 2017, in Paris. Photo courtesy of Getty Images.

Getty Images
Sophie Turner attends the 70th EE British Academy Film Awards (BAFTA) at Royal Albert Hall on February 12, 2017, in London. Photo courtesy of Getty Images.

Getty Images
Sophie Turner attends the 23rd Annual Screen Actors Guild Awards at the Shrine Expo Hall on January 29, 2017, in Los Angeles. Photo courtesy of Getty Images.

Getty Images
Sophie Turner attends "Rei Kawakubo/Comme des Garçons: Art of the In-Between" Costume Institute Gala at the Metropolitan Museum of Art on May 1, 2017, in New York City. Photo courtesy of Getty Images.

Getty Images
Sophie Turner attends the Louis Vuitton 2018 resort show at the Miho Museum on May 14, 2017, in Koka, Japan. Photo courtesy of Getty Images.

Getty Images
Sophie Turner attends an event in honor of Louis Vuitton and Nicolas Ghesquière at Lincoln Center in New York City on November 30, 2017. Photo courtesy of Getty Images.

Getty Images
Sophie Turner attends the Louis Vuitton show during Paris Fashion Week fall/winter 2018 on March 6, 2018, in Paris. Photo courtesy of Getty Images.

Getty Images
Sophie Turner attends the 2019 Billboard Music Awards at MGM Grand Garden Arena on May 1, 2019, in Las Vegas. Photo courtesy of Getty Images.

Getty Images
Sophie Turner attends a screening of Game of Thrones season eight at the Waterfront Hall on April 12, 2019, in Belfast, Northern Ireland. Photo courtesy of Getty Images.

Getty Images