Suddenly, Stars are Skipping Red Carpets to Avoid Tough Questions
Call it the Donna Karan effect.
---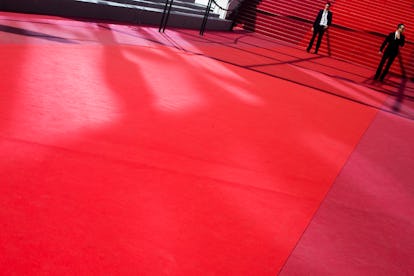 Tristan Fewings
Red carpets are really just glamorous press conferences, when you think about. Sure, there's the fancy clothes, the aura of exclusivity, and the flashing camera lights, but there's also that part where celebrities are expected to take a few questions from the press. Usually it's pretty light stuff, but as the Hollywood Reporter points out, lately, some of the questions have gotten a bit tougher in the midst of so-many ongoing sexual abuse and harassment scandals going on in Hollywood. Now, it seems, stars would just rather skip the whole thing all together lest they risk saying something stupid.
The Reporter points to the example of designer Donna Karan who initially defended Harvey Weinstein at an event while being asked about the then fresh allegation made against him. She also attacked women who dressed "inappropriately," as if they were asking for abuse. The designer ended up apologizing profusely for the comments, and seemed to remember in the meantime that she herself had designed several daring dresses in her time.
There's also the example of 85-year-old writer Gay Talese. He was attending a gala to benefit the New York Public Library earlier this week when he was asked a complete softball of a question and somehow walked right into foul territory. A Vanity Fair reporter asked Talese who he'd like to write a profile of. "Kevin Spacey," he replied. "I feel so sad, and I hate that actor that ruined this guy's career," he said before telling Spacey's original accuser to "suck it up."
Hollywood publicists do not want their clients to wind up like either, and the easiest way to avoid it is to just avoid unplanned interviews all together. Hence, an apparent downturn in red carpet activity, especially as the purge of Hollywood's abusive men only grows in scope.
"When the second wave of scandals came out, that's when it changed to 'We don't have to talk about this because it will be all we end up talking about," a veteran red carpet watcher told THR. "I definitely think Kevin Spacey was the story that made it reach its critical mass."
Even if a star hits the red carpet with a set of pre-approved soundbites or statement ready-to-go, it's a reporters intuition to push for a little bit more. So, stars are just skipping the red carpets, or at least ignoring the press present.
Which might be understandable. Do we really expect anything profound or important about such a serious discussion to occur during a three-minute exchange before someone heads into a movie premiere or dinner at a charity gala? The only celebrity who really came close was Uma Thurman, who answered by refusing to answer the question.
"I don't have a tidy soundbite for you," Thurman told an Access Hollywood reporter last week. "I've learned that when I've spoke in anger, I usually regret the way I express myself. So I've been waiting to feel less angry, and when I'm ready, I'll say what I have to say."
Not every answer will, and really, what more is there to say than that?
Still, industry vets on both sides of the carpet don't expect the downturn to last forever. After all, awards season is coming.
Related: Ellen Page Writes in a Powerful Facebook Post That X-Men Director Brett Ratner Forcibly Outed Her
See What's Trending in W Video: