Steve Bannon Is Reportedly Heading Back to Hollywood to Make Westerns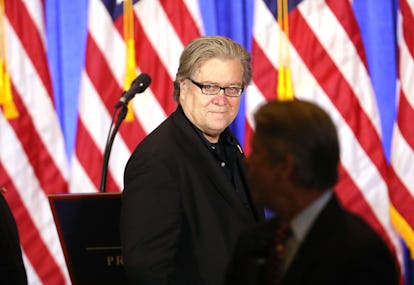 Spencer Platt/Getty Images
In the past year, George Clooney has used opportunities to promote his films to call out a senior government official as a "failed f—ing screenwriter"—not once, but twice. Yes, he's referring to Steve Bannon, who up until a few weeks ago was Donald Trump's chief strategist, and that description is accurate: Bannon once co-wrote a Shakespearean rap musical about the 1992 L.A. riots based on Coriolanus, a screenplay Clooney described as "unbelievable." "Now, if he'd somehow managed miraculously to get that thing produced, he'd still be in Hollywood, still making movies and licking my ass to get me to do one of his stupid-ass screenplays," Clooney added.
Well, we're so sorry to say, but two decades after Coriolanus—and another co-written adaptation of Titus Andronicus set in space, complete with at least one "erotic scene of ectoplasmic sex"—it looks like Bannon is returning to Hollywood. According to Page Six, having now settled back in at Breitbart News as executive chairman, Bannon has also been taking meetings with Hollywood executives, where he's been expressing a particular interest in making Westerns.
This is not entirely too surprising, given that the Trump administration is run by a president who is a reality TV star, and seems to be one giant bid to get more TV screen time, between Anthony Scaramucci and Sean Spicer doing their best to make the late-night rounds, Kellyanne Conway being a former standup comic, and Rick Perry having appeared on Dancing with the Stars.
The move also makes particular sense for Bannon, who in fact does have experience in the industry: He's worked with actors like Viggo Mortensen and Patricia Arquette on movies like The Indian Runner; directed a significant number of right-wing "documentaries" over the last decade; and, as an early investor in Seinfeld, at least as of this February, still makes money each time the sitcom reruns.
All this can be found out through Bannon's impressively extensive IMDb page, where he's listed as Stephen K. Bannon, and where it's also clear that while his idea for an intergalactic Titus Andronicus adaptation may sound, well, out of this world, he is also quite familiar with the story, having been an executive producer of the 1999 film Titus, which starred Jessica Lange and Westworld star Anthony Hopkins.
As a recent alumnus of genre-bending Westerns, the latter might seem like an ideal candidate for a future Bannon star, especially given that it doesn't yet seem like the actor will be in season two of the HBO series. Unfortunately for Bannon, Hopkins also just signed up for his next role as Pope Benedict in an upcoming Netflix film, though no doubt he'll understand if the actor opts out of his projects in favor of going the more pious route. After all, the last documentary Bannon directed, which came out last year, and was narrated by the "Duck Commander" Phil Robertson, is about "the absurdity of life without God." (And yes, in case you were wondering, it received a glowing review in Breitbart News.)
Related: George Clooney Has No Plans to Run for Office, But He Will Continue to Roast Steve Bannon
See W's most popular videos: