The Best Way to Learn Art History Is Via Beyoncé and Harry Styles, According to This Twitter Account
The distance between Egon Schiele and 1D is basically nothing.
---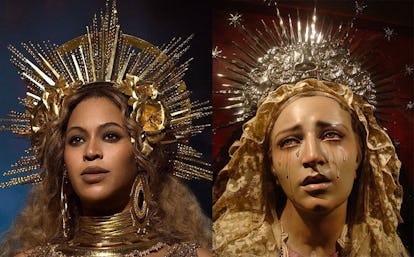 Courtesy of @TabloidArtHist
Time is a flat circle. We know this because Matthew McConaughey repeated those words in True Detective, more than a century after Nietzsche also said so; and also because, somehow, both going-out tops of the early 2000s and Canadian tuxedos are now miraculously in style again; and also "because for every pic of Lindsay Lohan falling, there's a Bernini sculpture begging to be referenced," as the British trio behind the Twitter account Tabloid Art History argues in their bio—and frequently in their tweets. Elise Bell, Chloe Esslemont, and Mayanne Soret have all studied art or are artists in some capacity—at least enough to be able to pair up some of the recent instant classic moments of pop culture and celebrity history with their art historical equivalents.
Take, for example, Harry Styles's appearance in Christopher Nolan's Dunkirk: It may seem novel for a master to take a brown-haired, slightly gaunt emerging solo artist and cover him up with some dirt, but the Austrian painter Egon Schiele in fact did it first all the way back in 1912, when he was still emerging from under the gilded wing of Gustav Klimt.
More often than not, though, as most these days, the trio has found gold in the early 2000s, and particularly with their star, Lindsay Lohan, whom they've paired with everything from John Everett Millais's Ophelia to rare 19th-century photographs.
Lohan may be the account's patron goddess, but there's also no shortage of divine Beyoncé and Kim Kardashian references—especially when featuring Saint, North, Rumi, or Sir.
True, some of the pairings are a bit of a stretch—comparing Alexa Chung in a polka-dot dress to an immersive Yayoi Kusama installation, or Tara Reid atop a pool float to the tortured crew barely aboard Géricault's famed Raft of the Medusa—though in the case of Chung, that may also be because the Instagram @artlexachung has already set quite a high standard for the It girl. For the most part though, lesson learned—especially when Bell, Esslemont, and Soret benevolently remind their younger followers to pay attention to their A Levels. Take a look back at some of the greatest hits in their oeuvre, here.
Related: Those High Art Kellyanne Conway Memes, Explained
See Kendall Jenner, Performance Artist, Channel Icons Like Marina Abramovic and Yoko Ono: