Tales of the City Is Being Revived on Netflix With Ellen Page
After 17 years, a classic is coming back.
---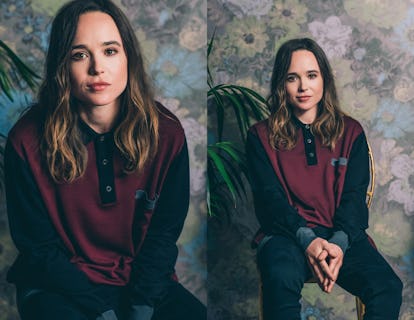 All photos by Caitlin Cronenberg.
While the world is still all atwitter about that Roseanne reboot, Netflix has ordered Tales of the City, a series noted for it's groundbreaking depiction of LGBT characters on American television, straight to series for an all-new 10-episode installment. Not only will original stars Laura Linney and Olympia Dukakis be back in their roles as Mary Ann Singleton and Anna Madrigal, but Ellen Page has joined the cast as Singleton's adopted daughter, Shawna, a pansexual alt-lit novelist and blogger.
Though The Hours novelist Michael Cunningham was originally attached the project, Variety reveals that Lauren Morelli will serve as the show runner, writer, and executive producer of the revival. You may know her from her work on Orange Is the New Black and her marriage to that show's actress Samira Wiley.
Tales of the City began in the '70s as an addictive series of short stories serialized in the San Francisco Chronicle, which author Armistead Maupin then adapted into a series of highly addictive novels. In 1993, the first of three miniseries began airing on PBS, though after conservative outrage over the series' frank depiction of queer characters, the two sequels aired on Showtime. Notable actors like Parker Posey, Ian McKellen, Janeane Garofalo, Mary Kay Place, Lea DeLaria, and Sandra Oh all made appearances as minor or supporting characters throughout it's run (no word yet on if any will be back).
Whatever the medium, the general plot follows Mary Ann, a Midwest girl who decides on a whim to move to San Francisco, where she lives in an apartment building owned by the mysterious Anna Madrigal and populated by a group of eclectic neighbors, most notably Michael Toliver, an openly gay man loosely based on Maupin himself.
According to Deadline, the series will focus on Linney's Mary Ann as she "returns home to San Francisco and is reunited with her daughter Shawna (Page) and ex-husband Brian, twenty years after leaving them behind to pursue her career."
Maupin told The Hollywood Reporter, "I couldn't be more excited about this brand-new incarnation of Tales. It's set in present-day San Francisco with all the joys and complications that might suggest for the residents of 28 Barbary Lane. Mrs. Madrigal's tenants, both old and new, will be entangled in delicious new adventures and ever-expanding possibilities for love."
Other than that, we don't know much about the series. It's not clear how closely it will stick to the plot lines of the more recent books (though from what little information we do have, it does sound similar to the initial plot of Mary Ann in Autumn), or whether even major characters like Michael or Mona will be back. Casting for new characters and negotiating with previous actors is apparently ongoing. Here's everything we can surmise.
Ellen Page Plays a Pansexual Sex Blogger and Novelist
In the novels, Page's character, Shawna, is actually the biological daughter of a woman named Connie (played by Parker Posey in the original series), but Mary Ann and her ex-husband, Brian, adopt her. She's a pansexual writer who first runs a popular sex blog and then pens a hit novel written in the format of text messages. At one point, she dates a circus clown. In many ways, this seems like a perfect role for Page.
There's Potential for a Groundbreaking Transgender Character
Though representation of transgender women on television has become a bit more common in recent years, you can't quite say the same for trans men (two of three transgender male character listed on this particular Wikipedia page were basically the targets of sitcom jokes). As it turns out, though, later novels in the Tales of the City series prominently feature a transgender male character named Jake Greenleaf. So there's the possibility that the show could make some history. We should note that Dukakis's character is also transgender, but it would be nice to see an opportunity for a transgender actor.
Barbara Garrick Is Returning as DeDe Halcyon Day
Aside from Linney and Dukakis, Garrick is also returning. No word on anyone else.
It Should Premiere in 2019
Filming is scheduled to begin later this year. It's planned as a 10-part series, though there's no word on whether it will be a one-off effort or an ongoing affair. Incidentally, Linney is also starring in Netflix's Ozark, while Page also has a lead role in the streaming service's upcoming Umbrella Academy.
Related: Laura Linney Is Back as a Peak TV Antiheroine in Netflix's Ozark