Inside the Lebanon Home of Tania Fares, Fashion's Well-Traveled Power Broker
When she's not supporting emerging designers in London, L.A., and beyond, Tania Fares escapes to a family retreat near her native Beirut.
---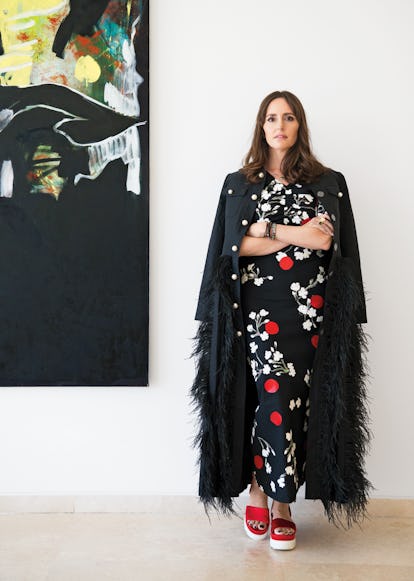 Photographs by Ambroise Tézenas; Produced by Gianluca Longo
Tania Fares is walking around her house in the sun-soaked mountains above Beirut, casually pointing out her favorite pieces of art and design. At first glance, the mix of objects could almost serve as a checklist of must-haves for the summer retreat of any affluent, culturally savvy family. There's the Yves Klein gold leaf–filled plexiglass table, the pair of Jean Royère club chairs, the paintings by Charline von Heyl and Peter Doig. Not far from a 1970s Paul Evans modular sofa is a Phoenician terra-cotta figure from about 350 BC, along with a rare Hubert le Gall ­coffee table and Louis XVI chairs that came from Fares's mother's apartment in Paris.
The surprise is that Fares furnished the house almost 15 years ago, back when many of these disparate pieces were far less coveted than they are now—and when the very idea of bringing them all together under one roof was considered outré in this part of the world. (Her neighbors here in the wealthy enclave of Shalimar tend to be more traditional in their tastes.) Fares had no help from a decorator, adding or subtracting a Campana Brothers chair here, a Nada Debs side table there. The house's architect is Nabil Gholam, who was practically unknown at the time Fares hired him—but who later went on to design one of the tallest buildings in Beirut. "When we built this house, some people liked it, some didn't," says Fares, who's dressed in a Rosie Assoulin pink smiley face T-shirt and Stella McCartney wide-leg silk pants. "But it's always that way. So you follow the things that you're passionate about, and that's it."
That philosophy has been serving Fares well, particularly in her home base of London, where she has lived since 2002. Although she and her husband, the Beirut-born financier Fares Fares, and their two sons make regular trips to Lebanon, for the past few years Tania has been focusing her time and energy on the British fashion world. As cofounder of the Fashion Trust, the charitable arm of the British Fashion Council (BFC), she is giving a much-needed boost to an entire generation of designers. Roksanda Ilincic, whose now-thriving label was one of the first beneficiaries of the trust, back in 2012, sums it up this way: "Unfortunately for London, many talented young designers just disappear, because they don't have the support and guidance they need at the right moment. The trust is crucial to keeping them going."
Fares's efforts began in 2011, when she approached Caroline Rush, head of the BFC, with a unique proposal for marrying fashion with philanthropy. In buzzy, cash-rich ­London, Fares observed, there were two groups who could each benefit from some strategic matchmaking: designers who'd already proven their bona fides but who needed help with their businesses, and cosmopolitan investors intrigued not only by the idea of supporting young creators but also by the prospect of mingling with them (and with one another). To sweeten the deal for the donors, who pay up to 15,000 pounds a year for their membership, the trust organizes a year-round schedule of talks, studio visits, and schmooze fests. With 140 current members, each vetted by Fares and her co-chair, Sian Westerman, the trust has raised more than $3.3 million to date.
For the designers, the benefits are obvious. While other fashion grant programs, like the LVMH Prize for Young Fashion Designers, select one main winner each year, the Fashion Trust's advisory committee likes to spread the love around, choosing about 10 recipients annually. In 2016, Huishan Zhang, the Chinese-born alum of the Christian Dior Haute Couture atelier, used his grant to pave the way for his first store in London; Marta Marques and Paulo Almeida invested in their online operations. The trust also has a mentorship program, along with a trainee program that selects graduates from London's top fashion schools and pays them a full year's salary while they apprentice with designers like J.W. Anderson or Mary Katrantzou.
Fares, who for several years partnered with the London-based designer Lulu Kennedy on her line Lulu & Co, and who also invests in young designers anonymously, says the trust can be most helpful at that tricky moment when a designer is navigating expansion. "Say you're a young designer and you start working with a factory, but the factory also has bigger brands that are ordering thousands and thousands of garments," Fares explains. "Who are they going to prioritize?" In addition to cash and advice, the trust can help with connections and referrals, since its members are a highly global bunch. Fares is in the process of launching an Italian branch of the trust, based in Milan.
For Fares, as for many Lebanese who left their country as the civil war raged from 1975 through 1990, nonstop country-hopping is second nature. Born in Beirut, she grew up in Paris, where her primary mentor in all things aesthetic was her uncle Joseph ­Achkar, the noted decorator and collector who was recently tapped by the French government to oversee the $120 million overhaul of the Hôtel de la Marine, on the Place de la ­Concorde. ­Achkar remembers taking Fares to the Paris flea markets, where, even at age 11 or 12, she would confidently approach dealers with questions about furniture and art. "While most kids—including her sister—just wanted to play," he says, "Tania was asking about pieces and periods, and giving her opinion of what she liked and didn't like." Achkar noticed the same self-assurance a few years later when Fares began pivoting toward contemporary art and design, and later toward the fashion world. The first time Fares hosted a dinner at ­Achkar's Paris apartment, he remembers, "there were designers who were 21 or 22 years old. I said, 'Where did you find all these people?' "
Fares's friend Eric Buterbaugh, the L.A.-based celebrity florist, says her instincts for networking and for supporting new talents are inextricably linked. "I've never met a more enthusiastic connector of people," he says. "Tania will casually say, 'Oh, come to lunch,' and you'll get to the restaurant and she's put together a group of interesting people from everywhere—all of whom can help you with whatever you're doing."
An afternoon spent at home with Fares and her gregarious husband shows that their nonchalant cosmopolitanism runs deep. Both are from prominent Lebanese Christian ­families whose members speak Arabic and know their way around a meze spread, but they're equally comfortable discussing politics in Houston, where they lived for six years, or the newest Stockholm restaurants. (Fares's father is the mayor of Brummana, a town east of Beirut, and president of the Lebanese Hotel Association; her father-in-law is an entrepreneur who was deputy prime minister of Lebanon from 2000 to 2005.)
When we stop for lunch at Fadel, a local restaurant with a fabulous view of the Mediterranean, Tania smokes a narghile, or hookah, with mint-and-lemon-flavored tobacco—but she passes up most of the food because she's preparing for a week's stay at the exclusive Alpine detox clinic Vivamayr. Later she dons an asymmetrical Isa Arfen skirt and Miu Miu platform sandals, and we pile into her Range Rover for the 30-minute drive down the mountain and into central Beirut, stopping for drinks at the penthouse of the Beirut retail mogul Tony Salamé. We also swing by Orient 499, the Middle East–modern boutique that's a favorite of Fares's for its caftans and cotton sherwals, the traditional men's pants that she might pair with a vintage YSL jacket.
That evening, back up at the house, where it's always at least 10 degrees cooler than in town, Fares says the vibe in summer can feel downright Gstaad-like, by Lebanese standards: "For us, this house is a mountain retreat—it's about hiking, sports, relaxing, eating healthy." There's a tennis court that doubles as a basketball court for the couple's sons. The house itself, built mainly of local sandstone and glass, emphasizes indoor-outdoor fluidity: Bright rooms merge with shaded terraces, which in turn give way to a sleek pool. The grounds are unmistakably Levantine, with lots of umbrella pines and olive trees, including one 800-year-old specimen that Fares had installed using a crane.
Fares says it's nice to slow down while ­vacationing here, but she thrives on London's nonstop pace of exhibitions, shows, and meetings. Last February, with Sarah Mower, she released London Uprising, a book highlighting the 50 fashion designers who embody the city's ever-surging creative spirit. "For me, that's what makes London interesting," she says. "It's just so welcoming and open and experimental."
In recent years many people have been using these same adjectives when talking about Los Angeles—and it so happens that Fares is making her presence known there, too. She and her husband have been turning up with increasing frequency at the Tower Bar, and on their last trip, she says, "I met maybe 20 people moving there from New York or ­London, and all of them are artists, creative directors, photographers." Fares, who starts her L.A. mornings with 20 minutes of transcendental meditation, now has a West Coast perch that's about as L.A. as you can get: She just bought a midcentury house in the coveted Trousdale Estates area, designed by ­Wallace Neff.
Also very L.A. are the drive and ambition that lie underneath Fares's smiling, placid exterior. She's been strategizing a new book, about L.A.-based fashion and lifestyle creatives. Whenever she envisions a new project, she says, her approach is always the same.
"If I want something and someone says no," she says, "it makes me want it even more."