Taraji P. Henson and Her French Bulldog Puppy From Big Boi's Kennel Just Won Christmas
"K-Bull" comes from Big Boi's kennel.
---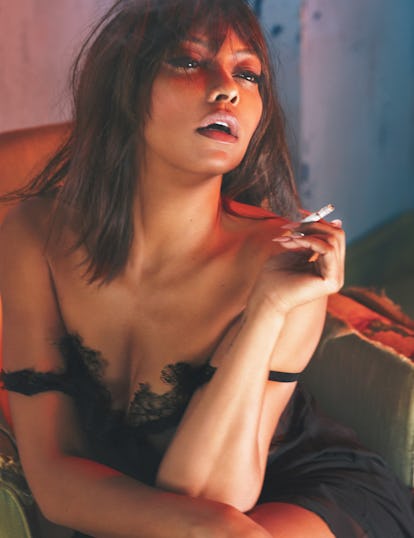 Photograph by Mert Alas & Marcus Piggott, Styled by Edward Enninful; Hair by Shay Ashual at Art Partner; makeup by Aaron de Mey at Art Partner; manicure by Mei Kawajiri for Chanel at Orme Square. Set design by Andrea Stanley and Emma Roach at Streeters.
Christmas isn't for another two weeks but consider it already conquered by Taraji P. Henson. The holiday came early for the actress, who showed off her most prized gift, an adorable French Bulldog, on Instagram. Named "K-Ball," or perhaps nicknamed that, the tiny bundle of love comes from Big Boi's Kennel — yes, the one of OutKast.
"Christmas came early!!!," Henson wrote on Instagram in the caption of a photo of her new companion sitting like a living portrait on a plush velvet chair. "Thank you #ZaddyBear I ❤️u so much!!! y'all Meet #K-Ball!!! Thank you @pitfallkennels_lilbrotha @therealbigboi he is going to get soooooooooo much love!!! ???" K-Ball is already well on his way to receiving Henson's affection: After she posted an initial photo of the snuggly little fellow, she followed it up with another. K-Ball has already taken to his tufted dog bed, as he was pictured cuddled inside of it and surrounded by toys.
K-Ball comes into Henson's life a couple of months after the Empire star opened up about the tragic loss of her beloved dog Uncle Willie. Back in October, she posted several tributes to him after he passed away at the elder age of 16. "Although I understand NOTHING lasts forever the pain is still very real. #RipUncleWillie," she wrote in one post on Instagram. "He truly was #BenjaminButton I will miss you soooooooooo much!!! ???"
No doubt Henson will be spending a lot of bonding time with K-Ball over the next month, especially as she gears up for several high-profile film roles. In January, her next movie Proud Mary, where she stars as a hitwoman working for the Boston mob, debuts January 12, which Henson has been teasing on Instagram.
Meanwhile, it was just announced last month that Henson will be starring in a reboot of the 2000 rom-com What Women Want with a twist: the film will be told this time through the perspective of a female narrator, a sports agent, who gains the ability to read her misogynistic male colleagues' minds just in time to use that power to land the next NBA superstar. Hopefully, as we see much more of Henson in 2018, that will include more sightings of K-Ball as well.
Watch: Taraji P. Henson Gets Down to "I Will Survive" — With a Few Embellishments