Inside Taylor Swift's New App "The Swift Life"
Taylor Swift turns to the same app company as Kim Kardashian.
---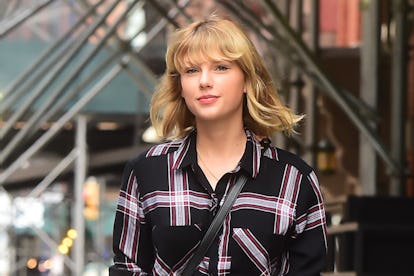 Getty Images
Taylor Swift, who just celebrated her 28th birthday yesterday, is more than a pop star. She's a businesswoman. Juggling many hats, as boss women do, if you take a look at her approach on social media alone—with 85.8 million Twitter followers and 105 million Instagram followers—she's been able to garner an impressive level of fan engagement.
She's a perfectionist, meticulous in her actions. Taking a tip from Madonna, the queen of reinvention, Swift has launched each project and every new record like a rebirth—erasing all previous social media posts to create a blank canvas from which to start again. And in the process, she continues to cultivate fans, while making the big bucks that comes with fame. She did get Forbes' title of the world's highest-paid celebrity last year, making $170 million courtesy of her 1989 world tour and product placements for brands like Keds and Apple. Again and again, she engages directly with fans, from sending Swifties—a term that Swift has of course trademarked—personal DMs to surprising them at their homes, all of which end up making headlines.
Her latest move is "The Swift Life," essentially a social network for her fans. Following Kim Kardashian, an early adopter of using apps as a tool for fan engagement, Swift turned to the same company that Kardashian and Kendall and Kylie Jenner have used for their respective apps, Glu Mobile Inc.
In a YouTube video back in October, while promoting her newest record Reputation, Swift teased a first look at the app, which promises exclusive photos and videos, while highlighting a key feature: Swift herself can see, like and comment on posts.
The app begins with a brief video from Swift. "Hey, it's Taylor," she says. "Welcome to 'The Swift Life'". As a user, you aim to collect "Taymojis" (Swift-related emojis) by liking and sharing other people's posts. You can follow other users, chat, and the more engagement you show, the more "musical notes" you receive, which is a way to step up a level and access 45 second songs, while receiving new "Taymojis." It's sort of like a game, and you win by being on Swift's biggest fans.
"I think you guys are really gonna like this," Swift says in the YouTube promo video. "I mean, I hope. It would be preferable if you did."
The App is free to download, but the iTunes description warns "you can choose to pay real money for some extra items, which will charge your iTunes account."
__Related: Taylor Swift's 'Reputation' Will Be The Biggest Album of The Yea