Taylor Swift Visited a Young Fan in the Hospital Before Kicking Off Her "Reputation" Tour
Three days before her "Reputation" tour kicked off, Swift paid a surprise visit to a hospitalized girl who wouldn't be able to attend the show.
---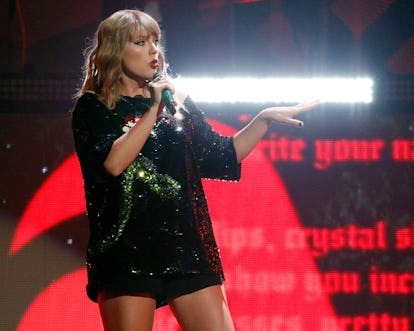 Photo by Taylor Hill/FilmMagic
Real-estate mogul Taylor Swift's "Reputation" tour is slated to kick off in Arizona this week, and ahead of the first stadium show, Swift has brought her Good Samaritan ways to the state's capital. On Saturday, Swift visited a young fan, eight-year-old Isabella McCune, in the hospital, showering her with tour merch and signing plenty of autographs for McCune, her friends, family, and the hospital staff.
McCune had plans to attend Swift's "Reputation" tour when it stopped in Arizona, but when a fire broke out during a St. Patrick's Day party, she suffered burns that left her hospitalized for the past month and a half. Last Wednesday, upon hearing Swift was rehearsing for the tour in nearby Glendale, Arizona, McCune made a video requesting her pop idol visit her in the hospital, since she wouldn't be able to attend the show this week. McCune, who said her favorite song is Reputation cut "…Ready For It?", has reportedly been listening to Swift's music to help her get through some of the painful procedures she's undergone during her recovery process.
Apparently, Swift has been keeping up with her local news, because after catching wind of the plea, which posted on azcentral.com, she made her way to the burn ward at the Arizona Burn Center to pay a surprise visit to her young fan. She arrived around 1 p.m., according to a report on azcentral.com, and stayed for about 20 minutes, chatting with McCune and her family and taking photos. (No one present was permitted to post on social media until after Swift departed, and outside news crews were not allowed in.)
Accompanying Swift were her parents, Scott and Andrea: "They were the sweetest people, and it meant so much to my husband and me as parents," Lilly McCune, Isabella's mother, told People. "We have so much respect for them and how they raised her."
Before she departed, Swift invited McCune to attend any upcoming "Reputation" tour date once she's able to leave the burn unit. (Swift will be joined on the road by none other than Charli XCX and Camila Cabello.) "I cannot wait for you to come to my concert," she reportedly told McCune. "Stay strong, gorgeous," she signed off a brief note in McCune's journal.
Related: Taylor Swift, Pop Star and Burgeoning Real-Estate Mogul, Is Selling Yet Another Beverly Hills Home