How Sofia Coppola and Costume Designer Stacey Battat Gave the Women of The Beguiled Their Southern Gothic Allure
The director and her longtime costume designer did their research into the lives of women during the Civil War.
---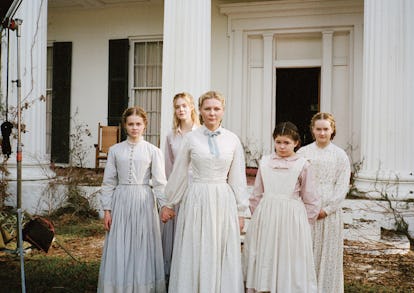 Courtesy of Sofia Coppola
For her new film, The Beguiled, a Southern Gothic set during the Civil War, Sofia Coppola reunited with costume designer Stacey Battat, a longtime collaborator (and close friend), to create the wardrobe for her mostly female cast. The film, which is a remake of a 1971 Clint Eastwood classic, takes place at an isolated southern girls' boarding school—Nicole Kidman plays the headmistress Miss Martha, Kirsten Dunst is Edwina, a teacher, while Elle Fanning is a brooding, rebellious teenager, Alicia—and examines the rarely-depicted female experience during wartime.
Coppola's version is a lush and gorgeously-wrought thriller that's already received major accolades, including the Best Director Prize when it debuted at the Cannes Film Festival in May. The film's visual riches are all the more impressive given its modest $10.5 million dollar budget and tight 26-day production schedule.
As with most of Coppola's films, the characters' costumery was an early and central consideration. In the case of The Beguiled, Battat's pastel-hued collection of day dresses in muted plaids, stripes, and calico prints—most of which were handmade, along with custom corsets—transport the audience to a sheltered, feminine enclave that is suddenly upended by the appearance of a wounded Union soldier (Colin Farrell). For Battat, who worked with Coppola on A Very Murray Christmas, The Bling Ring, and Somewhere, The Beguiled was the costume designer's first period film project.
"It was a big leap for her, but I knew she could do it," Coppola said. "She did a lot of research, and it was important that it was accurate, but Stacey is so good at contemporary clothes—I wanted the edit of what we picked from history to appeal to a modern eye."
A Guided Tour to Sofia Coppola's Inspirations by Sofia Coppola Herself
"Me and my producer Youree Henley filming The Beguiled in New Orleans. He understands what's important to me—all the details. He makes it happen and keeps it fun. I wanted a work uniform, so Julie de Libran at Sonia Rykiel made this jumpsuit for me."

Courtesy of Sofia Coppola
"It was so great to work with Colin Farrell and Nicole Kidman. Colin was a good sport about being our token male, and you can't take your eyes off Nicole!"

Courtesy of Sofia Coppola
"Here is Kirsten Dunst as the teacher at the Farnsworth school in The Beguiled, with her students, played by Angourie Rice, Elle Fanning, Addison Riecke, and Emma Howard."

Courtesy of Sofia Coppola
"A William Eggleston photo (Untitled, 1974) that I had in mind when shooting some of the girls in the film together."

Copyright Eggleston Artistic Trust, Courtesy of David Zwirner, New York/London
"Working with Elle is always a pleasure. It was fun to see her walking around in those frilly skirts."

Courtesy of Sofia Coppola
"I also love this photo, Woman with Blue Bow, by Jo Ann Callis, from 1977. I saw it in the newspaper and ordered her book Woman Twirling. It reminded me of the feeling of femininity and frustration I wanted to achieve in The Beguiled."

Courtesy of Rosegallery and the Artist
"I took this snapshot on the set of The Beguiled, with my Contax T2."

Courtesy of Sofia Coppola
"This photo of Bill Murray always makes me smile."

Courtesy of Mark Seliger/Condé Nast
"The artist Sara Cwynar's Picture of Pens, 2015, is currently on the bulletin board in my office."

Courtesy of the Artist and Cooper Cole, Toronto
"Fiorucci was my favorite label as a kid, and I'm so excited it's being revived with designs from the archives. The graphics, which were always amazing, are being collected in a new book. "

Courtesy of Fiorucci Archive
"Romy Schneider, in Chanel, in Visconti's The Job (1962)—her style in this film is the best! I would love to lounge around a palazzo like that."

Alamy Images
"When Cartier asked me to do a commercial for the Panthère watch I instantly thought of Hutton and that era of sophisticated and glamorous women in the late '70s/early 
'80s, around the time the watch first came out. (Those were the women I grew up admiring.) The Australian actress Courtney Eaton, who is so cute and nice, and is so natural in front of the camera, played the Panthère woman. It's a fantasy day in her life."

Courtesy of Cartier
"Lauren Hutton with Richard Gere in American Gigolo, another favorite of mine!"

Alamy Images
"When Calvin Klein approached me about the project, I thought about the Sam Haskins books I loved when I was in my 20s. [An image from the photographer's Five Girls, 1962, above.] I found my old books and used them as a starting point to create the mood I was going for."

Courtesy of The Sam Haskins Estate 2017
"I took this photo on the set of an underwear commercial I did for Calvin Klein. It was fun to think about how to do an underwear campaign that could be sexy and playful without being embarrassing. I was so glad to be able to cast great women I like and who are all smart and cool."

Courtesy of Sofia Coppola
"I took this photo on the set of an underwear commercial I did for Calvin Klein. It was fun to think about how to do an underwear campaign that could be sexy and playful without being embarrassing. I was so glad to be able to cast great women I like and who are all smart and cool."

Courtesy of Sofia Coppola
Aside from the absence of hoop skirts—"There was no one to dress up for and [the women] also had to work in the garden," Battat explained—the soft, diaphanous fabrics, waist-cinching silhouettes, and long skirts with their subtle swishes, coupled with braided hairstyles and face-framing updos by veteran stylist Odile Gilbert, lend an unexpected allure to the women's outfits.
While The Beguiled's official prep time between budget approval and the start of production was only six weeks, Battat had begun immersing herself in research materials several years before the film was actually green-lit. "We knew we wanted to make this movie—and believed it was hopefully going to happen," she said. "It was always somewhere on my mind, even if on the periphery."
She and Coppola met and became friends while Battat was working for Marc Jacobs at his shop on Mercer Street in New York nearly two decades ago. From there, Battat went on to styling (occasionally collaborating with Coppola in that capacity), and eventually landed in costume design.
In addition to reading the quotidian lives of women during the Civil War and the etiquette of the era, Battat went deep into the archives of the Metropolitan Museum to view actual garments from the 1860s. Battat and her team found contemporary cotton fabrics that bore similarities to archival prints she researched at the Met's textile center and reference library, which she and Julia Gombert, an expert fabric ager/dyer, faded by stone-washing and enzyme-dying.
Each character had two or three day outfits, and one or two dressier outfits for candlelit evening scenes. Battat gave her team all the credit for the complexity and intricate measurements required in making the corsets alone. "Once we put them in their corsets to develop the foundation, then we made the clothes based on these unnatural body types, because we've already nipped in their waists," she added.
Along with production designer Anne Ross, and cinematographer Philippe Le Sourd, Coppola and Battat established a softly ethereal palette, inspired in part by natural daylight (there no electricity at the time) and the nuances of its movements through the school's interior over the course of the day. "I definitely had this very faded and pastel-y world in mind, and Stacey was able to make the costumes part of that," Coppola said. "When I first thought about it, it reminded me of Virgin Suicides and the prom dresses that they wore. The pastels that they wore all related to one another."
While there was a sartorial through line between all the characters, The Beguiled's costumery also reflected each one's personality. "Miss Martha, for the most part, doesn't wear a lot of color. She has a sternness to her, while Edwina was a more romantic character—she wore Swiss dots and floral prints. And Alicia sometimes wore her shirts undone a button or two; she was more wild. Her hair was loose, which wasn't really common," noted Battat.
It was also important to Battat to convey a sense of temporality. She added panels to the insides of one of the younger girls' costumes, to imply that she'd grown—and given the scarcity of those times, a need for resourceful tailoring. "They never talk about it in the film, but that's why Jane's clothes have panels, and another student's are a little too big," she said.
Speaking of scarcity, there was the reality of limited time during the film's production. Coppola's and Battat's close relationship was invaluable to optimizing the tight shooting schedule. "We work really well together because we've known each other for so long," Battat said. "There's a language that we've developed."
Nicole Kidman Has Taken a Lot of Risks on the Red Carpet, and They Always Pay Off
Nicole Kidman (Photo by Barry King/WireImage)

Barry King/WireImage
Nicole Kidman and Tom Cruise at the Director's Guild of America in Hollywood, California.

Ron Galella/WireImage
Nicole Kidman (Photo by Barry King/WireImage)

Barry King/WireImage
Nicole Kidman (Photo by Barry King/WireImage)

Barry King/WireImage
Nicole Kidman and Tom Cruise during "Eyes Wide Shut" Los Angeles Premiere at Mann Village Theatre in Westwood, California, United States.

SGranitz/WireImage
Nicole Kidman during 9th Annual Screen Actors Guild Awards.

Jeff Kravitz/Getty Images
Nicole Kidman (Photo by Barry King/WireImage)

Barry King/WireImage
Nicole Kidman during 53rd Annual Golden Globe Awards at Beverly Hilton Hotel in Beverly Hills, California, United States.

Ron Galella/WireImage
Nicole Kidman and Tom Cruise (Photo by Kevin Mazur Archive/WireImage)

Kevin Mazur Archive/WireImage
Nicole Kidman in Tom Ford for Gucci. (Photo by Gregory Pace/FilmMagic)

Gregory Pace/FilmMagic
Nicole Kidman (Photo by Steve Granitz/WireImage)

S. Granitz/WireImage
Nicole Kidman at the The Kodak Theater in Hollywood, California (Photo by Jim Smeal/WireImage)

Jim Smeal/WireImage
Actress Nicole Kidman arrives for the 80th Annual Academy Awards at the Kodak Theater in Hollywood, California on February 24, 2008.

AFP/Getty Images
Nicole Kidman arrives at the Golden Globe Awards at the Beverly Hilton January 20, 2002 in Beverly Hills, California.

Gregg DeGuire/WireImage
Nicole Kidman during The 76th Annual Academy Awards – Arrivals at The Kodak Theater in Hollywood, California, United States.

SGranitz/WireImage
Nicole Kidman during The 62nd Annual Golden Globe Awards – Arrivals at Beverly Hilton Hotel in Los Angeles, California, United States.

SGranitz/WireImage
Actress Nicole Kidman arrives on the red carpet for the 68th annual Golden Globe awards at the Beverly Hilton Hotel in Beverly Hills, California, on January 16, 2011.

AFP
Actress Nicole Kidman arrives at the 17th Annual Screen Actors Guild Awards at The Shrine Auditorium on January 30, 2011 in Los Angeles, California.

Barry King/FilmMagic
Nicole Kidman arrives at the 83rd Annual Academy Awards held at the Kodak Theatre on February 27, 2011 in Hollywood, California.

Jason Merritt/Getty Images
Nicole Kidman arrives at The 53rd Annual GRAMMY Awards held at Staples Center on February 13, 2011 in Los Angeles, California.

Steve Granitz/WireImage
Actress Nicole Kidman arrives at the 45th annual CMA Awards at the Bridgestone Arena on November 9, 2011 in Nashville, Tennessee.

Jon Kopaloff/FilmMagic
Nicole Kidman arrives at the 69th Annual Golden Globe Awards at The Beverly Hilton hotel on January 15, 2012 in Beverly Hills, California.

George Pimentel/GettyImages
Nicole Kidman attends the "The Paperboy" premiere during the 65th Annual Cannes Film Festival at Palais des Festivals on May 24, 2012 in Cannes, France.

Vittorio Zunino Celotto/Getty Images
Nicole Kidman arrives at the 70th Annual Golden Globe Awards held at The Beverly Hilton Hotel on January 13, 2013 in Beverly Hills, California.

Jason Merritt/Getty Images
Nicole Kidman attends the 55th Annual GRAMMY Awards at STAPLES Center on February 10, 2013 in Los Angeles, California.

Larry Busacca/WireImage
Nicole Kidman attends the World Premiere of "Paddington" at Odeon Leicester Square on November 23, 2014 in London, England.

Karwai Tang/WireImage
Nicole Kidman arrives at the 87th Annual Academy Awards at Hollywood & Highland Center on February 22, 2015 in Hollywood, California.

Jeffrey Mayer/WireImage
Nicole Kidman arrives at Women In Film 2015 Crystal + Lucy Awards at the Hyatt Regency Century Plaza on June 16, 2015 in Los Angeles, California.

Jon Kopaloff/FilmMagic
Nicole Kidman attends the opening ceremony and "Grace of Monaco" premiere at the 67th Annual Cannes Film Festival on May 14, 2014 in Cannes, France.

Tony Barson/Getty Images
Sofia Coppola on the best advice she's received from her dad, Francis Ford Coppola: