The Story Behind The Beguiled Hairstyles, from Kirsten Dunst's Enviable Braids to Colin Farrell's Dirty, Unwashed Hair
Legendary hairstylist Odile Gilbert talks about all the hairstyles–from the elegant to the disheveled–in Sofia Coppola's new film The Beguiled
---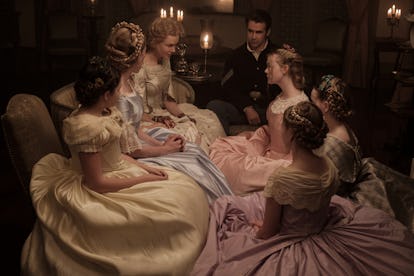 Ben Rothstein / Focus Features
Sofia Coppola's buzzy new Civil War-era movie, The Beguiled, could easily have been called The Braided, thanks to the period-correct plaits French hair stylist Odile Gilbert designed for all seven female actors in the movie, including Nicole Kidman, Kirsten Dunst and Elle Fanning. Gilbert's influence even extended to leading man Colin Farrell's hair. She ordered him not to wash it. At. All. Here, she tells us why.
Tell me about the inspiration behind the hair in The Beguiled.
We tried to go into the personality of each character, and also be true to the period, which obviously meant no curling irons or hair dryers. They all have long hair, which women tended to have back then. It's wartime, they are living in a boarding school in the country, essentially cut off from the world, and their resources are dwindling. So they try to look chic and nice, but have to make do with what they have. (I had to do research about accessories, about what little pieces of jewelry would have existed at the time, etc..) Nicole, who plays the headmistress, has naturally wavy hair, so we mostly kept it softy, but neatly, pinned up. Kirsten is a teacher, and had to look a bit more strict, so her braids are tighter, and pinned primly on her head. Elle, the oldest student, is a bit more naughty–dare I say a floozy–so she wears her hair looser and down. And the little ones, who play the four younger schoolgirls in the film (Angourie Rice, Oona Laurence, Addison Riecke and Emily Howard), had to look more prim and proper. It was so much fun doing their hair- the young ones were always so happy and excited to be in front of the mirror, having their braids done. It was a delight.
Do you have a favorite scene?
There is a part in the film, where they all have dinner with Colin Farrell, who plays a wounded Union soldier they find in the woods and shelter in their school. All the girls, from oldest to youngest, are attempting to seduce him in their own way. They don't have much, but they put on the best dresses they have, and make an effort. It was super cute. The film is actually quite funny. It's also dramatic, but there are moments that are so funny. And I should say, Nicole was incredible, I mean all of them were incredible, but Nicole was like, wow. It was nice that they are all from different generations. And they were very kind to each other.
You also did the hair for Coppola's Marie Antoinette, so this isn't your first time on a film set. How does movie hair differ from runway and editorial hair? Is working with a director different from working with a designer?
Yes, because film is a living thing; you can see them from every angle, and you have a story, of course. You have to read the story, and then adapt the hair into the situations in the story. For example, sometimes the women have to wear hats because they are in the garden. It has to look real. In another period film–The Piano, also set in the 19th century–you have very severe braided hair. And it's so important to that film. But, I said to Sofia, "maybe it's important for us NOT to go in that direction, maybe we should go in a more organic direction." So we braided the hair and the extensions we used so when it was down, it was a totally organic wave. As for Colin, I told him, you're a soldier, you've been injured in battle, I think it's better not to wash your hair, to let it be messy, so it would look real.
So poor Colin had to walk around with dirty, greasy hair the whole time?
Well, he could rinse it with a little conditioner, but it couldn't look too clean.
Did you use products on the girls hair?
A bit, but for once we didn't use much, because it was about having the hair look a bit humidified. So we would put in a little conditioner, and then braid the hair, and let the braids dry naturally. It looked almost as if the characters slept with their braids.
How important was color?
It was very important that the hair color look like it belonged in the 1800's. They had natural hair color back then, no Los Angeles highlights. The genius idea was to have Louis Licari do the color. He is brilliant, one of the best colorists in New York. It was the first time I met him, although I had heard about him for years. He's an angel, and so talented. We had to do coloration on each girl, and make sure their extensions were matching.
How long did it take you to design the looks?
I met with Sofia in New York during Fashion Week, so it was September 2016. We talked, she showed me all the clothes, the inspiration photos, etc.. I had time to research the period before heading to the set in New Orleans at the end of October. We spent two weeks conceiving the hair and making sure the set stylists could execute it during filming.
What is it like working with Sofia Coppola?
She's a dream to work with, you know, because she's a girl, she enjoys clothes and hair, etc.. She's a very elegant person. I don't know how to describe it–she is very chic and elegant in her attitude, in the way she films, and in the way she is with the people on set. She's always asking, "Are you okay, are you happy about that, what do you think?" It's a real exchange, which is great. She's a very smooth and quiet person, like no stress at all. But she's very precise in what she wants, and incredibly in touch with what she's doing. Which is probably why she won the directing prize for the movie at Cannes.
A Guided Tour to Sofia Coppola's Inspirations by Sofia Coppola Herself
"Me and my producer Youree Henley filming The Beguiled in New Orleans. He understands what's important to me—all the details. He makes it happen and keeps it fun. I wanted a work uniform, so Julie de Libran at Sonia Rykiel made this jumpsuit for me."

Courtesy of Sofia Coppola
"It was so great to work with Colin Farrell and Nicole Kidman. Colin was a good sport about being our token male, and you can't take your eyes off Nicole!"

Courtesy of Sofia Coppola
"Here is Kirsten Dunst as the teacher at the Farnsworth school in The Beguiled, with her students, played by Angourie Rice, Elle Fanning, Addison Riecke, and Emma Howard."

Courtesy of Sofia Coppola
"A William Eggleston photo (Untitled, 1974) that I had in mind when shooting some of the girls in the film together."

Copyright Eggleston Artistic Trust, Courtesy of David Zwirner, New York/London
"Working with Elle is always a pleasure. It was fun to see her walking around in those frilly skirts."

Courtesy of Sofia Coppola
"I also love this photo, Woman with Blue Bow, by Jo Ann Callis, from 1977. I saw it in the newspaper and ordered her book Woman Twirling. It reminded me of the feeling of femininity and frustration I wanted to achieve in The Beguiled."

Courtesy of Rosegallery and the Artist
"I took this snapshot on the set of The Beguiled, with my Contax T2."

Courtesy of Sofia Coppola
"This photo of Bill Murray always makes me smile."

Courtesy of Mark Seliger/Condé Nast
"The artist Sara Cwynar's Picture of Pens, 2015, is currently on the bulletin board in my office."

Courtesy of the Artist and Cooper Cole, Toronto
"Fiorucci was my favorite label as a kid, and I'm so excited it's being revived with designs from the archives. The graphics, which were always amazing, are being collected in a new book. "

Courtesy of Fiorucci Archive
"Romy Schneider, in Chanel, in Visconti's The Job (1962)—her style in this film is the best! I would love to lounge around a palazzo like that."

Alamy Images
"When Cartier asked me to do a commercial for the Panthère watch I instantly thought of Hutton and that era of sophisticated and glamorous women in the late '70s/early 
'80s, around the time the watch first came out. (Those were the women I grew up admiring.) The Australian actress Courtney Eaton, who is so cute and nice, and is so natural in front of the camera, played the Panthère woman. It's a fantasy day in her life."

Courtesy of Cartier
"Lauren Hutton with Richard Gere in American Gigolo, another favorite of mine!"

Alamy Images
"When Calvin Klein approached me about the project, I thought about the Sam Haskins books I loved when I was in my 20s. [An image from the photographer's Five Girls, 1962, above.] I found my old books and used them as a starting point to create the mood I was going for."

Courtesy of The Sam Haskins Estate 2017
"I took this photo on the set of an underwear commercial I did for Calvin Klein. It was fun to think about how to do an underwear campaign that could be sexy and playful without being embarrassing. I was so glad to be able to cast great women I like and who are all smart and cool."

Courtesy of Sofia Coppola
"I took this photo on the set of an underwear commercial I did for Calvin Klein. It was fun to think about how to do an underwear campaign that could be sexy and playful without being embarrassing. I was so glad to be able to cast great women I like and who are all smart and cool."

Courtesy of Sofia Coppola
Speaking of prizes, you are the only female hair stylist to win France's prestigious Ordre des Arts et des Lettres. So you and Sofia have that in common–you are both recognized as very accomplished female artists in your fields!
It's really not about me. It's about others, and about collaboration.
Would you like to do more film work?
I don't know, it takes a lot of time. Of course I love to be on special projects like this one, with great people, and I feel blessed to be able to do that. I do a lot of fashion, I love fashion. Working with someone like Sofia is kind of the best of both worlds. She has a very good eye for fashion herself, so she can bring it into her films. I remember when we did Marie Antoinette, after the movie came out, all the haute couture shows were about Marie Antoinette. It was a big inspiration. I also love the way she dresses herself. She's not a movie star, she's a film director. So it's straightforward, and simple, but always with an edge.
I am still obsessing on the braids. How do you feel about braids in real life?
They are alway cute. I think every girl who has long hair has had at least one moment in her life that was a braid moment, maybe it was in school. And all the hip girls now are into braids, also, it's a great summer look. For the film, it's a bit different, because we are in period, and as I mentioned, the braids were a way to work natural waves into the hair.
What is cool in braids right now?
Today, we braid more in an African style, close to the scalp. Or maybe in an ancient Egyptian style. There are so many kinds of cool braids. Suddenly it became a style everyone likes.
I wish I could braid my hair. I don't have enough hair to braid.
(laughs) There's never enough hair!
Watch Video Interviews with Sofia Coppola and the Cast of The Beguiled: