Aaliyah Merch Is About To Be Everywhere, Thanks To the Latest Model-Beloved Streetwear Line
Introducing The Fan, the hottest brand capitalizing on nostalgia.
---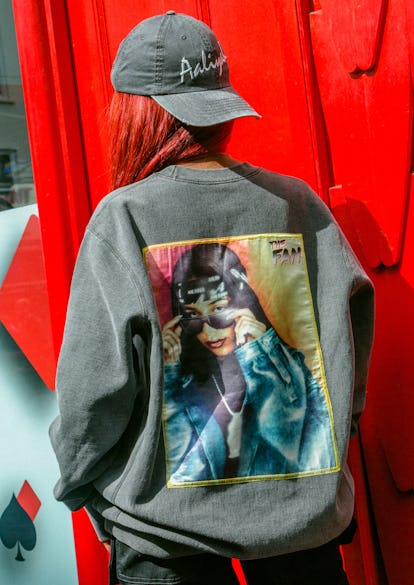 Life Of Pablo hoodies continue to sell-out on ebay, Vetements makes Metallica-inspired heavy metal tees, and style icons like Sita Abellan are creating namesake lines. Cue: Elle Azhdari, a London-based designer who is taking the merch craze a step further with her unisex streetwear line, The Fan. "I've always been a collector of imagery, books, magazines and clothing throughout the years so it made sense to turn my fandom into something tangible," explains the Iranian designer, who devotes each one of her collections to commemorating an artist or musician she'll then plaster on her souvenir jackets, hoodies, tees, and hats. Since launching her brand last year with an inaugural, limited-edition collection of MA1 bomber jackets adorned with pop tone patches of Andy Warhol's Interview magazine covers, Azhdari has garnered an impressive following including Dev Hynes, Jean Campbell, Louis Vuitton's menswear director Kim Jones, and Theophilus London, who was the face of her first collection. "It's pretty cool that people are responding so well to The Fan," she said. Her third collection, an ode to none other than 90s R&B queen Aaliyah, launches today at Selfridges and on their website. Here, the designer gives talks about the new collection.
How did you get the idea for the line?
It was pretty innocent really. I was feeling quite stifled, creatively, at the time so I decided to do something about it. I've always been a collector of imagery, books, magazines and clothing throughout the years so it made sense to turn my fandom into something tangible.
The theme of your new collection is Aaliyah – why did you choose her?
Because she is timeless. She was so authentic, and it wasn't just evident in her music and dance routines but also in her style and the way she carried herself. When we were approached by Selfridges London to create an exclusive collection for their Music Matters theme, Aaliyah instantly came to mind. Girls wanted to be her and the guys wanted to be with her. It's pretty tough to dislike her.
You've managed to nab very impressive models to star in your campaigns, including Theophilus London and Adwoa Aboah. How do these collaborations come about?
I think sometimes timing is everything. A friend showed Theophilus the Megastar bombers and he instantly loved them. Ben Rayner shot the campaign in just under two hours in downtown New York. I think he had tons of fun and he's a huge M.J fan so it made perfect sense. Adwoa was our first poster girl. We actually approached her via Instagram and she instantly loved the brand. We sent a photographer to her home in LA and shot that campaign just under two hours, as well.
And how did you choose DJ Siobhan Bell, who is the face of your current Aaliyah collection?
Siobhan Bell is the badass 'round the way London DJ. She's been doing her thing for years and it's all coming together amazingly for her now. It made sense to ask Siobhan to be the face of the Aaliyah collection because she's heavily into music and loves to express herself through her clothing and styling. The clothes we make are pretty bold so you have to really be into it and wear the clothes as otherwise the clothes can easily wear you, which is never a good look.
You make hoodies, tees, and baseball caps, but your souvenir jacket seems to be everywhere. Is that your signature item each collection?
The Fan bomber is our staple jacket. It's what we want to become a collectible item in the future. The staple jacket will always be a part of each collection, featuring different imagery of course. But the idea is to keep growing the collections and add pieces in there that has nothing to do with a particular subject.
A big part of your line is keeping everything very limited edition. What is the reason behind this?
It's a labor of love. I genuinely care about design, quality, fit, and style, and making products that reflect that in a visually pleasing aesthetic. For instance, all our materials are responsibly sourced and everything is manufactured in London. That is something we really take pride in. I want to truly cater for equally passionate people. We strive for an aesthetic where people stop you on the street and ask where is that jacket, tee or hoodie from. It stands out, it is a statement piece and essentially that's so refreshing. I want these to be timeless collectibles. To be honest, I really dislike mass production as a concept, it has never appealed to me in the slightest.
How would you describe the type of girl who wears your line?
Well, I pretty much design for myself and I really don't like to be categorized as I'm influenced by a wide array of cultures. That's the beauty of living and working in a multi-cultural city like London. But I'd say style it right to make these timeless future classics your own.
What's next for you?
The next collection is going to be pretty sports inspired and aside from doing our staple jackets, hoodies, and tees we've also sourced some great vintage pieces to include in the limited edition collection. Still unisex, but I have a feeling the boys in particular will love this one. I also want to travel more, discover more, and collaborate with like minded people. And I really want to start working on a book next year. That's a goal I have set for myself and naturally it will fall under The Fan umbrella.
Related: Adwoa Aboah, Like You, Has A Massive Crush on Jake Gyllenhaal
Pharrell Williams Gets Interviewed By a 7-Year-Old
London Fashion Week's Street Style Stars Are Here to Show You How to Dress For Fall
Street style in London during London Fashion Week SS18. Photographed by Adam Katz Sinding for W Magazine.

2017 Adam Katz Sinding
Street style in London during London Fashion Week SS18. Photographed by Adam Katz Sinding for W Magazine.

2017 Adam Katz Sinding
Street style in London during London Fashion Week SS18. Photographed by Adam Katz Sinding for W Magazine.

2017 Adam Katz Sinding
Street style in London during London Fashion Week SS18. Photographed by Adam Katz Sinding for W Magazine.

2017 Adam Katz Sinding
Street style in London during London Fashion Week SS18. Photographed by Adam Katz Sinding for W Magazine.

2017 Adam Katz Sinding
Street style in London during London Fashion Week SS18. Photographed by Adam Katz Sinding for W Magazine.

2017 Adam Katz Sinding
Street style in London during London Fashion Week SS18. Photographed by Adam Katz Sinding for W Magazine.

2017 Adam Katz Sinding
Street style in London during London Fashion Week SS18. Photographed by Adam Katz Sinding for W Magazine.

2017 Adam Katz Sinding
Street style in London during London Fashion Week SS18. Photographed by Adam Katz Sinding for W Magazine.

2017 Adam Katz Sinding
Street style in London during London Fashion Week SS18. Photographed by Adam Katz Sinding for W Magazine.

2017 Adam Katz Sinding
Street style in London during London Fashion Week SS18. Photographed by Adam Katz Sinding for W Magazine.

2017 Adam Katz Sinding
Street style in London during London Fashion Week SS18. Photographed by Adam Katz Sinding for W Magazine.

2017 Adam Katz Sinding
Street style in London during London Fashion Week SS18. Photographed by Adam Katz Sinding for W Magazine.

2017 Adam Katz Sinding
Street style in London during London Fashion Week SS18. Photographed by Adam Katz Sinding for W Magazine.

2017 Adam Katz Sinding
Street style in London during London Fashion Week SS18. Photographed by Adam Katz Sinding for W Magazine.

2017 Adam Katz Sinding
Street style in London during London Fashion Week SS18. Photographed by Adam Katz Sinding for W Magazine.

2017 Adam Katz Sinding
Street style in London during London Fashion Week SS18. Photographed by Adam Katz Sinding for W Magazine.

2017 Adam Katz Sinding
Street style in London during London Fashion Week SS18. Photographed by Adam Katz Sinding for W Magazine.

2017 Adam Katz Sinding
Street style in London during London Fashion Week SS18. Photographed by Adam Katz Sinding for W Magazine.

2017 Adam Katz Sinding
Street style in London during London Fashion Week SS18. Photographed by Adam Katz Sinding for W Magazine.

2017 Adam Katz Sinding
Street style in London during London Fashion Week SS18. Photographed by Adam Katz Sinding for W Magazine.

2017 Adam Katz Sinding
Street style in London during London Fashion Week SS18. Photographed by Adam Katz Sinding for W Magazine.

2017 Adam Katz Sinding
Street style in London during London Fashion Week SS18. Photographed by Adam Katz Sinding for W Magazine.

2017 Adam Katz Sinding
Street style in London during London Fashion Week SS18. Photographed by Adam Katz Sinding for W Magazine.

2017 Adam Katz Sinding
Street style in London during London Fashion Week SS18. Photographed by Adam Katz Sinding for W Magazine.

2017 Adam Katz Sinding
Street style in London during London Fashion Week SS18. Photographed by Adam Katz Sinding for W Magazine.

2017 Adam Katz Sinding
Street style in London during London Fashion Week SS18. Photographed by Adam Katz Sinding for W Magazine.

2017 Adam Katz Sinding
Street style in London during London Fashion Week SS18. Photographed by Adam Katz Sinding for W Magazine.

2017 Adam Katz Sinding
Street style in London during London Fashion Week SS18. Photographed by Adam Katz Sinding for W Magazine.

2017 Adam Katz Sinding
Street style in London during London Fashion Week SS18. Photographed by Adam Katz Sinding for W Magazine.

2017 Adam Katz Sinding