Adwoa Aboah, Like You, Has A Massive Crush on Jake Gyllenhaal
The 25-year-old model talks Spice Girls, sharing her birthday with Stella Maxwell, and fashion misconceptions.
---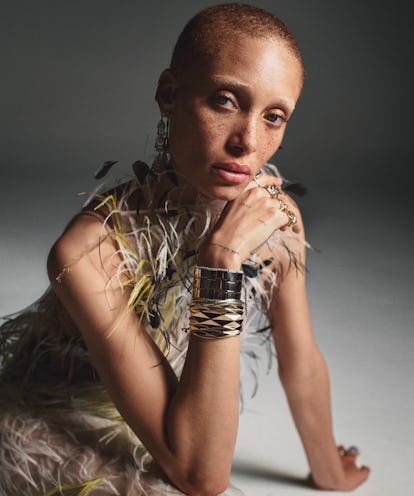 Photograph by Mario Sorrenti, Styled by George Cortina; Hair by Akki at Art Partner; Makeup by Francelle for Lovecraft Beauty at Art + Commerce; Manicures by Honey for Marc Jacobs Beauty at Exposure NY.
Adwoa Aboah knows she may come off as intimidating. Or, as she'll describe it, "I can be quite hard with my resting bitch face." At just 25-years-old, the British model is already one of the most in-demand names in the fashion industry, and this week alone walked in Marc Jacobs, Coach, Fenty Puma, and Brandon Maxwell during fashion week. When she's not hitting the runways or starring in a new editorial, Aboah runs Girls Talk, a platform for young women to discuss social issues freely. Then there's the private side of Aboah, who is more typical twenty-something than social leader and supermodel, complete with a crush on Jake Gyllenhaal and steadfast opinion on the Spice Girls. Here, Aboah opens up about all of that, and more.
Tell me about your name. Does it mean anything?
My name means "born on a Monday," so Monday's child. I was born on a Monday. I've always loved my name, although there was a point where my sister and I wanted bog, standard names, like Sally.
How did you first start modeling?
I was never full time, but I've been on and off since I was 16 or 17-years-old. I loved the independence that it brought me right away. But I hadn't got to the point where I was shooting with the photographers that I am now, these creatives that I feel are producing such amazing imagery. So it was kind of different then, but I did love parts of it. But I finished school, and I went to university.
Did you have any moments of "I'm not doing this anymore" because of your strong feminist beliefs?
I don't think it was that that stopped me. It was more so I don't think I was at a point in my life where I was comfortable enough. I wasn't as self-assured as I am now. I just wasn't there yet mentally and physically. So I'd work in a shop or I'd nanny, and took a break and realized I didn't need to do this at that point. I needed to work on myself for a bit.But I wouldn't do it if I didn't love it. I definitely don't waste time doing things that I don't like. There's so much I love about it, and then there's lots that I don't. And I think that's where the feminist morals and ideals comes in. Doing Gurls Talk and modeling, sometimes I don't feel like they're coinciding enough.
Is there one aspect of modeling that you like the most?
I've always loved runway shows, which I think is because of my performance upbringing. I love theatre, so I love the whole performance aspect of [runway]. I like that it's two seconds and you can't do it again. Giles Deacon was the first show I ever did, and I wore very high, long boots and an overcoat and a white shirt, and my hair was all frizzy like this. It was when I did have hair. And I loved it. I loved the rush and the frantic energy behind the set. I like that adrenaline rush that you get before you walk. But I mean, shows kind of kill me a bit. It's just exhausting to be around that many people the whole time. So maybe I prefer doing shoots, actually.
Do you do anything to get into the zone during a photoshoot?
I always go into a zone when I'm posing for a photographer. I like direction, and I definitely try and get into whatever character I think is wanted in the photos. So today, I tried to be vulnerable and soft because I can be quite hard with my resting bitch face.
What is the biggest misconception of the fashion world?
I mean, it is fabulous, and it is beautiful and exciting. But I think a big misconception is that it's not hard work. Another one is that I think a lot of people still think models are stupid, which is completely not true. And then that we all just take loads of cocaine all the time, which is not true, either. I mean, with some people, but not with everyone.
Who in fashion is royal to you?
Pat McGrath is the queen. So she's royal to me. Edward Enninful is royal. Katie Grand is royal. Tim Walker is royal. George Cortina is definitely royal. Marc Jacobs definitely is royal. His show is hands-down my favorite show to do.
When you were growing up, who were you obsessed with?
Spice Girls, hands-down. I wanted to be Baby, but I was always Scary, sadly. Me and my girls, none of us ever wanted to be Posh. We thought she was, like, really uptight and never sang enough, and we didn't really get why she was always wearing heels. But I wanted to be Baby.
Do you have any celebrity crushes?
I'm in love with Jake Gyllenhaal.
I can introduce you.
That's what Bruce Weber said at the Met Ball, and I was like, "Absolutely not." It's too nerve-racking. I don't want to meet him. Well, we've met once. We just shook hands, but I definitely think he shook my hand for longer than he should have. That's what I'm going with.
Any girl crushes?
Eva Mendes is a massive crush of mine. And Jessica Chastain. And definitely Angelina Jolie back in the day. I'm obsessed with Charlize Theron, as well.
Do you have any secret skills, like knitting?
I thought I could knit. I thought I was really good, but then my parents thought I was knitting a pair of gloves and I was actually knitting a scarf. So I don't think I am very good. I'm actually really good at origami. I think because I'm so OCD, they look really good. But I don't think anyone would naturally think that I was good at origami. Something that would be quite cool is if I was good at math, but everyone know I'm really bad at math. And there's no way I would ever be good at it.
What has been your favorite birthday?
My 21st birthday was one of the most amazing birthdays. I had a massive party with all of all the people that I like in the world. Actually, my 25th birthday the other day was really fun. I shared it with Stella Maxwell, and we had a party at a place called China Chalet. And that's the best place because you can smoke inside. It was a proper London party, just nonstop dancing. No chitchat, just dancing.
Related: Why Amandla Stenberg Gave Up Her iPhone: "It Was Taking Over My Life"
Jake Gyllenhaal Confesses His Cinematic Crush