Dwayne "The Rock" Johnson Was Full of Surprises This Week
From his deep thoughts on "The Notebook" to the son he just adopted, who happens to be a gorilla.
---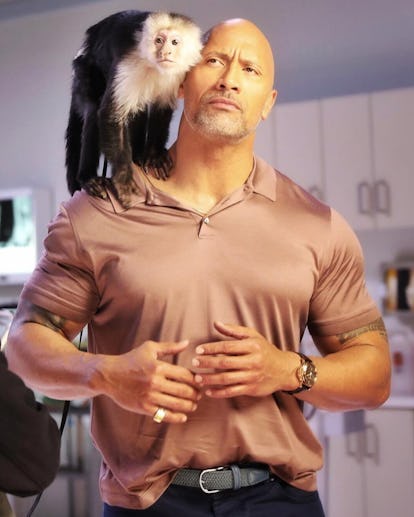 Courtesy of @therock
Dwayne "The Rock" Johnson has been on a nonstop press tour promoting his new film Rampage, a sci-fi action film that stars him as a primatologist who teams up with a gorilla buddy of his named George in an attempt to stop an invasion of monsters. From appearances on the Ellen Show to a lengthy cover story in Rolling Stone, he's revealed enough this week to make a new headline every day, ranging from his new adopted son (a gorilla) to his lifelong struggle with depression. Here, a breakdown of everything you didn't know (and never thought you needed to know) about The Rock.
He has very strong feelings about The Notebook.
Johnson appears to have given too much material to squeeze into a cover story, leading Rolling Stone to publish a follow-up of 21 more things the magazine learned from hanging out with the Rock—like his feelings about The Notebook (which for some reason didn't make it into the story??). Johnson, for the record, initially avoided the movie "like the plague," but after meeting the director, Nick Cassavetes, and being taken aback by how "tatted up" and "hardcore" he looked, he decided to give it a chance and ended up loving it—to the point that its unhappily-ever-after ending made him distraught. (Or as he put it: "Don't give me a shit sandwich like that.")
His nickname wasn't always so impressive.
Johnson is still bitter about his original, much less impressive nickname: Dewey. "It's f—ed up!" he said. "In college when my mom and dad would visit on parents' day, my mom would be like, 'Hey, Dewey!' All the boys were like, 'What the f— did she just call you?' Thankfully that died a slow death."
He has plans to marry Frances McDormand.
Johnson is currently dating and planning to get engaged to Lauren Hashian (more on that later), but that didn't stop him from speaking candidly about a new "little crush" of his with Ellen DeGeneres this week: Frances McDormand, the actress who recently accepted her Oscar for Best Actress by drawing Hollywood's attention to inclusion riders. It was in fact at the Academy Awards where Johnson became smitten: His 16-year-old daughter Simone was this year's first-ever Golden Globes Ambassador, and before heading out to give her speech, McDormand turned around to shake her hand—and then proceed to kiss it when she returned with her award. In an attempt to express his gratitude, Johnson then looked directly into the camera as if to address McDormand: "We're gonna have to exchange numbers because just between you and I—I know nobody else is watching—we're gonna get married. It's not gonna be weird—Lauren's down with it."
He brought his own tequila to a private dinner with a Saudi prince.
Earlier this week, Saudi Arabian Crown Prince Mohammed bin Salman made it clear he was in town by booking every room in L.A.'s Four Seasons for his sizable entourage. While in town, he met with, naturally, Oprah, as well as Morgan Freeman and—you guessed it—The Rock. While some criticized his decision to dine with a notorious human rights abuser, Johnson still posted a photo of the prince to his Instagram, noting that "as always," he "asked a lot of questions"—and brought his own tequila.
He once force-fed a Warner Bros. executive.
Covering all the bases in their reporting, Rolling Stone also spoke with Blair Rich, Warn Bros. Pictures' president of marketing, who had quite the story to tell about starting off working on Rampage with Johnson, which took place at 4:30 on a day when Rich hadn't had time to squeeze in any meals. He'd managed to bring an unopened chicken salad to their meeting, though, prompting Johnson to ask him in front of around 50 people if that was his lunch, and if he was hungry. Ignoring Rich's reply that he planned to eat the salad after the meeting, Johnson instead opened it and started feeding the food to Rich with his fork. "I turned beet red—I've never been so embarrassed in my life. But it was the sweetest gesture," Rich recalled.
He's struggled with depression.
Contrary to popular opinion, even people who are as publicly all smiles as The Rock can suffer from depression, which hasn't been lost on Johnson, who's accepted that he's perhaps one of the beset illustrations of how, as he put it, "depression never discriminates." That comment came after he again detailed the painful periods he's gone through since he stopped his mother from committing suicide when he was 15 years old, which returned when he was in his early 20s, and more recently around his divorce. (Between then and now, he's made a point to go to therapy.)
He really hasn't been kidding about running for president.
Following up on how at the end of last year, he said he was "seriously considering" running for president, Johnson told Rolling Stone he's been having "under-the-radar" meetings with political strategists across the spectrum, though any decision he would make about running would be years off. On Thursday night, he expressed the same sentiment to Fox News: "I wouldn't rule it out," he said, adding that "of course, [he] would consider it" because of his care for "our American people and our citizens, and the values of our country."
Alligators are some of his favorite freshwater species.
As mentioned, Johnson really shared a lot this week. In the realm of, um, fun facts, he described himself as "a country boy who lives only a few miles from the swamps of the Florida Everglades" on his Instagram in a caption of a photo of him straddling an alligator, which have become "some of my favorite fresh water species" throughout all the time he's spent "fishin' and truckin' down there." (All that, of course, came in handy when shooting Rampage.)
He and his girlfriend, Lauren Hashian, aren't married for a very specific reason.
To Johnson's delight, Rampage will be released on April 13, thereby "pretty much guarantee[ing]" that he'll make it home in time for the birth of his baby daughter with his girlfriend, the singer Lauren Hashian. In case you're wondering why the pair hasn't married, Johnson addressed that this week, too: "We were going to get married in the spring and we got pregnant," he told ET. "Lauren felt like, well, you know, Mama [doesn't want] to take pictures being pregnant in a wedding dress, so we're just going to wait." The wedding date is unclear, but fret not—Johnson assured ET that he "know[s] it's going to happen."
He also has a new son, who isn't a human.
As mentioned, Johnson takes his research for his roles very, very seriously; after studying up on gorillas for his role in Rampage, he now has not only a new daughter to welcome into his family, but also a son he just adopted named Iyambere (and who happens to be a gorilla). Johnson has yet to meet him in real life, though that hasn't stopped him from saying that Iyambere is just like him, except that he smells better.
Related: Simone Garcia Johnson, The Rock's 16-Year-Old Daughter, Balances Golden Globes Ambassador Duties with Her SATs