Simone Garcia Johnson, The Rock's 16-Year-Old Daughter, Balances Golden Globes Ambassador Duties with Her SATs
Dwayne "The Rock" Johnson's teen daughter is already a budding powerhouse of her own.
---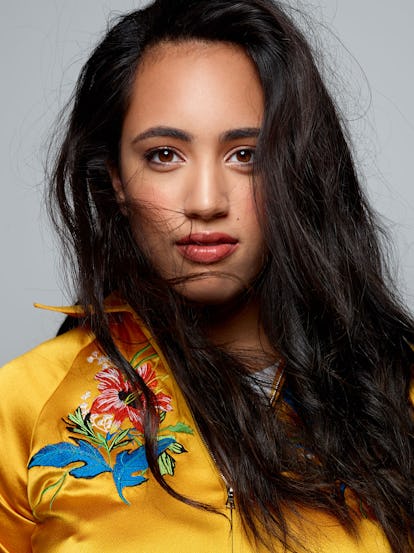 Gray Lane
Most people, especially teens who live in Fort Lauderdale, would boast readily about having "gotten in the ring a few times" with Dwayne "The Rock" Johnson. Not Simone Garcia Johnson, though, who only relented to telling the anecdote when pressed, and only then as a casual aside. But that might be because The Rock is actually her dad, and his manager and ex-wife, the powerhouse producer Dany Garcia, is her mom.
Family ties aside, Garcia Johnson is becoming a star in her own right. When she turned 16 this summer, she got an surprise "fantastic present": that's when she found out that she was going to be the first-ever Golden Globes Ambassador—a title formerly known as Mr. or Miss Golden Globes, and previously held by future industry A-listers like Laura Dern.
The title change came as a relief to Garcia Johnson. "I'm really glad they chose to make that change because it promotes equality and is more inclusive, and those are things that I'm passionate about," she said. "I feel like representing that is really going to open up a lot of doors—not only for me, but also for all the future Golden Globes Ambassadors."
Though the awards show in Los Angeles was only a few days away, Garcia Johnson was still at home in Florida. She's still in high school, after all. "School's definitely a priority for me, and so is college," she said, adding that she'd like to study business and does "spend a lot of time in L.A., too, so it's a good combination." (Although sometimes Hollywood comes to her: Parts of Baywatch, the 2016 movie starring The Rock and Zac Efron, and which her mom produced, were filmed barely 30 minutes from her house in Fort Lauderdale.)
Johnson's parents divorced in 2008, but the family is still close: The same year their split was finalized, Garcia, who is the cofounder of the Garcia Companies, actually became The Rock's manager, and has in fact since been credited with building her ex's sizable media empire. (He was both the world's highest paid actor and People's Sexiest Man Alive in 2016.)
Garcia Johnson started getting busy herself in 2016, signing to IMG as a model. And in between middle and high school classes, she's also been producing with her parents since she was 12 years old. "They've always wanted to know my input on certain things," Garcia Johnson explained—like a short film for Seven Bucks Productions, which her parents co-founded, titled Inside the Olympia, which offers a close look at the competition known as the Super Bowl of bodybuilding.
Garcia Johnson's parents will be there at the Golden Globes on Sunday, too, and, as usual, she plans on walking the red carpet with them—an "always great" family pastime. She's probably more excited about the other guests, though. "Gal Gadot is going to be there, and so is Kerry Washington, and I really admire and would love to meet both of them," she said. (As for whom she's most hoping to hand off awards to? "I really loved Get Out, and I was really happy that Alison Brie was nominated for GLOW because I love that show, and I can tell how hard all the women worked on that.")
If you couldn't tell so far, Garcia Johnson is a budding role model herself—one who "really want[s] to use this platform to inspire people to speak out on issues that they're passionate about," and who has also partnered with GlobalGirl Media, a nonprofit that helps young girls tell their stories by giving them classes and a platform to express themselves through digital journalism.
She's been vocal about her own causes on her Instagram ever since she made the account, which has around 250,000 followers, public. "I think that social media is a great way to speak up about issues that people are passionate about and things that they feel need to be changed," Garcia Johnson said. Her feed ranges from the usual teen fare of Sylvia Plath quotes and SpongeBob SquarePants stills to posts that advocate body positivity and refugees's rights—as well as taking action against "systematic racism, oppression, and injustice," including some views held by Donald Trump.
"I've definitely gotten some backlash over certain things, but you can't please everyone," Garcia Johnson said casually. "I'll read the comments sometimes, but I tend to focus more on the positive ones."
Most recently, Johnson has posted in support of Time's Up, the anti-harassment initiative led and supported by 300 industry names like Meryl Streep and Reese Witherspoon, whose first action is to wear black to the Globes to call attention to their more ambitious future plans, like creating a multimillion-dollar legal defense fund to help women ranging from actresses to janitors to farmworkers protect themselves from sexual misconduct and the fallout from reporting it, as well as legislation penalizing companies that tolerate harassment and inappropriately use NDAs to silence victims.
"The clock's been ticking on the abuse of power. I stand in solidarity with women across every industry to say #TIMESUP on abuse, harassment, and assault," Garcia Johnson wrote earlier this week, adding a link with more information about supporting and donating to the group to her bio.
Time's Up's first initiative is for women "walking the red carpet at the Golden Globes [to] speak out and raise awareness by wearing black"—something Garcia Johnson's fave, Gadot, has already confirmed she'll be doing, as will her father, who's among the men who've decided to support the initiative as well, no doubt much to Garcia Johnson's delight. "I stand with the women who will be wearing black," she said. "It's an important movement that not only addresses sexual assault in Hollywood, but sexual assault across every industry."
Still, it remains to be seen until Sunday whether Garcia Johnson will be matching them on the red carpet, seeing as she already went dress shopping back in December—the same month she had to deal with other priorities like, you know, taking the SAT. Normally, Garcia Johnson said, her style is pretty consistent, but she "definitely wanted to explore all of [her] options with this." It was a time-consuming process, to the point that it might have ended up affecting her SAT results.
"I think it went well, but I'm definitely going to take it again in March," she added with a laugh.
Related: The Rock and Other Men Will Also Wear Black To The Golden Globes To Protest Harassment