Simone Garcia Johnson, The Rock's 16-Year-Old Model Daughter, Is Your New Golden Globe Ambassador
Miss Golden Globe, by a different title.
---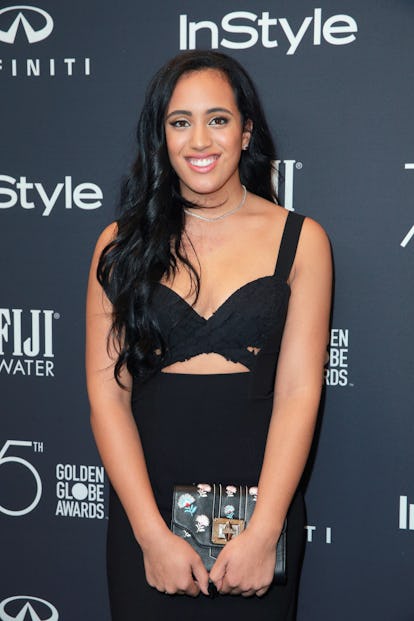 Rich Fury
Ever since Anne Archer, the daughter of Marjorie Lord and John Archer, was named Miss Golden Globe in 1971—less than a decade after the title was first given to Eva Six and Donna Douglas—the Hollywood Foreign Press Agency has made a practice of bestowing the honor on the children of screen luminaries. Tippi Hedren's daughter Melanie Griffith, then 18, was the 1975 Miss Golden Globe (and Griffith's daughter Dakota Johnson, then 17, in 2006). Rainey Qualley, Rumer Willis, Sosie Bacon, and Laura Dern have all been named Miss Golden Globe over the past 25 years. In 2015, it was Corinne Foxx; and while often Miss Golden Globe is an aspiring actress, last year, the Stallone sisters, whose main credits are on the red carpet rather than the screen, shared the title.
This year, Simone Garcia Johnson, Dwayne "The Rock" Johnson's 16-year-old daughter, will serve as the HFPA's newest scion honoree, doling out awards at the 2018 Golden Globes—only this time, she'll be named Golden Globe Ambassador in lieu of Miss Golden Globe. (Perhaps, in light of the ongoing conversation about equal treatment of women in Hollywood, it's wise of the HFPA to take the beauty pageant undertones out of the ambassadorship.) "The Hollywood Foreign Press Association members decided to expand this role to embody the HFPA's philanthropic efforts year round," HFPA president Meher Tatna said Wednesday night, according to the Variety. In addition to her duties at the Golden Globe Awards in January, Garcia Johnson will also partner with GlobalGirl Media, an organization that trains young women in underprivileged areas about media and journalism, especially focusing on stories that highlight marginalized voices.
Miss Golden Globe: 5 Favorites from the W Magazine Archives
Dakota Johnson was Miss Golden Globe in 2006, and most recently starred in "50 Shades of Grey."
Photograph by Sam Taylor-Johnson.
Laura Dern was Miss Golden Globe in 1982 and has most recently starred in the television show, "F Is For Family."
"Fashion Party" photographed by Juergen Teller, styled by Camilla Nickerson; W magazine October 2007.
Read about what Corinne Foxx, this year's Miss Golden Globe, is up to here.
Rumer Willis was Miss Golden Globe in 2009, and most recently won "Dancing With the Stars" and performed in "Chicago." Photo by Boneau/Bryan-Brown.
Francesca Eastwood was Miss Golden Globe in 2013, and most recently starred in "Heroes Reborn."
Photo by Photography by Caitlin Cronenberg.
"As the newly minted Golden Globe Ambassador, I hope to serve as a role model to young people everywhere and empower them to speak out on issues they are passionate about," Garcia Johnson said.
The daughter of The Rock and the producer Dany Garcia (who became The Rock's manager in 2008, though they split the previous year and their divorce was finalized the same year), Garcia Johnson has frequently attended red carpet events alongside her father: The Rock took her as his date to the People's Choice Awards earlier this year, where he won the Favorite Premium Series Actor award for his role in Ballers. Even though The Rock's bleeped-out speech, a gentle dig at Kevin Hart, drew significant attention, it was really his doppelganger daughter who commanded the room. And though their father-daughter night out made headlines, Garcia Johnson has appeared at many a Rock premiere, often alongside her mother: The two attended attended the premiere of Moana at AFI Fest last year, and earlier this year, they walked the red carpet for the Baywatch world premiere (which, fittingly, took place in Miami Beach).
Like many Golden Glboe ambassadors before her, Garcia Johnson is also an emerging model. Having signed with IMG Models, she's listed on their site as being in "development"; her Instagram feed, where she boasts nearly 200,000 followers (a number that is likely to only to increase in the next two months) is populated alternately with candid selfies, images of nights out with friends, and professional photos from her portfolio. Just like the rest of us, she also thinks the hands emoji is "creepy." She's also, evidently, an emerging advocate for a cross-section of civil rights issues: In addition to posting a passage from Angie Davis's bestselling young-adult novel The Hate U Give (a book about the Black Lives Matter movement geared towards teens) in August, she has also Instagrammed a thoughtful comment on a body-shaming tabloid cover story about Rihanna; a cartoon remarking on Donald Trump's endorsement of white-supremacist violence captioned "Day 136"; and a selfie in a t-shirt bearing the slogan "If Fertilized Eggs Are 'People' and Refugees Aren't We Have a Problem." And then, of course, there is still space for her true passion: French bulldogs.
Related: Unlike His Mom, Izaak Theo, Sade's Son, is a Master Instagrammer
9 Famous Kids Who Ruled the Runway at New York Fashion Week 2017