The Weeknd's Latest Collaboration Is Meant for "Everyone"—Including the Pope and Barack Obama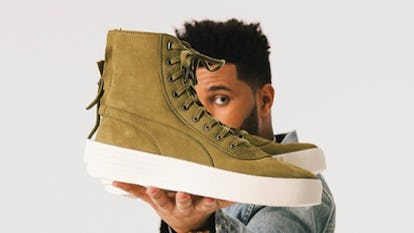 theweeknd/Instagram
What do the Pope, Barack Obama and Elon Musk have in common? No, there's no punchline—these iconic men are The Weeknd's dream customers for his first-ever fashion collaboration with Puma x XO apparel.
The Starboy singer initially teased the collaboration on Instagram back in April, but the official announcement came on Monday via an exclusive interview with Footwear News, People reports.
"I feel like the Puma shoe is a part of the 'Starboy' world. It's the shoe Starboy would wear," he said in the interview. "We actually revealed we were first working with Puma in the 'Starboy' video. We're already evolving in the next phase of our collaboration, so I'm gonna keep that a secret."
His inaugural shoe, called "Parrallel," has been in the works for over a year and will finally hit stores on August 24. The high-top sneaker will come in white and olive suede, and retail for $220 at high-end shops like Kith, The Webster, and Barneys, People reports. The Weeknd first teamed up with Puma in November to collaborate as a brand ambassador on the "Run The Streets" campaign, but this is his first time actually designing. And as it turns out, he has some pretty lofty goals for who he'd like to see rocking his styles.
"To be honest, I just want to see everyone wearing it. I want it to be part of pop culture," the artist told Footwear News. "I want to walk down the street and see kids wearing it and women wearing it. I want to see the Pope wearing it. I want to see [Barack] Obama wearing it. I want to see Elon Musk wearing it."
To be clear, the Parallel shoe is just the first step toward total streetwear domination. The Weeknd x Puma is set to launch T-shirts, denim jackets, and pants later this year. Soon, we will all be Starboys—just like Obama and the Pope.
Related: How Every Rapper and Pop Star Came to Have Their Own Sneaker Line
Nicole Kidman, James Franco, and Milo Ventimiglia Sing Spice Girls "Wannabe"