Get to Know Thisisneverthat, South Korea's Answer to Supreme
The Korean streetwear brand that everyone, from K-pop stars to rappers, has been talking about for a decade finally made its debut.
---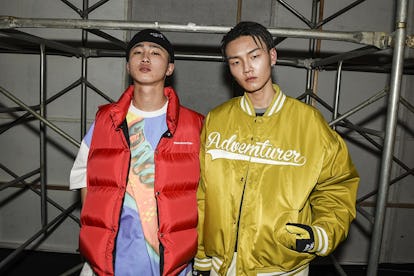 Unlike the shows in New York, Paris, and London, where designers often elect to show at eclectic locations around the respective cities, at Seoul Fashion Week, all shows on the calendar take place at the Dongdaemun Design Plaza in the northwest quadrant of the city; even the most buzzed-about off-the-calendar show, 99%IS–, showed mere feet away in the basement parking lot of the Doota department store across the street. This creates a concentrated hub where Fashion Week attendees frolic outside the shows, vying for attention from street style photographers and hoping to catch a glimpse of the celebrities pausing at the step-and-repeat before entering the dimly lit show venue.
In this setting, logos for Seoul-based brands, especially those showing at the D.D.P., are not difficult to spot. But there was one logo was impossible to miss this season. No, it wasn't Supreme or Balenciaga or Louis Vuitton, though those were, of course, present. Rather, it was a local brand: Thisisneverthat. During the rainy week of fashion shows, the brand's name was visible on windbreakers and jackets in a simple lowercase sans-serif, written either in one bold line or deconstructed, modern art-like, and reassembled in different formations. As the skies, previously black with clouds, began to clear midway through the week, Korea's street style aficionados emerged from under their umbrellas and layers wearing it on sweatshirts, tees, and even socks, as well.
The Korean streetwear brand, which is designed by Cho Nadan, Park Inwook, and Choi Jonkyu, launched in 2010 and quickly became an underground staple—but, as with many things in South Korea, what begins underground rarely stays that way for long. Its popularity spans distinct communities within Seoul's arts scene. Jungkook, one of the members of the K-pop group BTS, wore a Thisisneverthat shirt in the video for the group's 2016 single "Save Me," prompting blogs dedicated to the band's looks to track down its credits.
Korean rappers Giriboy, MC Meta, and Mad Clown have all been associated with Thisisneverthat. B-Free, the rapper who played the 99%IS– Fall 2018 show alongside CL, is an avowed fan of the brand; he's featured it in his Instagram stories numerous times in the days since Seoul Fashion Week wrapped last month.
"I found out about the brand through a friend that introduced me to the owner," B-Free told me via text. "So I started following them on Instagram, and then I started noticing the brand in shops here." (@Thisisneverthat boasts more than 100,000 Instagram followers.)
It's a new era for the brand, though: This season, after nearly a decade in business, Thisisneverthat designers Cho Nadan, Park Inwook, and Choi Jonkyu finally presented their first runway show. It offered a glimpse of the total Thisisneverthat look: normcore-ish plaid and chambray button-downs and medium-wash denim, paired with logo'ed parkas, hoodies, and puffer vests, and finished with those ubiquitous tiny glasses. A couple of women's looks also appeared on the runway, nearly indistinguishable from the menswear, save for the addition of a cross-body bag or a fur jacket.
All this has led some Korean fashion insiders to compare the brand to America's own cult brand Supreme. Like Supreme, Thisisneverthat has collaborated with Vans—as well as with other streetwear and athletic brands like Reebok, Puma, and Starter Black Label. So now, the only thing left to complete the analogy is a high-fashion collaboration or two…
Paging Kim Jones.
Seoul Fashion Week's Street Style Stars Are Here to Give a Master Class on Layering
Street style during Seoul Fashion Week on Tuesday, March 20th in Seoul, Korea. Photo by Adam Katz Sinding for W Magazine.

2017 Adam Katz Sinding
Street style during Seoul Fashion Week on Tuesday, March 20th in Seoul, Korea. Photo by Adam Katz Sinding for W Magazine.

2017 Adam Katz Sinding
Street style during Seoul Fashion Week on Tuesday, March 20th in Seoul, Korea. Photo by Adam Katz Sinding for W Magazine.

2017 Adam Katz Sinding
Street style during Seoul Fashion Week on Tuesday, March 20th in Seoul, Korea. Photo by Adam Katz Sinding for W Magazine.

2017 Adam Katz Sinding
Street style during Seoul Fashion Week on Tuesday, March 20th in Seoul, Korea. Photo by Adam Katz Sinding for W Magazine.

2017 Adam Katz Sinding
Street style during Seoul Fashion Week on Tuesday, March 20th in Seoul, Korea. Photo by Adam Katz Sinding for W Magazine.

2017 Adam Katz Sinding
Street style during Seoul Fashion Week on Tuesday, March 20th in Seoul, Korea. Photo by Adam Katz Sinding for W Magazine.

2017 Adam Katz Sinding
Street style during Seoul Fashion Week on Tuesday, March 20th in Seoul, Korea. Photo by Adam Katz Sinding for W Magazine.

2017 Adam Katz Sinding
Street style during Seoul Fashion Week on Tuesday, March 20th in Seoul, Korea. Photo by Adam Katz Sinding for W Magazine.

2017 Adam Katz Sinding
Street style during Seoul Fashion Week on Tuesday, March 20th in Seoul, Korea. Photo by Adam Katz Sinding for W Magazine.

2017 Adam Katz Sinding
Street style during Seoul Fashion Week on Tuesday, March 20th in Seoul, Korea. Photo by Adam Katz Sinding for W Magazine.

2017 Adam Katz Sinding
Street style during Seoul Fashion Week on Tuesday, March 20th in Seoul, Korea. Photo by Adam Katz Sinding for W Magazine.

2017 Adam Katz Sinding
Street style during Seoul Fashion Week on Tuesday, March 20th in Seoul, Korea. Photo by Adam Katz Sinding for W Magazine.

2017 Adam Katz Sinding
Street style during Seoul Fashion Week on Tuesday, March 20th in Seoul, Korea. Photo by Adam Katz Sinding for W Magazine.

2017 Adam Katz Sinding
Street style during Seoul Fashion Week on Tuesday, March 20th in Seoul, Korea. Photo by Adam Katz Sinding for W Magazine.

2017 Adam Katz Sinding
Street style during Seoul Fashion Week on Tuesday, March 20th in Seoul, Korea. Photo by Adam Katz Sinding for W Magazine.

2017 Adam Katz Sinding
Street style during Seoul Fashion Week on Wednesday, March 21st in Seoul, Korea. Photo by Adam Katz Sinding for W Magazine.

2017 Adam Katz Sinding
Street style during Seoul Fashion Week on Wednesday, March 21st in Seoul, Korea. Photo by Adam Katz Sinding for W Magazine.

2017 Adam Katz Sinding
Street style during Seoul Fashion Week on Wednesday, March 21st in Seoul, Korea. Photo by Adam Katz Sinding for W Magazine.

2017 Adam Katz Sinding
Street style during Seoul Fashion Week on Wednesday, March 21st in Seoul, Korea. Photo by Adam Katz Sinding for W Magazine.

2017 Adam Katz Sinding
Street style during Seoul Fashion Week on Wednesday, March 21st in Seoul, Korea. Photo by Adam Katz Sinding for W Magazine.

2017 Adam Katz Sinding
Street style during Seoul Fashion Week on Wednesday, March 21st in Seoul, Korea. Photo by Adam Katz Sinding for W Magazine.

2017 Adam Katz Sinding
Street style during Seoul Fashion Week on Wednesday, March 21st in Seoul, Korea. Photo by Adam Katz Sinding for W Magazine.

2017 Adam Katz Sinding
Street style during Seoul Fashion Week on Wednesday, March 21st in Seoul, Korea. Photo by Adam Katz Sinding for W Magazine.

2017 Adam Katz Sinding
Street style during Seoul Fashion Week on Wednesday, March 21st in Seoul, Korea. Photo by Adam Katz Sinding for W Magazine.

2017 Adam Katz Sinding
Street style during Seoul Fashion Week on Wednesday, March 21st in Seoul, Korea. Photo by Adam Katz Sinding for W Magazine.

2017 Adam Katz Sinding
Street style during Seoul Fashion Week on Wednesday, March 21st in Seoul, Korea. Photo by Adam Katz Sinding for W Magazine.

2017 Adam Katz Sinding
Street style during Seoul Fashion Week on Wednesday, March 21st in Seoul, Korea. Photo by Adam Katz Sinding for W Magazine.

2017 Adam Katz Sinding
Street style during Seoul Fashion Week on Wednesday, March 21st in Seoul, Korea. Photo by Adam Katz Sinding for W Magazine.

2017 Adam Katz Sinding
Street style during Seoul Fashion Week on Wednesday, March 21st in Seoul, Korea. Photo by Adam Katz Sinding for W Magazine.

2017 Adam Katz Sinding