Tiffany Haddish Wants to Hookup With Leonardo DiCaprio as His Character in What's Eating Gilbert Grape
What about Jack from Titanic?
---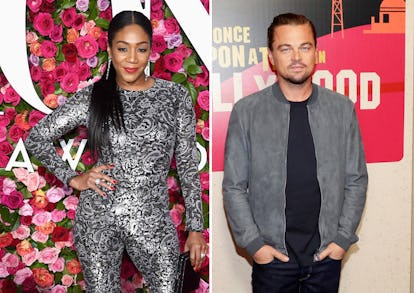 Photo courtesy of Getty Images.
Tiffany Haddish, like many people on this planet, would not mind bedding Leonardo DiCaprio. However, unlike most other people, she actually had the nerve and the opportunity to ask him if he was game—with one very particular stipulation.
In a new interview with The Hollywood Reporter, the Girls Trip star spills some tea about the time she hit on Leonardo DiCaprio. "Yeah, I met him at a party two, three months ago, and I asked him if he'd let me hit that," she tells THR. "He's like, 'Tiffany, you're so funny.' I'm like, 'I'm serious.' And then he goes, 'I mean, I'd do it, but…' I was like, 'Come on, wasn't you in a squad? The coochie squad or something?'" she asks, referring to, as THR points out, the "pussy posse," the gossip column name for DiCaprio's friendship circle in the '90s that included Tobey Maguire and Kevin Connolly.
But Haddish wasn't just interested in any old hookup; she had one very specific request for their encounter. "I told him, 'My only stipulation: I wanna do it with you as your character in What's Eating Gilbert Grape,'" she continues.
"He starts bustin' up laughin'. 'Why?' he asks, and I say, 'Cause I feel like that performance deserves a real reward and that reward is this,'" she says, reportedly gesturing at her own body. "He starts goin' into how he got into the role, how he worked with these kids and all this stuff, and I'm just listenin' and listenin', like, 'Mmm-hmm, mmm-hmm.' I finally go, 'All that's good, I just need to know, When's this gonna happen?'"
Despite the fact that it doesn't seem like it "happened" (at least for now) and that the comedian completely ignored fan favorite Jack from Titanic, Haddish's crush on DiCaprio seems to run deep. She's spoken in the past about wanting to "get him in her hammock" and she once told Stephen Colbert that she wanted to "get pregnant" by him.
Related: Tiffany Haddish, the Best Friend America Has Dreamed Of, Speaks Candidly About Comedy, Failure, and That Alexander McQueen Dress
Tiffany Haddish Makes Yet Another Bold Statement—This Time in Haute Couture
Photograph by Ethan James Green; Styled by Sara Moonves
Tiffany Haddish wears an Elie Saab Haute Couture dress; Kokin New York hat; Ralph Lauren Collection belt; Gianvito Rossi shoes.

Photograph by Ethan James Green; Styled by Sara Moonves
A Marie Antoinette extravaganza, Haddish wears a Giambattista Valli Haute Couture gown; Stephen Russell necklace; Manolo Blahnik shoes. Beauty: Play up a royal flush with Nars Narsissist Wanted Cheek Palette II.

Tiffany Haddish photographed by Ethan James Green for W Magazine Volume Three, 2018.
Embodying classic Hollywood sophistication, Tiffany Haddish wears a Givenchy Haute Couture jacket, skirt, and earrings.

Ethan James Green
Milking the situation in a RVDK Ronald van der Kemp top and skirt.

Photograph by Ethan James Green; Styled by Sara Moonves
As a fashion widow, in a Chanel Haute Couture tunic; Kokin New York mantilla; Bulgari earrings; Tiffany & Co. necklace.

Photograph by Ethan James Green; Styled by Sara Moonves
More than ready for her close-up in a Valentino Haute Couture dress and sandals; Philip Treacy for Valentino Haute Couture hat; Falke tights.

Photograph by Ethan James Green; Styled by Sara Moonves
Celebrating her arrival to the big time in an Armani Privé bustier and skirt; Cartier bracelet; Manolo Blahnik sandals.

Photograph by Ethan James Green; Styled by Sara Moonves
Caught up in a fashion whirlwind, wearing a Ralph & Russo gown; Manolo Blahnik shoes.

Photograph by Ethan James Green; Styled by Sara Moonves
A star is born in a Dior Haute Couture dress; Manolo Blahnik shoes.

Photograph by Ethan James Green; Styled by Sara Moonves Hair by Jawara for Davines at Bryant Artists; makeup by Hannah Murray at Art + Commerce; manicure by Michelle Saunders for Essie at Forward Artists. Set design by Julia Wagner at CLM. Hair by Precious Jackson at I Talent; Produced by Wes Olson at Connect the Dots; Production coordinator: Kaitlyn Fong at Connect the Dots; Retouching by dtouch ny; Digital technician: Nick Rapaz; Photography assistants: Dean Podmore, Zachary Benge; Fashion assistants: Allia Alliata, Nadia Beeman, Aisha Rae; Tailor: Isa Kriegeskotte; Production assistants: Nikki Patrlja, DeMarquis McDaniels, Doug Steans. Special thanks to Quixote, Kitchen Mouse, Studios 60