Tiffany Haddish Reveals Her 8 Best Rules for Success
Never forget you were the sperm who made it to the egg.
---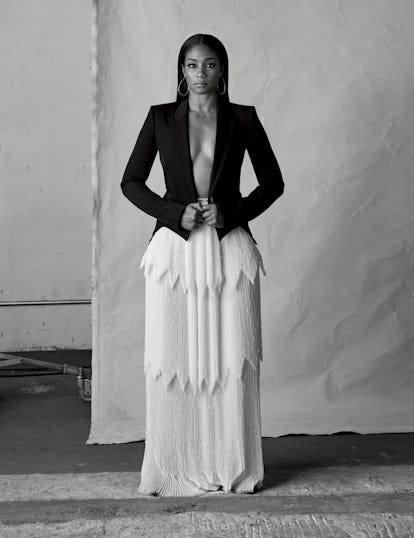 Ethan James Green
Tiffany Haddish has been fighting for success since before conception. "Ever since I was a little sperm and I was surrounded by all those other sperms that was stronger than me, you know, had a longer tail than my tail, swam faster than me," Haddish tells Editor at Large Lynn Hirschberg in W's latest Screen Test. Despite the long odds, she made it to that egg and has been fighting ever since. Juggling the pursuit of a comedy career with day jobs and temporary bouts of homelessness during which she lived in her car, Haddish established herself on the comedy scene in her 30s. Still, it wasn't until this past year that Haddish, 38, broke into the mainstream with her scene-stealing role in the surprise summer comedy hit Girls Trip. And yet, as she recalls, she still had to fight to even get an audition. When her agent told her they were only interested in more established names to star alongside Jada Pinkett Smith, Queen Latifah, and Regina Hall, Haddish told her, "You call them back and you tell them that I've had a name since 1979, and it's Tiffany motherfuckin' Haddish, and they better let me audition."
She ended up getting that audition, but it was by Skype, a medium that Haddish was familiar with only through sexting.
The rest, of course, is history. She's currently costarring with Tracy Morgan on TBS's The Last O.G., and has multiple film roles in the works that will find her starring opposite the likes of Kevin Hart, Taraji P. Henson, and Melissa McCarthy.
It may have taken her a while, but Haddish is now on top of the world. In her Screen Test, she shares some (hilarious) bits of wisdom that helped her get to where she is, including the surprisingly poignant reason why wearing that Alexander McQueen dress over and over again is more than just a joke.
Make Sure Your Crushes Are Worth Something, Like, Say, Their Own Branded Semi-Nutritious Cereal
"Jaleel White. I was in love with Steve Urkel, okay? The only other black man that I know that had his own cereal, where it was, like, shaped like him, was Mr. T. Steve Urkel had his own—he had Urkelbots. He had his own cereal, okay? It was delicious, and semi-nutritious."
Never Forget You Were the Sperm That Made It to the Egg
"I'm just determined to accomplish certain things. Ever since I was a little sperm and I was surrounded by all those other sperms that was stronger than me, you know, had a longer tail than my tail, swam faster than me…. They would make fun of me, like, 'Look at you. You got a little tail. You ain't going to make it to the egg,' and I'll be like, 'Well, you don't know that!'… I fought them. I made my way through. I got knocked into walls, got knocked into other sperms. You know, it was a battle. But I made it to the end, and you know what? That's resilience!"
Go After What You're Destined For
"The audition for Girls Trip was a process. When I read the script, I was like, 'Yo! Somebody has been partying with me. Somebody knows me. Somebody has been stealing events from my existence and amplified it.'"
"My agent says, 'Tiffany, they only want to see names. They don't want to see you. They only want to see names.' And I told my agent, 'You call them back and you tell them that I've had a name since 1979, and it's Tiffany motherfuckin' Haddish, and they better let me audition.'"
Do Things You're Unfamiliar With (Like Using Skype for Non-Sexual Reasons)
"'Do a director's audition, and that will be on Skype.' And I'm like, 'Skype? I'm only used to Skype sexting.'"
"[The Girls Trip director] Malcolm Lee came up on the screen, I was like, 'Hey, it's me, Tiffany Haddish. Let me just let you know right now, I'm used to Skype sexting, so if I start to, like, take off something or whatever, or it gets really sexual, 'cause I'm gon' tell you right now, those Post-its behind you and everything, the way the light is hitting your face, it's kind of sexy to me 'cause it looks like you got a job.'"
Don't Forget Where You Come From, Don't Get Caught Up in Status Symbols, and Don't Be Afraid to Wear the Same $4,122 Alexander McQueen Dress Over and Over
"For Girls Trip, I wore a white Alexander McQueen dress that cost $4,000. $4,122, to be exact."
"So the buying process of this $4,122 dress by Alexander McQueen went like this: I hired a stylist. I told her, 'I don't have a lot of money for clothes, but I want to look nice on the red carpet for Girls Trip.' She said, 'Girl, if you trying to make it to the next level in your career, you gon' have to spend a little money.' I said, 'My money is not for clothes, my money is for my family.' She said, 'Okay, Tiff, but you've got to look your best.' I said, 'All right, I'm down to look my best, you know, whatever it takes.' So then she brings these dresses to my house, right? None of the dresses fit but the Alexander McQueen dress. Now, the other dresses was way more affordable—$1,000, $2,000, one was even $800. But none of them fit. And I wear that dress to the red carpet of Girls Trip, and then she give me the receipt, and when I saw the receipt, I cried."
"So I'm wearing this dress multiple fuckin' times. I don't care what nobody say. That's a lot of money to spend. That's a down payment on a car. You know, that's a whole medical bill. Like, that's a lot of money. That's just way too much money to spend on clothes. And when you're somebody like me who's been homeless, really, clothes are not that important to me…. A roof over my head, food in my stomach, my family's health—those things, I think that's what money is for, and I think that's what's most important, but I guess fashion helps get more money. So we ride."
Laugh at Men When They Deserve It
"Men that think they're really smart, but they're not—that makes me laugh so hard. When a grown man is trying to tell you what's right, and he's so wrong, that, to me, is hilarious. That, to me, is very funny."
Laugh at (and Learn From) Your Own Failure
"Epic fails are funny to me because, you know, in failure, there's success. You learn what not to do, and so I can find the funny in a lot of failures. 'Cause I've had enough of them."
Related: Tiffany Haddish Sets the Record Straight on Beyoncé Feuds and Brad Pitt Flirtations