Troye Sivan vs Ansel Elgort: Whose Sweaty Warehouse Music Video is Better?
"My My My!" or "Supernova"?
---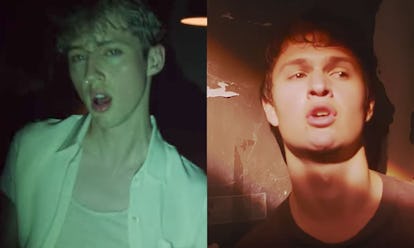 Ansel Elgort and Troye Sivan have more in common than one might initially assume. Both are children of the mid '90s (Elgort is 23, Sivan is 22). While they were both known to the public initially for other pursuits (Elgort for his acting career, and Sivan for being a YouTube vlogger), each is currently staking something of a claim for a piece of the boy pop crown owned almost entirely for the better part of the last decade by Justin Bieber. In Sivan's case his pop career may seem like a bridge to more mainstream fame, while for Elgort it's more of a Hailee Steinfeld-ian side hustle, but make no mistake, both take their musical exploits seriously.
It's a coincidence, but perhaps not a surprise, that both released strikingly similar music videos over the past two days to mark the release of their latest respective singles. In Sivan's case it's "My My My!" while Elgort has titled his effort "Supernova." They're both moody, sweaty clips in which the boys find themselves stalking through industrial spaces while bathed in dramatic neon lighting. Lets take a look at the similarities.
They both spend a good amount of the video glistening in perspiration in ominously lit rooms:
They both know how to pose so that streams of light hit their eyes just so:
They both know how to lean up, moodily, against some sort of nasty wall while bathed in warm neon lights:
And they both spend a good amount of each video eagerly walking, and invite you to follow them down mysterious, possibly foreboding thresholds:
While the videos' close release dates do highlight their similarities, they're both distinct in other ways. Elgort's is cut to at least to give us the impression it was shot in (almost) one take, and mostly follows the star on a pensive stroll. His is also obviously the only one that includes an impromptu game of light-up hopscotch. Sivan's, meanwhile, is more immersive with more sets, and occasionally the camera focuses on the brooding, sexy extras (one of whom happens to be a former adult model who also recently popped up on the runway during designer Shayne Oliver's recent collection for Helmut Lang).
So, if we had to make a call, we'd give this round to Sivan.
Elgort will be just fine. He's just coming off a Golden Globe nomination for his hit film Baby Driver, and has all sorts of plum acting roles lined up, including the lead in the adaptation of The Goldfinch and a turn as a young John F. Kennedy. He can release a song and video that makes him come off like a White Drake-a-be every once in a while, and it's alright.
Sivan, meanwhile, may have some intriguing acting roles lined up, but he's staking his career's future on his music, and the video has not only more of a sense of purpose as a result, but, regardless of its production design similarities' to Elgorts, is strikingly unique in other ways. Sivan, after all, is the first openly gay young pop star making waves on the charts (previous single "Youth" hit the top 40 in 2016), and he's not afraid to embrace that. He brings the dance moves, he brings the sexuality, and, not incidentally, he brings the better bop.
Related: The Baby Driver Sequel Is Already Here And It's On Ansel Elgort's Instagram