The Baby Driver Sequel Is Already Here And It's On Ansel Elgort's Instagram
Where's your seatbelt, Baby?
---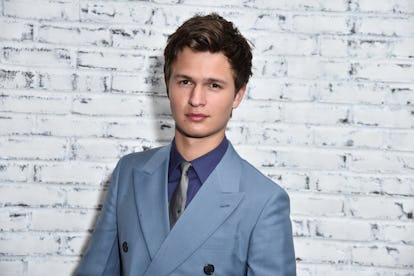 Jared Siskin
Who needs a Baby Driver sequel when we have Ansel Elgort's Instagram? As the New York City blizzard known as a "bomb cyclone" swirls around town, Ansel Elgort is offering his Baby Driver getaway driving services to anyone who needs a lift by driving around in a little red coupe with some impressive, albeit dangerous, skills in the Hamptons. "Nyc snowstorm no worries baby will give u a ride ?" Ansel captioned his racing video on Twitter, where he can be seen sliding around an empty parking lot doing the classic Baby Driver drift.
Elgort is no longer just an actor turned DJ, he's now also the official getaway driver of Long Island. After starring in Edgar Wright's high octane tale of a getaway driver with tinnitus, Elgort has been lapping up everything Baby Driver-related. This winter he's been celebrating his Golden Globe nomination for Best Actor in a Motion Picture, Comedy thanks to his performance as the title character in the film with a vacation in the Hamptons where he's been posting photos of his affinity for cars on Instagram and pulling stunts on frozen pools (of course, including disclaimers to followers not to follow in his footsteps by slipping and sliding on frozen pools).
Hollywood's goofy daredevil needs to stay alive, though, so as cool as Baby looks revving up that engine on the snow, and as appreciative as any of us would be if Elgort showed up to give us a lift on this snow day, there is no way drifting around like that with a broken headlight and not wearing a seatbelt can be safe! Ansel, please buckle up—we need you in the sequel (or at least to show up to the Golden Globes in one piece).
Related: Timothée Chalamet vs. Ansel Elgort: Which New York Scion Will Be The Hollywood Heartthrob of 2018?
Ansel Elgort and 3 More Young Stars Share The Best Advice They've Ever Received