The 10 Most Glamorous Places New York Has Lost
From Elaine's to CBGB's, a look back at some of the most fabulous destinations of a bygone New York, as annotated by Jeremiah's Vanishing New York.
---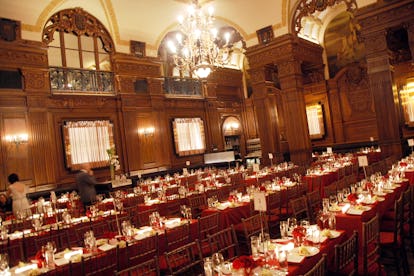 Patrick McMullan
New York City has always pulsed with glamour, attracting bright young things from afar anxious for the chance at a swirl of magical mayhem after midnight. Or at least it used to. Through the years, gentrification, skyrocketing rents, death, and general ambivalence have led to a parade of shimmery hotspots being turned into so much glue, as Manhattan becomes the home to banks, nail salons, Duane Reades, Juice Press shops and SoulCycle meccas. As the long-running blogger of Jeremiah's Vanishing New York, Jeremiah Moss (a nom de plume for writer Griffin Hansbury) has chronicled this trend with clarity and regret, pointing out what we've lost and why it matters. With his book, Vanishing New York, How a Great City Lost its Soul, coming out this month, Moss helped us remember 10 of the most fabulous destinations that served us a shot of woozy chic well before Starbucks hijacked the town. Not all of them are of the traditionally glam variety, mind you, but they all did exude a radiant sex appeal that can't easily be recaptured.
The Oak Room at The Plaza A place heavy with history, the Oak Room (along with the Oak Bar) has been closed since 2011, except for private parties, and it's a loss. "It's where Cary Grant was kidnapped in North By Northwest, Truman Capote had lunch there, and in the '80s you got weekly spottings of Liza Minnelli," Moss told me. But he adds that it went on to be "one of those champagne orgy places" with lowbrow clientele and potentially shady management. Another illustrious hotel, the Waldorf-Astoria, at 301 Park Avenue, is closed for renovations, but Moss said it's basically a goner, too. "It's coming back as mostly condos," he said. "You used to be able to walk in there and wander through the Waldorf and no one would stop you—like the Plaza, before that place became partial condo. There were strange hallways filled with dusty old antiques. I doubt any of that is going to survive this high-end luxury residential hotel."
Elaine's Restaurant If you wrote—and drank—you went to Elaine's, and that happened to span a lot of people. Norman Mailer, Tom Wolfe, and George Plimpton all frequented the tony eatery at 1703 Second Avenue, which raked in the literati from 1963-2011. Jackie O was also regular, Woody Allen put it in Manhattan, and Billy Joel mentioned it in a song, "Big Shot." At the center was the robust Elaine Kaufman, who acted as an earthy muse to all the literary lions in her cub. After she died, there was no point in carrying on the restaurant, so it dropped into the abyss. "When I think of '70s New York glamour," said Moss, "I think of Elaine's."
Le Train Bleu In 1979, a fascinating restaurant opened in Bloomingdale's, designed to look like a railroad car that didn't move, yet seemed rather scenic. The result attracted lovers of theme restaurants, as well as people who recognized the inherent glamour in certain forms of international rail travel. "It was at the top of Bloomingdale's, kind of hidden," said Moss. "It was made to look like a train car and was named for a French train that went from London to Paris to the Riviera. It was cool and elegant and the people all seemed to know each other. A lot of them were dressed very stylishly and looked very dapper, many of them older, many of them Bloomingdale's regulars." Alas, the train departed last year when the place, apparently, lost its lease.
Florent A victim of its own success, this glorified French diner at 69 Gansevoort Street broke new ground in the Meatpacking District when it opened in 1985, but by 2008, the nabe was so bustling and gentrified, there was no place for it anymore. "It was an after hours spot for leather men, transgender people, sex workers, and trend seeking slummers. Many credit it with the first touch of gentrification in the Meatpacking district. It opened the same year Mayor Ed Koch went in and closed down a leather bar and sex clubs," Moss said. With ACT UP activists also peppering the crowd, the mood was lively, and also rather dark, since feisty French owner Florent put his HIV diary on the wall, along with the specials. Recalled Moss, "When the rent was raised from $6,000 to $50,000 a month, Florent wrote, 'Real estate goes down—NYC survives'."
Chumley's This legendary speakeasy at 86 Bedford Street, explained Moss, "was opened in 1922 by a social activist. It was frequented by writers like William Faulkner, John Steinbeck, and E. E. Cummings, and it's supposedly where F. Scott Fitzgerald and Zelda had sex on their wedding night. They supposedly had intercourse at a booth. The wall was covered with book covers. But the place collapsed in 2007. The chimney collapsed. They went through tribulations to reopen, and now it's reopening"—the venue officially re-opened last fall—"as a reservations-only restoration. It's become an expensive place, not what it was."
Lenox Lounge Opened at 288 Lenox Avenue in 1939 by Dominic Greco, this Harlem boîte was a bristling, invaluable showcase for acts like Miles Davis, John Coltrane, and Billie Holiday. A rent increase in 2012 led to the final curtain, and the space will supposedly house a Sephora, continuing the depersonalization of the neighborhood. "It was a masterpiece," Moss said. "The back room was papered and flocked, the front was paneled and chromed. The rent doubled and doubled again. The guy who runs Nobu was supposed to take over, he dropped it, and the building was recently demolished. It should have been landmarked."
Carnegie Deli A glamorous deli? Yes, because Carnegie exuded some genuine New York excitement, along with having been gussied up with celebrity touches that made it way more than just a sandwich shop. The main branch of the Carnegie Deli chain, the 854 7th Avenue spot right next to Carnegie Hall, was probably the most famous pastrami purveyor in history, as immortalized in Woody Allen's show biz comedy Broadway Danny Rose (1984). It was dotted with autographed photos of celebs on the wall, plus menu items that were either in Yiddish or funny or celebrity related. "I first visited there as a kid on a trip with the drama club in 1987," remembered Moss. "The glamour was in the celebrity head shots, which was exciting to a kid from out of town, even though the celebrities were Barry Manilow and Neil Diamond." Carnegie's closed at the end of last year when the owner, Marian Harper Levine, said she needed a break from the demands of running a restaurant. At least it was her decision.
The Amato Opera Theater "If you couldn't afford to go to the Met," said Moss, "you'd go to the Amato. I saw La Boheme, Madame Butterfly, and Carmen there. When there was a parking lot outside, the singers would practice in costume. It was great walking by and getting a little bit of opera. At intermission, a lady sold homemade brownies." The company was founded in 1948 and since 1964 was at 319 Bowery, deliriously near CBGB's, creating a sort of anti Lincoln Center for downtown. The little opera house that could was the brainchild of a married couple, Sally and Anthony Amato, but it closed in 2009, with Sally having died. Anthony passed on two years later, but the bravos can still be heard.
CBGB's Glamour doesn't have to signify tuxedos, cigarette holders, and sultry jazz. It can manifest itself in razor blades, mohawks, and head banging. That being the case, CBGB's definitely exuded reams of glamour—that of disenfranchised people getting together to create some beautifully angry musical and sartorial madness that was very New York. Opened by Hilly Kristal at 315 Bowery in 1973, the institution eventually shuttered with a Patti Smith concert in 2006, after much publicized problems with unpaid rent. CBGB's is now a John Varvatos store. "I arrived after the haute glamour was gone, in the 1990s," lamented Moss. "You weren't running into Patti Smith and Debbie Harry then, so I missed the heyday. But it was sure was a landmark." Argue with that and you might get a serious dressing down.
The Palm on Second Avenue Opened by Pio Bozzi and John Ganzi in 1920, the Palm's Italian cuisine eventually expanded to include mouth watering steaks, which became a staple for New York cognoscenti. A long time later, in 1973, Palm Too opened across the street, and there are also some Palms in other cities. But Moss says the original Palm was a gem that's lost to the ages. "The walls were covered in hand painted cartoons and caricatures made by some of the greats, like Mort Walker and C.D. Russell. That's how they paid for meals—paint something on the wall. In 2015, it was sold for millions and dollars and the artwork was painted over. It's a tragedy," Moss said.
After Hours Pictures of Patti Smith, Blondie, and the Ramones Like You've Never Seen Them Before
Sylvia Reed and Anya Philips, 1976.

David Godlis
Klaus Nomi, Christopher Parker, Jim Jarmusch, 1978.

David Godlis
Fran Pelzman & Mary Harron, 1977.

David Godlis
Closing time, 4 a.m., 1977.

David Godlis
Bowery garbage truck, 4 a.m., 1977.

David Godlis
Watch: Home Alone 2: Lost in New York, Starring Model Jordan Barrett
Home Alone 2: Lost in New York, Starring Model Jordan Barrett