Victoria Beckham Mistook Thandie Newton for Zoe Saldana at SoulCycle
"Victoria was absolutely mortified!"
---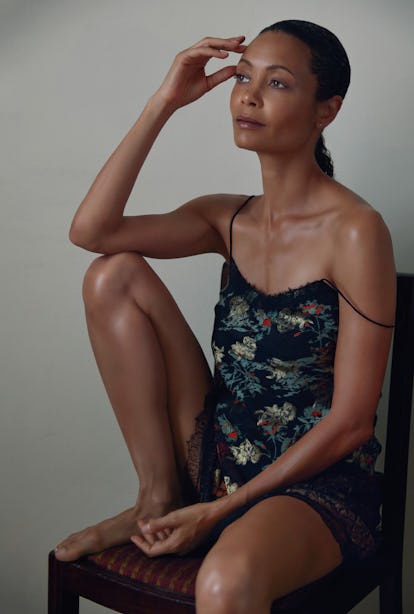 Photographed by Mona Kuhn, styled by Patrick Mackie.
Zoe Saldana's mother once saw a poster for the 2004 film Crash and called up her daughter to ask why she didn't bother to mention that she had shot a film with Matt Dillon. Saldana had to awkwardly explain to her mother that it wasn't actually her clinging to Dillon on the poster, but rather Thandie Newton. So, listen, it happens. The two actresses certainly have something of a Zooey Deschanel/Emily Blunt/Katy Perry thing going on. It's possibly understandable to confuse the two when glancing at a heavily photoshopped movie poster, or maybe even if you happened to catch one or the other dressed down in workout gear like Victoria Beckham recently did. Possibly. Unfortunately for Beckham, when she did run into Newton at a Los Angeles Soul Cycle studio she proceeded to have an entire conversation with the Star Wars actress as if she was the Star Trek actress.
Newton recently revealed the mishap while guesting on an episode of The Graham Norton Show (incidentally, Saldana's Guardian of the Galaxy co-star Chris Pratt was one of the other guests). Norton asked Newton if she was ever confused for another celebrity, and she quickly agreed that, yes, when it happens, its usually for Saldana.
"Recently, I was in SoulCycle in L.A. and Victoria Beckham, who I have actually met a few times, was there," recounted Newton.
"We were chatting away when she said, 'It's so great that you are here when you are pregnant.' I said, 'I actually had my baby a couple of months ago.' We carried on chatting and it was obvious she thought I was someone else, so I said, 'Do you think I am Zoe Saldana?'"
Beckham is a frequent SoulCycler even when she's in Los Angeles, and was photographed entering a studio in L.A. a few times during Saladana's 2016 to 2017 pregnancy, so, yes, the dates do check up. Though, the story could have also happened in 2014 as well, when Saldana and Newton had overlapping pregnancies for a few months, but Newton did give birth months before.
"Victoria was absolutely mortified!" she said, and rightly so. "It was actually O.K. as Zoe is a rare beauty, but really? Up close? Come on!"
Though, Newton did add one final detail that really, really should have tipped Victoria Beckham off sooner: "And, I am British!"
Indeed, Newton was born in London and talks with a very British accent. Whereas Saldana was born in New Jersey and has an unmistakably American voice. Beckham is easily one of the most British people alive—isn't she expected to keep up with a list of other notable Brits?
In addition to revealing her own mother's movie poster mishap, Saldana has also spoken about the actresses' resemblances before. "I'll be walking down the street and I'll have people go, 'Hey Thandie Newton!'" she once told Craig Ferguson.
"I've gotten Kerry Washington and Jada Pinkett, too, but mainly Thandie," she also told The Hollywood Reporter. "People ask me if I'm offended that I'm confused with every other black actress out there. 'Doesn't it bother you that people think you're all the same person?' No. Because one time I entered a restaurant and there were all these beautiful blond girls around a table, probably all from Orange County. It felt like it might have been a high school reunion or something. There were like 20 beautiful girls, but they were all the same. I couldn't tell any of them apart."
Incidentally, Beckham is not the first pop icon to accidentally confuse an British Commonwealth-born actress with her American-born doppleganger. Last year while guesting on Jimmy Fallon Live!, Australian Isla Fisher admitted that she gets confused for her American friend Amy Adams frequently, once even by Lady Gaga at the Vanity Fair Oscars Party.
"I'm excited, all dressed up at the bar, and schmoozing with showbiz types," recalled Fisher. "And the crowds parted and there was Lady Gaga, and she's heading right towards me. And she says, 'Thank you, your performance in American Hustle, Amy, was…"
"And I'm thinking, 'I don't want to be a liar,' and then I look over her shoulder and there's Amy Adams walking into the party," said Fisher. "So I'm like, 'There's Isla Fisher.'"
At this rate, in another 8 months we fully expect Natalie Portman to drop by Seth Meyers to talk about the time Kylie Minogue thought she was Kiera Knightley.
Related: Victoria Beckham Has a Great Reason for Not Smiling at the Royal Wedding