Vivienne Westwood Protests Fracking While Dancing to ABBA's "Dancing Queen"
She can dance, she can jive, saving the world one step at a time.
---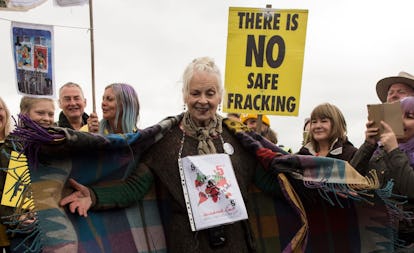 OLI SCARFF/AFP/Getty Images
Usually, any effective political action is a dance of sorts, but Vivienne Westwood took that more literally when standing up against fracking. The septuagenarian, who has given multiple generations lessons on how to protest, made a surprise appearance at a rally in Little Plumpton, England, today, where she busted out some moves to ABBA's "Dancing Queen."
"I'm going to save the world from climate change," she announced to her fellow protestors, "because I've got a plan and I'm the only person who's got a real strategy of something easy to do… I designed a set of playing cards because I'm an activist. I've got so many graphics, I thought I would put them all on a set of playing cards. But they're not just a set of playing cards… they're a whole strategy to save the world."
She later proceeded to show she's still got moves, pulling out some complicated legwork to the Swedish band's 1975 hit, which Cher recently covered. Needless to say, Westwood captivated the crowd, which you can see in a clip here.
This isn't the first time Westwood has employed social-savvy measures to draw attention to England's fracking, which has caused at least two earthquakes in Lancashire, England, where Westwood protested. Back in 2011, it caused tremors with a magnitude of 2.3 and 1.5 and, around the same time, reports also surfaced about how polluting the practice is, which can contaminate groundwater and worsen greenhouse gases, as The Guardian noted at the time.
Back in 2015, Westwood drove a tank to the former prime minister David Cameron's home in Chadlington, Oxfordshire, to call him out for allowing fracking. "Cameron accuses foreign leaders such as President Gaddafi and President Assad of supposedly using chemicals on their own people as a justification for regime change," she said of her staged "chemical attack." "But he is doing precisely that here in Britain by forcing toxic, life-threatening fracking chemicals on his own people against the advice of his own chief scientist. It's time for regime change in Britain. Cameron plans to force householders to surrender their land and endure fracking underneath their homes. Britons no longer have any choice but to fight back." And so the fight goes on—but at least with her latest protest, Westwood appears to be having the time of her life.
Related: 76-Year-Old Vivienne Westwood Rode On a Male Model's Shoulders at Her Spring 2018 London Men's Show