Jennifer Lopez Releases Tropical New Music Video for 'Ni Tú Ni Yo'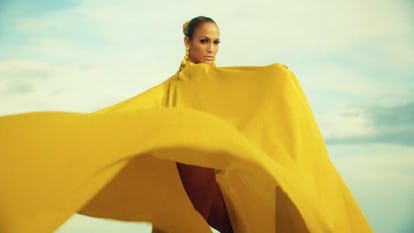 Jennifer Lopez/Vevo
If you thought that Jennifer Lopez's now-iconic 2000 Versace Grammys look was tropical and revealing, the 47-year-old superstar just took leafy-green sex appeal one step further by going nearly nude in her latest music video for her single "Ni Tú Ni Yo"—except for a few strategically placed leaves.
Directed by Emil Nava, and shot in Islamorada, Florida, Lopez's other looks include thigh-high boots and a bustier made of rope, a long printed caftan with slits up both legs, and an equally daring yellow gown from Michael Costello that blows behind her in the ocean breeze. Another featured dress is the very same Fausto Puglisi gown with waist-high front slits that she wore for her NBC performance of the song—and that Kendall Jenner once wore on a red carpet.
Ex-husband Marc Anthony is also featured in Lopez's daring new video, the epitome of ex-couple goals. In the video, Anthony introduces Lopez to photographer Khotan Fernández, who stages epic photo shoots of the singer, as he slowly falls in love with her.
How could you not, though, with outfits like these and a glow like hers? Before you even question how much of the video is editing (or well-constructed leafage) and how much is Jenny au naturel, just hear her personal trainer out.
Watch the video, below.
Related: Jennifer Lopez's Most Fashionable Music Video Moments, Ever
What Happens When Jennifer Lopez Remixes "Baby Got Back" by Sir Mix-A-Lot:
How Jennifer Lopez's Glitzy Style Went From Demure to Daring
Jennifer Lopez arrives on the red carpet for the 69th Annual Academy Awards on March 24, 1997 at the Shrine Auditorium in Los Angeles, California. Photo courtesy of Getty Images.

Getty Images
Jennifer Lopez during The 40th Annual GRAMMY Awards at Radio City Music Hall in New York City, New York, United States. Photo courtesy of Getty Images.

Getty Images
Jennifer Lopez at the VH1 Fashion Awards in New York, New York, October 1998. Photo courtesy of Getty Images.

Getty Images
Jennifer Lopez at the Vanity Fair Oscar Party in Los Angeles, California, March 1999. Photo courtesy of Getty Images.

Getty Images
Jennifer Lopez at the Grammy Awards in Los Angeles, California, March 2000. Photo courtesy of Getty Images.

Getty Images
Jennifer Lopez at the Golden Globes in Beverly Hills, California, January 2001. Photo courtesy of Getty Images.

Getty Images
Jennifer Lopez at the 73rd annual Academy Awards in Los Angeles, California, March 2001. Photo courtesy of Getty Images.

Getty Images
Jennifer Lopez at the 75th annual Academy Awards in Hollywood, California, March 2003. Photo courtesy of Getty Images.

Getty Images
Jennifer Lopez at the 61st annual Golden Globes in Beverly Hills, California, January 2004. Photo courtesy of Getty Images.

Getty Images
Jennifer Lopez at the 66th annual Golden Globes in Los Angeles, California, January 2009. Photo courtesy of Getty Images.

Getty Images
Jennifer Lopez at the 68th annual Golden Globes in Beverly Hills, California, January 2011. Photo courtesy of Getty Images.

Getty Images
Jennifer Lopez at the Cannes Film Festival in Cap d'Antibes, France, May 2010. Photo courtesy of Getty Images.

Getty Images
Jennifer Lopez at the Vanity Fair Oscar Party in Beverly Hills, California, February 2015. Photo courtesy of Getty Images.

Getty Images
Jennifer Lopez at the 87th annual Academy Awards in Hollywood, California, February 2015. Photo courtesy of Getty Images.

Getty Images
Jennifer Lopez at the Metropolitan Museum of Art Costume Institute Gala in New York, New York, May 2015. Photo courtesy of Getty Images.

Getty Images
Jennifer Lopez at the 73rd annual Golden Globes in Beverly Hills, California, January 2016. Photo courtesy of Getty Images.

Getty Images
Jennifer Lopez arrives at the MTV Movie Awards held at the Nokia Theater in L.A., April 2015. Photo courtesy of Getty Images.

Getty Images
Jennifer Lopez attends the 59th GRAMMY Awards at STAPLES Center on February 12, 2017 in Los Angeles, California. Photo courtesy of Getty Images.

Getty Images
Jennifer Lopez attends the "Rei Kawakubo/Comme des Garcons: Art Of The In-Between" Costume Institute Gala at Metropolitan Museum of Art on May 1, 2017 in New York City. Photo courtesy of Getty Images.

Getty Images
Jennifer Lopez attends the Billboard Latin Music Awards at Watsco Center on April 27, 2017 in Coral Gables, Florida. Photo courtesy of Getty Images.

Getty Images
Jennifer Lopez attends the 2017 NBCUniversal Upfront at Radio City Music Hall on May 15, 2017 in New York City. Photo courtesy of Getty Images.

Getty Images
Jennifer Lopez attends the 2018 Time 100 Gala at Frederick P. Rose Hall, Jazz at Lincoln Center on April 24, 2018 in New York City. Photo courtesy of Getty Images.

Getty Images
Jennifer Lopez on the red carpet at the Latin Billboard Awards in Las Vegas, NV on April 26, 2018. Photo courtesy of Getty Images.

Getty Images
Jennifer Lopez and Alex Rodriguez attends the Heavenly Bodies: Fashion & The Catholic Imagination Costume Institute Gala at Metropolitan Museum of Art on May 7, 2018 in New York City. Photo courtesy of Getty Images.

Getty Images
Jennifer Lopez attends the 2018 MTV Video Music Awards at Radio City Music Hall on August 20, 2018 in New York City. Photo courtesy of Getty Images.

Getty Images
Jennifer Lopez attends the 'Second Act' World Premiere at Regal Union Square Theatre, Stadium 14 on December 12, 2018 in New York City. Photo courtesy of Getty Images.

Getty Images
Jennifer Lopez attends the 61st Annual GRAMMY Awards at Staples Center on February 10, 2019 in Los Angeles, California. Photo courtesy of Getty Images.

Getty Images
Jennifer Lopez attends 2019 Vanity Fair Oscar Party Hosted By Radhika Jones at Wallis Annenberg Center for the Performing Arts on February 24, 2019 in Beverly Hills, California. Photo courtesy of Getty Images.

Getty Images
Jennifer Lopez attends The 2019 Met Gala Celebrating Camp: Notes on Fashion at Metropolitan Museum of Art on May 06, 2019 in New York City. Photo courtesy of Getty Images.

Getty Images
Jennifer Lopez attends the CFDA Fashion Awards at the Brooklyn Museum of Art on June 03, 2019 in New York City. Photo courtesy of Getty Images.

Getty Images