Wes Anderson Would Like to Show You Some Treasures With His New Exhibition
Ahead of his new film, step inside his new art exhibit.
---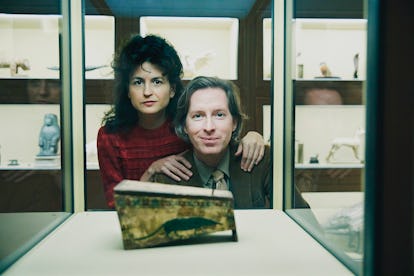 Rafaela Proell
While the rest of his fans have been busy speculating about his new film, the staff at Vienna's Kunsthistorisches Museum has been pondering another question for Wes Anderson: what would it look like if the famously meticulous filmmaker got his hands on their enormous collection? For better or for worse, they decided to find out, inviting him to comb through the 4.5 million objects that make up the biggest art museum in Austria's collections and come on board as a curator. An unknown number of thousands of hours later, Anderson returned with his choice 430 or so—all of which can now be found in the exhibition "Spitzmaus Mummy in a Coffin and Other Treasures," on view through spring.
As its mouthful of a title may suggest, this is not your usual slice of Anderson's aesthetically exquisite (and incredibly Instagrammable) universe. Instead, it's his excavation of sorts of the institution, whose invitation Anderson seems to have taken as a challenge; he worked his way through their 5,000 years' worth of its wares so thoroughly that it took the largest exhibition in the museum's 127-year history to display his selection. (Among Anderson's choice objects, many of which have never been exhibited, are Old Master paintings, a preserved tree frog specimen, and an Indonesian necked bowl lute.)
Anderson's partner, the author and designer Juman Malouf, joined in on the fun, and together, they couple seems to have made it their mission to leave no part of the museum untouched. As the adjunct curator Jasper Sharp, who spoke with artnet News, put it: "Their favorite part of the museum was the things that are sleeping softly on white cushions on shelf number 42 on the third floor of a storage room."
At one point or another, they came across the spitzmaus mummy that would become the show's titular centerpiece—and, for those who don't speak German, a very grandiose disguise for Anderson's attachment to the preserved corpse of a shrew that he'd unearthed with Malouf. It was perhaps at that point, though, that they checked their perusing privileges, which seemingly prompting the pair to make the very subject of the show. "Our hope," Anderson wrote in its accompanying booklet, "is we will shed some light into corners that had previously been too dim for comfortable viewing." If Vienna is still a bit far out of your reach, take a look via Instagram, here.
Related: Here's What Food Tutorials Directed by Wes Anderson, Quentin Tarantino and More Would Look Like