Yolanda Hadid Goes Full-On Tyra Banks in the First Trailer for Her New Modeling Show
With a little help from Gigi and Bella, of course.
---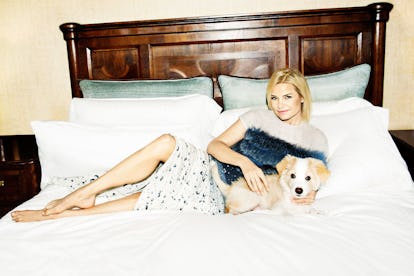 Former model and Real Housewives alum Yolanda Hadid revealed the first look at her upcoming modeling competition show for Lifetime on Tuesday and, just like you would expect from someone who's turned their kitchen into a shrine of their daughters's magazine covers, the first minute of it is devoted to listing the many, many achievements and accolades of her dear children Gigi and Bella. (Just in case you somehow didn't know they're supermodels.)
Anyway, with her momager credentials established and out of the way—though she, or at least the trailer editors, seems to have forgotten them when it comes to her son Anwar, who's also a model—the first trailer for Making a Model with Yolanda Hadid, an eight-episode series that'll premiere on Lifetime on January 11, give insight into the "intensive training program focused on the physical, mental, and emotional strength needed to create a successful brand as a model," as Entertainment Weekly very seriously puts it in the very serious show's preview, where Hadid introduces us to the five aspiring models she hand-picked from thousands to undergo her eight-week training program. (She even allows her daughters to not quite so convincingly speak for themselves—a sample quote from Bella, who's comfortably stretched out on the floor in front of a couch-full of aspiring models: "I'm just like you guys. I started out the same way.")
But, just like America's Next Top Model, the show looks like it'll be far from just fun and games. It turns out the five girls who star will not only be all living under the same roof, but also doing so with their mothers, whom Hadid will also school on becoming momagers—a move that fully allows her Tyra Banks side to shine through. "Moms, use this time to guide your daughters, and then learn to let them fly on their own," Hadid says with upward hand gestures to the crowd on the couch as she sits on the floor just like Bella, barefoot but with her pink furry Gucci slippers in arm's reach.
Gigi might cheer on the girls at photo shoots, and her biggest admirer, Tommy Hilfiger, might also send them some love, but inevitably, and thanks largely to Hadid, the drama starts to build further up and up: As the girls reveal inadequacies in tasks like jumping in a timely fashion and shouldering a giant surfboard while looking like a carefree beach babe, Hadid grows increasingly frustrated, looking straight into one model's eyes while in a boxing ring and saying, "I need to see the tiger in you," and brushing off the pain of another model who's in tears as she descends from a rope that was suspending her in midair as "part of the job."
Spoiler alert: There are many more tears where those came from, including from the moms, who end up feeling like they're "in the judgment seat as much as the girls are." The camera even turns to a black-and-white stormy New York sky as one mom states the obvious: "We're not in a normal situation." Still, they soldier on through what at one point looks like a horror show for their daughters's sakes, who have a chance to win a contract with Hadid and the opportunity to sign with IMG—that is, if they have the stamina to make it past the former. "I'm the most protective mama bear you're ever gonna cross," Hadid at one point asserts to her victims, in a statement that probably should have been fact checked by Kris Jenner.
See Cindy Crawford, Yolanda Hadid, Kris Jenner, and More Being Proud Moms of Model Children at Fashion Week
Yolanda Hadid got to root on not just one but both of her supermodel daughters at the Prabal Gurung show, where both Bella and Gigi Hadid walked.

Astrid Stawiarz/Getty Images For NYFW: The Shows
But she supported even more of her children for Tommy Hilfiger's spring 2018 presentation in London, as Gigi opened the show, trailed by her sister Bella and brother Anwar Hadid.

David M. Benett/Dave Benett/Getty Images for Tommy Hilfiger
As one of the faces of Fendi, Kendall Jenner has become a fixture on the Italian luxury house's runway, and her mom Kris Jenner didn't miss the opportunity to support her during Milan Fashion Week—even as rumors swirled about her other daughter Kylie's pregnancy.

Jacopo Raule/Getty Images
She also looked like the vision of a proud mom at Versace—fittingly, a show that celebrated supermodels-turned-moms like Cindy Crawford and Helena Christensen, and even had a metaphoric baton pass between the generations as Crawford's daughter Kaia Gerber also walked in it.

Jacopo Raule/Getty Images
The Dennis Basso show was also a family affair as Lisa Rinna showed up to watch her daughter Amelia Gray model in it with her husband Harry Hamlin and their daughter Delilah Belle Hamlin.

Sean Zanni/Patrick McMullan via Getty Images
Helena Christensen had more than one family member to support at the Calvin Klein show. She watched front row as both her son Mingus Reed and her nephew Oliver Sonne walked in the show.

Gilbert Carrasquillo/GC Images
19-year-old Sofia Richie has spoken out about how tight-knit her family is before, telling Complex, "As a family we all just got through everything together. We're all really supportive of each other." Lionel Richie confirmed that when he showed up at Jeremy Scott's spring 2018 presentation to watch his model daughter.

Photo by Ben Gabbe/Getty Images
Camille Grammer didn't miss her daughter's runway debut for New York designer Malan Breton and, this year, she also bonded with her model daughter Mason while making the rounds together at Fashion Week parties.

Steve Zak Photography/Getty Images
Kate Moss had a special mother-daughter moment during London Fashion Week when she brought her 14-year-old daughter Lila Grace Moss Hack, a budding model, to Topshop's show. "She's really good," Moss has said of her daughter's runway walk.

David M. Benett
Cindy Crawford didn't watch her daughter Kaia Gerber make her Versace debut from the front row. Instead the supermodel watched from backstage, right before she closed out the show with her supermodel '90s peers like Naomi Campbell, Claudia Schiffer, Carla Bruni, and Helena Christensen.

Venturelli
Crawford has on proud mom duty throughout Fashion Month, traveling with her daughter Kaia from New York to Milan and, most recently, Paris. "You know what, it's been really fun for me to see my kids get their feet wet in the fabulous world of fashion," Crawford recently told Vanity Fair.

Pierre Suu
No doubt this past Fashion Month has been a major bonding experience for Cindy Crawford and her daughter Kaia Gerber. "Now we talk shop," Crawford told Vanity Fair of her evolving relationship with her kids. "They're like, 'Mom, wow, this is hard. I have a 5 A.M. call,' and I'm like yeah, it sucks. All of sudden they have a whole new appreciation for what I spent the last 30 years of my life doing."

Marc Piasecki
Cindy Crawford and her daughter Kaia Gerber completed the grand finale of their bonding experience that was Fashion Month when Crawford not only watched Gerber open Chanel, but reunited with Karl Lagerfeld 20 years after she was one of the house's catwalk regulars, all while posting Boomerang after Boomerang.

Courtesy of @kaiagerberbrasil
Related: Yolanda Hadid's Kitchen Is a Shrine to Bella and Gigi's Covers
Gigi Hadid Reveals the Secret to Her Signature Runway Walk: