You, Lifetime's Latest Show, Is a Deadly Mash-Up of Gossip Girl, Pretty Little Liars, and Riverdale
Except everyone's an adult.
---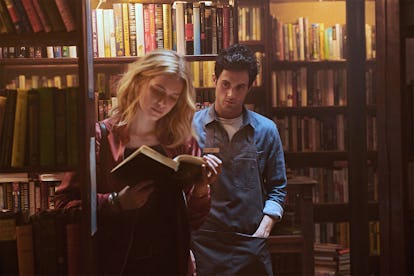 Lifetime
What do you get when you mix Gossip Girl, Pretty Little Liars, and Riverdale in a blender, but acknowledge the subplots are creepy and make all the actors age-appropriate? The answer is, apparently, You, Lifetime's new show in which Penn Badgley once again stalks a carefree blonde woman and tries to get her to fall in love with him by learning all her secrets on the Internet.
On Tuesday, Lifetime released the trailer for You, and as far as we can glean from the clips and the IMDb page, the plot goes like this: Dan Humphrey from Gossip Girl (Penn Badgley) plays a creepy bookstore owner named Joe Goldberg who is obsessed with a woman named Guinevere Beck (Elizabeth Lail), who in turn goes by the Instagram handle of @BeckdelTest. (Nice.) One night, he follows her to a more-or-less deserted subway stop (in Greenpoint!), during which she fumbles and falls onto the tracks. She is then rescued by Creepy Dan Humphrey, who immediately embarks on a passionate, mirror-sex-having relationship with his unwitting victim. Unfortunately, Emily from Pretty Little Liars (Shay Mitchell), who goes by Peach Salinger (really?) in this show, does not approve, and she makes it her mission to expose Joe's unethical, Google-stalking ways. Love, obsession, seduction, deception, rejection, and revenge ensue—at least according to the title cards.
Boy, does this tick off all the classic sexy-teen-murder-drama boxes. Women walking around mansions holding guns in expensive lingerie? Check. A creepy brunette English major who begins a relationship with a woman under false pretenses? Check. Shay Mitchell as a woman with an unrequited crush on her queer-baiting childhood best friend? Check and check. Oh, and did we mention it's from Greg Berlanti, the executive producers of Riverdale?
You comes to the small-screen this September. You can watch the full trailer, below.
Related: Domino Kirke, After Life as a Doula and Wedding Penn Badgley, Is Returning to Her First Love
Can Riverdale's Cast Live Up to Gossip Girl's Fashion Legacy?
Lili Reinhart attends Build Series to discuss the new teen drama series "Riverdale" at Build Studio on January 26, 2017 in New York City. (Photo by Gary Gershoff/WireImage)

Gary Gershoff
Madelaine Petsch arrives for the 14th Annual Brass Ring Awards Dinner 2017 SESAC Latina Music Awards at Beverly Hills Hotel on June 7, 2017 in Beverly Hills, California. (Photo by Gabriel Olsen/FilmMagic)

Gabriel Olsen
Camila Mendes attends Entertainment Weekly's Annual Comic-Con Party 2016 at Float at Hard Rock Hotel San Diego on July 23, 2016 in San Diego, California. (Photo by Phillip Faraone/FilmMagic)

Phillip Faraone
Lili Reinhart attends ELLE's Annual Women In Television Celebration 2017 at Chateau Marmont on January 14, 2017 in Los Angeles, California. (Photo by Stefanie Keenan/Getty Images for ELLE)

Stefanie Keenan
Madelaine Petsch arrives to the House of CB Flagship Store Launch on June 14, 2016 in West Hollywood, California. (Photo by Jesse Grant/Getty Images)

Jesse Grant
Camila Mendes attends the ELLE's Annual Women In Television Celebration 2017 – Red Carpet at Chateau Marmont on January 14, 2017 in Los Angeles, California. (Photo by Jonathan Leibson/Getty Images for ELLE)

Jonathan Leibson
Lili Reinhart attends Entertainment Weekly's Comic-Con Bash held at Float, Hard Rock Hotel San Diego on July 23, 2016 in San Diego, California sponsored by HBO. (Photo by Frazer Harrison/Getty Images for Entertainment Weekly)

Frazer Harrison
Madelaine Petsch attends the Gen Art Fresh Faces in Fashion Los Angeles fashion show at Willow Studios on August 4, 2016 in Los Angeles, California. (Photo by Michael Tullberg/Getty Images)

Michael Tullberg
Camila Mendes arrives at the 2017 PaleyLive LA Spring Season "Riverdale" Screening And Conversation at The Paley Center for Media on April 27, 2017 in Beverly Hills, California. (Photo by Jon Kopaloff/FilmMagic)

Jon Kopaloff
Lili Reinhart attends Marie Claire's Fresh Faces event at Doheny Room on April 21, 2017 in West Hollywood, California. (Photo by Jason LaVeris/FilmMagic)

Jason LaVeris
Camila Mendes attends the Entertainment Weekly and PEOPLE Upfronts party presented by Netflix and Terra Chips at Second Floor on May 15, 2017 in New York City. (Photo by Bryan Bedder/Getty Images for Entertainment Weekly and PEOPLE )

Bryan Bedder
Madelaine Petsch attends the 14th Annual Global Green Pre-Oscar Gala at TAO Hollywood on February 22, 2017 in Los Angeles, California. (Photo by Allen Berezovsky/Getty Images for Fashion Media)

Allen Berezovsky
Lili Reinhart attends the Teen Choice Awards 2017 at Galen Center on August 13, 2017 in Los Angeles, California. (Photo by Frazer Harrison/Getty Images)

Frazer Harrison
Camila Mendes attends the Vulture Festival at The Standard High Line on May 20, 2017 in New York City. (Photo by Andrew Toth/Getty Images for Vulture Festival)

Andrew Toth
Madelaine Petsch attends the 2017 MTV Movie And TV Awards at The Shrine Auditorium on May 7, 2017 in Los Angeles, California. (Photo by Alberto E. Rodriguez/Getty Images)

Alberto E. Rodriguez
Lili Reinhart attends the Vulture Festival at The Standard High Line on May 20, 2017 in New York City. (Photo by Andrew Toth/Getty Images for Vulture Festival)

Andrew Toth
Camila Mendes attends the Teen Choice Awards 2017 at Galen Center on August 13, 2017 in Los Angeles, California. (Photo by Kevin Mazur/Getty Images)

Kevin Mazur
Madelaine Petsch attends the 27th Annual EMA Awards at Barker Hangar on September 23, 2017 in Santa Monica, California. (Photo by David Livingston/Getty Images)

David Livingston