Zayn Malik Doesn't Speak to Most One Direction Bandmates, Prefers Life on a Farm
"I don't like to confer with too many people," Zayn Malik told British Vogue for the December issue of the magazine.
---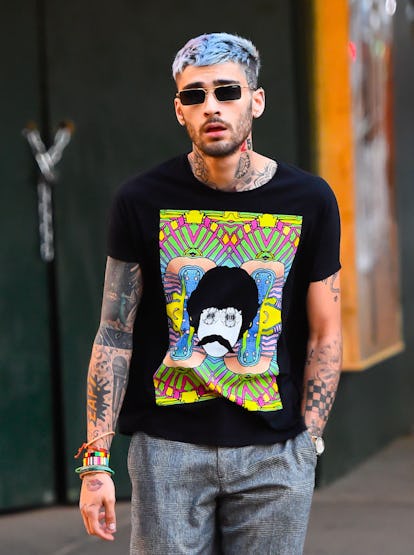 Raymond Hall/Getty Images
The English poet John Donne wrote the anti-isolation line "no man is an island" in 1624, but 369 years later, one solitary crooner named Zayn Malik was born.
The former One Direction singer opened up to British Vogue for the December issue about his lone wolf status, and how "the relationships had broken apart" in the band by the time he left them to go solo. According to the interview, one member of the band happens to be in touch with Malik because he reportedly never made friends with Harry Styles, Niall Horan, Louis Tomlinson, and Liam Payne. "I have always been a bit like that, though—always a bit of an island," Malik admitted. "I don't like to confer with too many people," he went on.
It would appear that there may still be bad blood with Malik, the solo R&B singer who felt he never really meshed well with the band's stadium teen pop sound. "I ain't spoke to any of them for a long time, to be honest with you. That's just the way it is," he said. "There's things that happen and things that were said after I left…. Snide things. Small things that I would never have expected."
While Malik essentially made it clear that there will never be a reunion between hims and the rest of the former members of One Direction, all appears to be going well on the home front. He has kept himself semi-removed from the public eye whenever possible, but when Malik is not isolated on the Hadid family farm in rural Pennsylvania, he is reportedly nestled up in SoHo with Gigi Hadid, who gets "things together for me a little bit" thanks to her "super-organized" personality.
"I lean on her a lot," Malik told British Vogue. While he may have insisted that the two are doing the "no label" thing back in June, it would appear that they are very solidly together. Who needs One Direction band member friends when you've got a super-organized supermodel to depend on?
Related: Zayn Malik Says He "Doesn't Need to Put a Label" on His Relationship With Gigi Hadid in New GQ Interview