Zayn Malik and Sia Collaborate on Surprise New "Dusk Till Dawn" Single
Surprise single drops are very much in right now.
---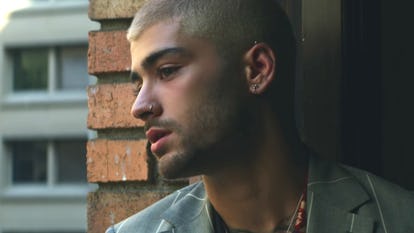 ZAYNVevo/Youtube
Because surprise single drops are very much in right now, Zayn and Sia have teamed up to drop not just an unexpected, pulsating new track, "Dusk Till Dawn," but an accompanying music video as well.
The tune, released Thursday, serves as the second track Zayn has released this year — following the equally-groovy "Still Got Time" with PartyNextDoor in the spring—while Sia also kept busy in recent months by contributing a ballad to the Wonder Woman soundtrack.
"Dusk Till Dawn" seems to be all about love and lust, with Zayn crooning about how he always wants to be with a special lady by his side from, yes, the dusk until the dawn. (Hmmm, perhaps a certain model he's dating?)
"Cause I wanna touch you baby / I wanna feel you too / I wanna see the sun rise on your sins just me and you," he sings. "Light it up / on the run / Let's make love tonight / Make it up, fall in love, try." He legit can't stop thinking about how amazing this girl is: "Baby, I'm right here / I'll hold you when things go wrong." Someone is quite clearly smitten.
Unsurprisingly, the duo also released an epic, five-minute-long music video to go alongside the track. In it, Zayn plays some sort of agent or government operative on an international quest to find his love, played by Girls star Jemima Kirke (in what is her third music video role in recent memory). It doesn't exactly go smoothly, if all of those bullets and baddies hunting him down are any indication—and the video also seems to tip its hat to the cinematic world of cult flick From Dusk Till Dawn in the process. Watch it all unfold below.
Related: Rooney Mara and Sia Team For a Very Artsy Movie About a Pop Star
See What's Trending in W Video: