Zendaya on How to Do Holiday Party Dressing Her Way: "Don't Do Too Much!"
The star of The Greatest Showman would rather keep it cozy this holiday season, but she's not opposed to a party dress.
---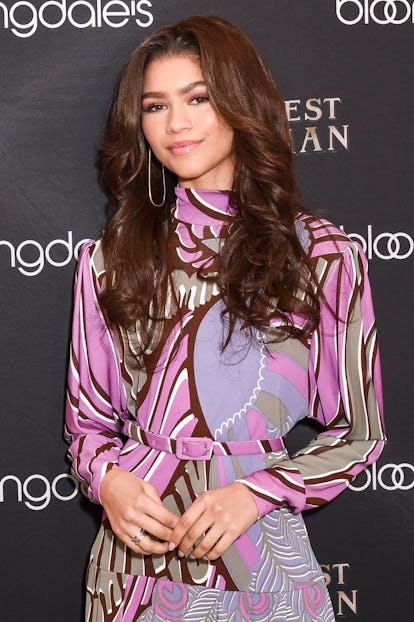 Joe Schildhorn/BFA.com
On Tuesday afternoon in New York, Zendaya, the multi-hyphenate 21-year-old, was prostrate in front of Bloomingdale's waiting, like many other tourists, for the store to unveil its extravagant holiday windows. Only, Zendaya had a personal connection to this particular city tradition: she had been enlisted by the department store to design a capsule collection to promote her upcoming musical with Zac Efron, The Greatest Showman.
While she may be working her way up as an authority of classic holiday party style, as the season gears up, Zendaya said she would rather keep it cozy. "My idea holiday look at the Coleman residence is jeans and a t-shirt, or sweatpants and a t-shirt. You don't want it to be too crazy because kids will spill on you and it'll get wild," she said ahead of the window reveal.
Still, the pop singer is not opposed to dressing up either, declaring, "There's nothing wrong with a statement dress, simple shoes, simple accessories. You don't have to do too much!" Many of the dresses in her Bloomingdale's collection are simple yet fun, and ideal for showing up to a holiday party this winter without looking like you're doing "too much," as Zendaya would say.
The film itself is inspired by the life of circus king P.T. Barnum, and stars Hugh Jackman and Michelle Williams, with Efron playing Zendaya's love interest. Its stage-ready aesthetic and costume design inspired the store's windows, which are adorned with 7.6 million Swarovski crystals and were unveiled with a performance by cast members of The Greatest Showman, as well as circus acrobats and dancers.
"We wanted to take the idea of Greatest Showman, and the fantastical elements in it, but also make sense for someone who's just going to a holiday party," she said of the collection. "There are no unitards or over the top bedazzled fishnets, but there is definitely a use of metallics and a lot of stars. There's an obsession with stars, because me and Zac [Efron], our main song is 'Rewrite the Stars.' It's the idea and the elements and that vibe but done in a more realistic way."
As the star and co-producer of Disney's K.C. Undercover, Zendaya is no stranger to turning her ideas into reality. To echo the sentiments of the film, which centers on the acceptance of identity, Zendaya declared that her own ideologies are a match with the story told in The Greatest Showman. "I don't think anybody should be anyone but who they are, and the best thing I can do is showcase that, showcase that finding of who you are, showcase that pride in who you are and hopefully there's a young man or young lady who sees that," she said. "[I] try to be the best version of myself so I can inspire other people to be the best version of themselves."
When it comes to designing and defining her own personal style, Zendaya said she constantly looks to stylist Law Roach, the co-creator of her line Daya by Zendaya for inspiration. Roach has also been credited for the recent revamp of Celine Dion's style, dressing the Canadian icon in streetwear such as Vetements and Kanye West designs.
"He has always guided me through the fashion world and allowed me to be creative at the same time, introducing me to other things and also allowing me to be creative and have a partnership where we're able to create looks together. Not only do I trust his opinion, but we understand each other," said Zendaya. Roach's vision has played a large part in some of her most daring and delightful carpet looks in recent memory.
Why Zendaya Is Set to Become Hollywood's Next Great Style Icon
Zendaya Coleman attends the Radio Disney's "Back to School Drive" at the Boys & Girls Club of L.A. Harbor on August 25, 2012.

Getty
Zendaya Coleman arrives for the 40th Anniversary American Music Awards.

Getty
Zendaya Coleman arrives at the Nickelodeon's 26th Annual Kids' Choice Awards at USC Galen Center on March 23, 2013.

Getty
Zandaya attends the 2013 American Music Awards at Nokia Theatre L.A. Live on November 24, 2013.

Getty
Zendaya arrives at the FOX's 2014 Teen Choice Awards at The Shrine Auditorium on August 10, 2014.

Getty
Zendaya attends the BET AWARDS '14 at Nokia Theatre L.A. LIVE on June 29, 2014.

Getty
Zendaya attends the 12th Annual Teen Vogue Young Hollywood Party with Emporio Armani on September 26, 2014.

Getty
Zendaya attends the 42nd Annual American Music Awards at the Nokia Theatre L.A. Live on November 23, 2014.

Getty
Zendaya attends the 2014 Princess Grace Awards Gala at Regent Beverly Wilshire Hotel on October 8, 2014.

Getty
Zendaya arrives at the Academy Of Motion Picture Arts And Sciences' Governors Awards at The Ray Dolby Ballroom at Hollywood & Highland Center on November 8, 2014.

Getty
Zendaya attends The 57th Annual GRAMMY Awards at the STAPLES Center on February 8, 2015.

Getty
Zendaya attends the 87th Annual Academy Awards at Hollywood & Highland Center on February 22, 2015.

Getty
Zendaya arrives at "China: Through The Looking Glass" Costume Institute Benefit Gala at the Metropolitan Museum of Art on May 4, 2015.

Getty
Zendaya attends the 2015 BET Awards at the Microsoft Theater on June 28, 2015 in Los Angeles, California.

Getty
Zendaya arrives at Vogue 95th Anniversary Party as part of the Paris Fashion Week Womenswear Spring/Summer 2016 on October 3, 2015.

Getty
Zendaya attends the 56th GRAMMY Awards at Staples Center on January 26, 2014 in Los Angeles, California.

Getty
Zendaya attends the 2014 MTV Movie Awards at Nokia Theatre L.A. Live on April 13, 2014 in Los Angeles, California.

Getty
Zendaya attends the Los Angeles premiere of "Blended" at the TCL Chinese Theatre on May 21, 2014 in Hollywood, California.

Getty
endaya attends the Rihanna And The Clara Lionel Foundation 2nd Annual Diamond Ball at The Barker Hanger on December 10, 2015.

Getty
Zendaya attends the World Premiere of "Star Wars: The Force Awakens", in Hollywood, California, on December 14, 2015.

Getty
Zendaya Coleman attends the 73rd Annual Golden Globe Awards held at the Beverly Hilton Hotel on January 10, 2016.

Getty
Zendaya arrives at The 58th GRAMMY Awards at Staples Center on February 15, 2016.

Getty
Zendaya arrives at Nickelodeon's 2016 Kids' Choice Awards at The Forum on March 12, 2016 in Inglewood, California.

Getty
Zendaya attends amfAR's Inspiration Gala in Los Angeles on September 9, 2015 in Hollywood, California.

Getty
Zendaya attends "Manus x Machina: Fashion In An Age Of Technology" Costume Institute Gala.

Getty
Zendaya arrives at the 2016 Billboard Music Awards at T-Mobile Arena on May 22, 2016.

Getty
Zendaya attends the 27th Annual GLAAD Media Awards at the Beverly Hilton Hotel on April 2, 2016.

Getty
Zendaya attends 13th Annual CFDA/Vogue Fashion Fund Awards at Spring Studios on November 7, 2016 in New York City.

Getty
Zendaya attends the "Rei Kawakubo/Comme des Garcons: Art Of The In-Between" Costume Institute Gala at Metropolitan Museum of Art on May 1, 2017.

Getty
Zendaya attends a photocall for 'Spider-Man: Homecoming' at the Villa Magna Hotel on June 14, 2017 in Madrid, Spain.

Getty
Related: Why Zendaya Is Set to Become Hollywood's Next Great Style Icon
Zendaya's Favorite Birthday Featured a Very Surprising Homecoming