The 10 Best Under Eye Patches on the Beauty Market Right Now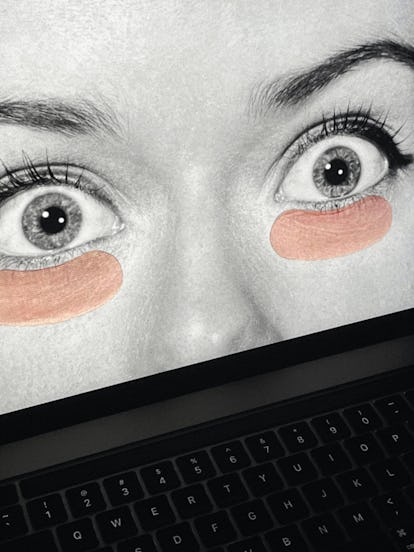 Photo by Maridelis Morales Rosado for W Magazine. Image on screen courtesy of Getty Images.
September—perhaps by virtue of being Virgo season—has always been emblematic of a sense of order and routine. With in-person work schedules slowly coming back to life, plus New York Fashion Week, the Emmy Awards, and the Venice and Toronto Film Festivals in the rearview mirror, it's no wonder this month feels like a perpetual back-to-school whirlwind, even years after graduation.
Oh yeah, and don't forget about your social life.
Both coasts have been brimming with late-night celebrations, libations, and endless evening gossip (which, of course, makes sense only after two-plus glasses of wine). A few short hours later still beckons an early morning meeting or inbox that has no mercy for your sleep deprivation, your unintentional hangover, or the fact that you've simply become socially burned out. We all have our own specific tools for next-day body perk-ups—whether workouts, meditations, or triple espressos—but what about that face of yours, out way too late every night this weekend? Lack of sleep, diet, or alcohol consumption will dehydrate your skin and put your dark circles and crow's feet on view as prominently as a new Fendi Baguette on the runway.
Aestheticians and dermatologists all concur that masks, gels, and patches are quick and intelligent fixes for puffiness, dehydration, or tired eyes. Currently, there happens to be several hundred varieties on the market—and we recently tested the top selections, then narrowed them down to a curated list of the most effective products.