The Last of Us Taught Bella Ramsey To Be Authentically Themself
The actor discusses the upcoming season finale, using humor to tap into Pedro Pascal's acting abilities, and what's next on the horizon.
---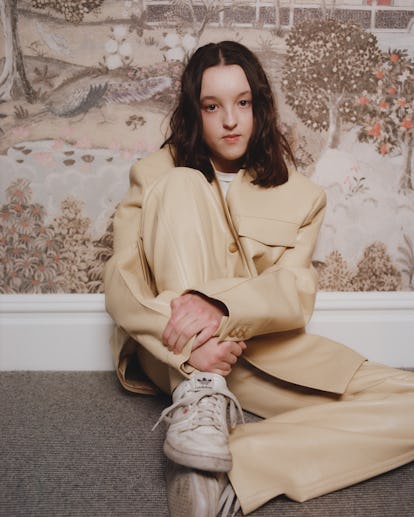 Photograph by Charlotte Hadden
Midway through my interview with Bella Ramsey, the 19-year-old star of The Last of Us, I ask what pronouns I should use in this article. Ramsey is nonbinary, and uses "she" or "they."
"If you want to use 'they' you could," they say. "A lot of times recently I've been saying to use 'she' because it's easier—but why not?"
Ramsey gave this topic a considerable amount of thought before press for the HBO hit thriller The Last of Us kicked off in December, and the question of how to present themselves to the public was stressing them out. "It was just an ever-evolving process," they explain. "But I'm super comfy in who I am. It's like, how can I be my truest self in the world?"
Ramsey certainly projects confidence, both in conversation and on screen, but they are also on a very public stage. Even before it debuted, The Last of Us was highly anticipated as the adaptation of one of the most lauded video games of all time, the story of a girl with immunity to a fungal virus that turned most of the world's population into raving beasts. Now, more than 7 million people watch Ramsey as spunky teen Ellie, who treks through a post-apocalyptic America riddled with the so-called "infected" each Sunday on HBO. (Fans are just two weekends away from the season finale on March 12.) And while there was initial backlash to their casting from gamer fans who thought they didn't look like the character, that has mostly morphed into a positive response both about the show and Ramsey's persona. "I've had people message me and say that it's helped people come to terms with who they are," they say. "That's been really nice to hear as well. I guess I just want to be authentic."
When we speak, Ramsey, who broke out with a small but fearsome role in Game of Thrones, is back at home in the U.K. where they enjoy being a "little hermit." It's a precarious solitude. (Ramsey's publicist even asked that I not reveal any more specifics about their location over safety concerns.) Additionally, the gauntlet for The Last of Us has forced them to get used to traveling, a task they don't particularly enjoy; although the last time they went to Los Angeles, they were about to get off the plane and bail before show creator Craig Mazin convinced them to stay.
It's not that Ramsey doesn't like hanging out with Mazin and their costar, Pedro Pascal, the latter of whom they giggled with constantly during production. The press trail has also led Ramsey to show off their sense of style with an array of exciting suits like a black Dior they wore to an event at the Newport Beach Film Festival with chic saddle shoes. "I've just been trying to be myself," they say. "A slightly shinier, polished version." They would prefer to wear "jogging bottoms" and a "baggy sweatshirt," but they realize that's not red carpet appropriate—and the looks are cool, regardless.
When Ramsey finished filming the first season of The Last of Us, it took them some time to leave Ellie behind. "It was very much like a grieving process," they say. "When I [first] got home, I found it difficult to settle back into being just Bella and speaking with a British accent again." (Indeed, they do tend to slide back into an American accent around Americans. It comes out just a tiny bit during our interview.)
The Last of Us is a tension-filled show where tragedy strikes in nearly every episode, but Ramsey took solace in starring alongside Pascal, who plays Joel, the misanthrope forced to transport Ellie through the treacherous landscape. Pascal would keep things light, playing Olivia Newton John's "Xanadu" over and over on set. Their laughter together was a "coping mechanism," Ramsey adds. At one point, when Ellie was supposed to elicit a laugh from the grumpy Joel on screen, the actress just decided to tell Pascal one of their inside jokes to get a genuine response.
While they were in production on The Last of Us, Ramsey was also writing their own screenplay, a take on mental health based on their time with an eating disorder. They finished a new draft during night shoots on the cul-de-sac where Ellie and Joel are attacked by a giant creature called the Bloater. "I was so productive overnight," they say. "It feels like time doesn't exist at night."
Currently, Ramsey is taking the script around to producers with the idea that they would direct it themselves. They once wanted to star in the project, but not anymore. "I'm more excited by the idea of helping someone else create a performance than doing it myself," they say.
At the same time, Ramsey is working on an Open University degree in environmental science. They impulsively decided to enroll in October after being inspired by watching Storm Reid studying on the set of The Last of Us episode seven (Reid, in a flashback, plays Riley, Ellie's former best friend). Ramsey was floored not just by Reid's acting prowess—Reid can weep on cue; Ramsey uses a tear stick—but by her ability to juggle school and show business.
As for their own academic pursuits, Ramsey considered a variety of subjects before settling on environmental science. "I just felt like none of the things I'm interested in are going to matter if the world is going to shrivel up," they say. It figures, when you're on a hit drama about the end of the world.
The Last of Us is still heavy on Ramsey's mind since they haven't acted since finishing production in June. Before the already announced season two begins filming, they'll dive into some other roles they can't quite disclose yet. They think time away from Ellie will do them good. "The Last of Us is still the only thing I'm thinking about," they say. "I have such withdrawal symptoms from set." Ellie will, of course, eventually be back on screens, as will Ramsey—authentic as always.