Cate Blanchett Rewears Armani Privé Couture Gown at the 2018 Cannes Film Festival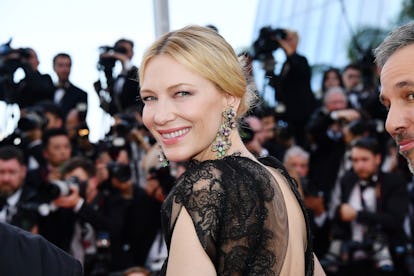 Dominique Charriau/Getty Images
Tiffany Haddish may have made recycling investment gowns "cool" in Hollywood, but Cate Blanchett is doing it as a statement. At the 2018 Cannes Film Festival on Tuesday, the Oceans 8 actress re-wore the Armani Privé Couture gown she first donned at the 2014 Golden Globes to make a statement, not about the costly price of high fashion like Haddish has discussed in the past, but instead, in support of sustainable fashion. "From couture to T-shirts, landfill is full of garments that have been unnecessarily discarded," Blanchett, president of the Cannes jury, said in a statement. "Particularly in today's climate, it seems willful and ridiculous that such garments are not cherished and re-worn for a lifetime."
"I think the stigma around re-wearing a dress is arbitrary and makes no sense," Elizabeth Stewart, Blanchett's stylist, said. "It's a rule that will fade away like the 'no white after Labour Day' rule. We don't visit the Louvre expecting a new masterpiece each time. True beauty and art endures." The actress also wore Chopard jewelry, a brand that previously announced that by July 2018, it will use 100 percent ethical gold in its jewelry and watches.
Many high-fashion houses are finally following in the footsteps of Stella McCartney and others who have long advocated for sustainable fashion. Gucci, Versace, and Michael Kors are just a few of the big names who have recently vowed to halt the use of real fur in their collections (though some argue that faux fur, despite its obvious benefit toward animals, could potentially be more harmful for the environment than the real thing).
The Armani frock isn't the only way Blanchett is taking a stand. On Tuesday afternoon, the actress chose a pastel pink suit by Stella McCartney. "I recently had lunch with the young designer Esteban Cortazar who is using mushroom leather and looking at how to get silk from spider webs," Stewart told The Hollywood Reporter. "Designers are thinking about this stuff now and it matters to them. Our choices will be reflective of things people are talking about."
See the look in 2014 and 2018, below.
Related: Cate Blanchett Speaks Out Against Policing What Women Wear and Steve Bannon