Vanessa Hudgens Breaks Her Silence on Austin Butler's New Voice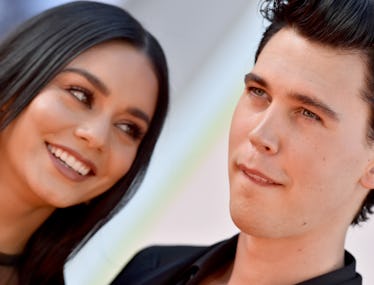 Axelle/Bauer-Griffin/FilmMagic/Getty Images
Austin Butler has done pretty well for himself lately. He's widely expected to nab his first Oscar nomination for his breakthrough performance in Elvis next week, and his next role will be opposite Timothée Chalamet and Zendaya in Dune: Part Two. Still, there's no getting around the fact that his first brush with the gossip pages was as Vanessa Hudgens's first boyfriend post-Zac Efron in 2011.
Hudgens and Butler spent nine years together, but broke up in early 2019 near the beginning of Elvis production. In fact, Hudgens may have even been the one who put the idea of playing Elvis Presley in Butler's head in the first place.
The pair seems to be on decent terms all things considered, but there's one thing not even Hudgens can get over: Butler's new accent. The actor has adopted a tendency toward maintaining Presley's Tennessee twang offscreen, and Hudgens has finally broken her silence on the matter.
Instagram user Ryan Scott posted a screenshot of a Page Six headline claiming, "Austin Butler's 'Elvis' accent is 'genuine,' might remain 'forever': voice coach." Underneath, he wrote, "He went to the Lady Gaga school of Oscar campaign acting." This is far form the first joke comparing Butler's dedication to the Elvis mystique to Gaga's near-performance art run promoting House of Gucci, but apparently, it's the first one Hudgens has heard.
"Crying," she wrote underneath, as pointed out by Comments by Celebs.
Butler claims he doesn't even notice that his voice has changed, but has said numerous times that he spent three years immersing himself in the role and some parts of it have stuck with him.
For her part, his vocal coach, Irene Butler, is ready to defend the affectation. "Because of COVID shutdowns, he was working on it all the time and it's difficult to switch off something you've spent so much focus [and] time on," she said (in an Australian accent).
While the voice may be here to stay, Butler and Hudgens have moved on, romantically speaking. She's been dating Cole Tucker since 2021, and he's famously currently linked to Kaia Gerber.