Victoria Beckham Posts a Rare Photo With Nicola Peltz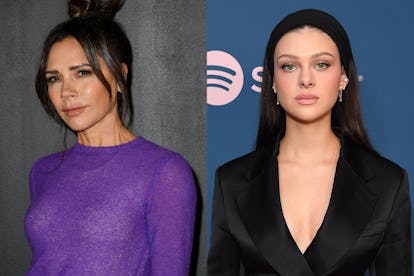 Dominique Charriau/WireImage/Jon Kopaloff/Getty Images
The public loves a good celebrity feud, but make the two stars of said quarrel related by marriage, and they will absolutely devour it. That's why people have been so enamored by the allegedly rough relationship between Victoria Beckham and her daughter-in-law, Nicola Peltz. On Monday, however, Posh Spice put the rumors to rest when she took to Instagram to send her love to Peltz in honor of her 28th birthday.
"Happy Birthday @NicolaAnnePeltzBeckham," Beckham wrote alongside a photo of the two sitting at a table and laughing together. "Hope you have a lovely day!!! X." Peltz seemed to appreciate the gesture and responded to the post, "Thank you so much!"
Rumors of a cold relationship between Peltz and Beckham began not long after the young actress' April wedding to Brooklyn Beckham last year. In August, Page Six quoted a source who said Posh and Petlz "can't stand each other and don't talk," and, for that reason, "the build-up to the wedding was horrendous." As the rumors have it, Peltz didn't include Beckham in the planning of the wedding and the two struggled to connect from the start. There's also the fact that Peltz wore Valentino on her big day, as opposed to a gown designed by Beckham. Peltz even admitted that this choice could have led to the feud rumors (which she commented on during a Variety interview last year). She explained that she was "going to" and "really wanted to" wear a Victoria Beckham gown but "a few months down the line, [Victoria] realized that her atelier couldn't do it, so then I had to pick another dress," Peltz said. Peltz and Brooklyn took the opportunity of that interview to deny the feud, with Brooklyn saying, "everyone gets along, which is good."
But rumors continued as the bickering between wife and mother-in-law allegedly started to affect Victoria's relationship with Brooklyn and the two didn't speak for a few months, especially after Brooklyn posted his new wife on the cover of Tatler Magazine, which labeled Nicola as "The New Mrs. Beckham," a move that reportedly angered mom. Then, on Halloween, the newlyweds seemingly played into the chatter when they dressed up as Romeo and Juliet AKA star-crossed lovers from feuding families. They may have just been paying homage to a classic love story, but they didn't help their situation.
Now, though, it seems that either the feud was all overblown by the media, or the two Mrs. Beckhams have now made up, or at least are playing nice for our sake. We can never really know, however, what's going on behind closed doors, or in this case, offline, but for not, at least, they seem to be on good terms.