Anne Hathaway's Naked Dress is Couture, Thank You Very Much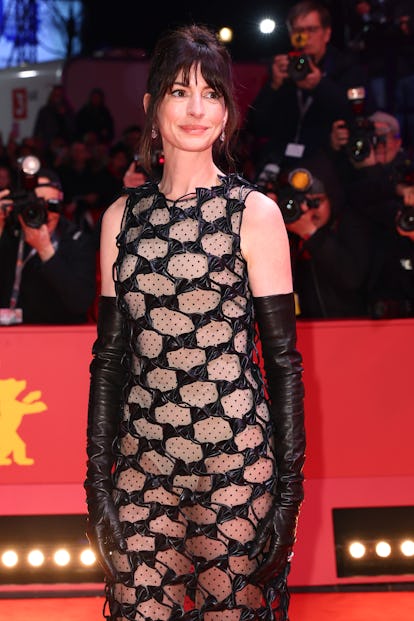 Sebastian Reuter/Getty Images Entertainment/Getty Images
Anne Hathaway knows how to dress to cut through the chatter and get you to take notice. There's so much going on in the world of fashion and culture at the moment: fashion month, a fast-approaching Oscars, the Newport Beach Film Festival, and, as always, premieres occurring around the world. It's really quite hard to keep track of everything, as well as all the looks resulting from these events. But Hathaway is here to demand your attention, to make you drop everything and put your focus on Berlin, where another festival is going on, and where Hathaway is bringing the style.
We shouldn't be surprised, Hathaway proved almost a year ago at the Cannes Film Festival that she is in a new era style-wise, and she really hasn't disappointed us since. Her most recent looks continue this strong streak. On Thursday, the actress attended the premiere for her new film, She Came to Me, at the Berlin Film Festival. For the occasion, Hathaway wore a dress from the Valentino spring/summer 2023 couture collection, a completely sheer, column dress covered in leather bows. The actress wore the piece fairly similarly to how it was originally presented on the runway, with a nude bodysuit underneath, black leather opera gloves, and pointed-toe pumps, but she opted to ditch the addition of the high neck seen on the model.
Her couture moment came after Hathaway attended a photocall earlier in the day in another black dress, albeit one that covered her up a bit more. The actress wore a complete look from the Alaïa spring/summer 2023 ready-to-wear collection for her first appearance at the festival, and once again stayed fairly true to the runway styling. While you may be fatigued by the amount of hoods we've seen on the red carpet lately, Hathaway's hooded suede bodysuit added a bit more of a casual take on the trend. She wore it with a draped leather skirt from the brand and their Cabaret sandals, which feature two metal legs as the heels.
Seriously, Hathaway does some of her best style work at film festivals and should, therefore, be invited to every single one moving forward. If a festival takes place and Hathaway isn't there to grace the red carpet, did it even occur? I think not.