Iris Law Managed to Make Purell High Fashion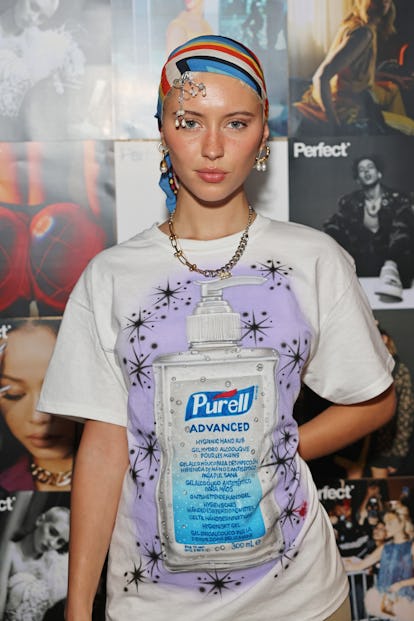 Photo by David M. Benett/Dave Benett via Getty Images
You were probably too holed up at home to see anyone actually wearing them, but the start of the pandemic birthed a whole genre of slogan tees dedicated to hand sanitizer. Between corny tag lines like "Pure Hell" and overall lockdown fatigue, we're guessing that they're the last thing you're inclined to add to your wardrobe. Allow Iris Law to have you reconsider. On Wednesday night, the 21-year-old model (and daughter of Jude Law) turned up to Perfect magazine's screening of The Ben Cobb Show in London wearing an homage to Purell that resembled an airbrushed tee you could pick up on the boardwalk. In actuality, the shirt came courtesy of Ashley Williams, another Londoner who loves all things Y2K. (If you want to make like Law, now's the time: Its $1,099 price tag is currently 30 percent off.) And just like everything else she wears, Law not only pulled it off, but also made it look cool.
Per usual, the tee wasn't all that was notable about Law's look. She wore it atop a see-through beige skirt that matched her shearling peep toe clogs, which offered a glimpse at her bright blue nail polish. She topped off the ensemble with a whole range of jewelry, from an anklet to pearl drop Missoma earrings to a hair ornament that peeked out from the striped scarf she used to cover up her platinum blonde pixie cut.
Thanks to a string of looks like a Versace dress Beyoncé wore 19 years prior, Law has spent the past year establishing herself in fashion with a singular, often archival personal style. Next up, she's taking on Hollywood: The 21-year-old will soon star in Pistol, an upcoming FX miniseries about the Sex Pistols that prompted her to discover the joys of having a shaved head.