Margot Robbie and Samara Weaving Matched in Baby Blue at the Babylon Premiere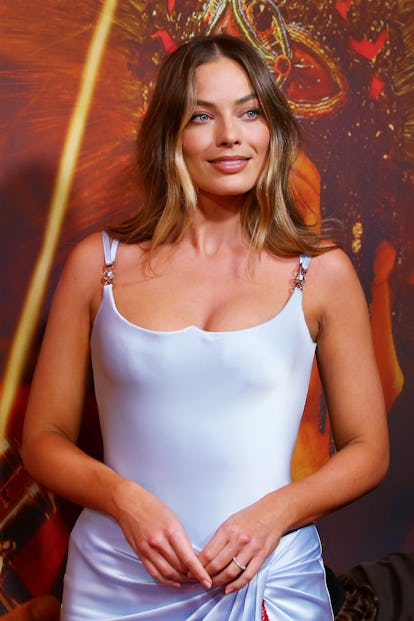 Lisa Maree Williams/Getty Images
Margot Robbie still loves a good Chanel gown, as she proved at the Golden Globes, but lately she's been mixing it up a bit more. Bottega Veneta at the Governors Awards, Valentino for Babylon's UK Premiere, and now, Versace. On Monday night, Robbie attended the Australian premiere of her film, wearing an unexpected look from the Italian fashion house.
The actress wore a light blue, silk gown featuring a scalloped neckline and Versace's signature metal strap details. The skirt wrapped around the simple, structured bodice almost like a sarong, allowing for a nice draping detail at the waist and a high slit down her left leg.
The dress was inspired by one from Versace's 1995 couture collection, originally worn on the runway by German model Nadja Auermann, and at the Met Gala by Carla Bruni. The difference, of course, is the bright red lace added to line the slit and the hem of Robbie's 2023 version. It's unclear why the lace was added, and in such a bright hue. Robbie has been on a bit of a red kick lately, wearing two looks rendered completely in the color over the past week. She could have also been paying homage to the bright red dress she wears in the movie. Or maybe, she just wanted a little something to distinguish her dress apart from the original.
Unfortunately, any plan to set herself apart was thwarted when Samara Weaving, Robbie's fellow Australian costar (who happens to look remarkably similar to the actress), arrived to the same premiere in a Louis Vuitton gown. The dresses were almost identical shades of baby blue, and and Weaving's asymetric skirt provided a similar slit-like look up her left leg. That's basically where the similarities ended, however, as Weaving's gown was a bit more romantic where Robbie's was sultry. Still, we can't help but imagine there were some annoyed actresses on the red carpet that night.