Adam Driver and Joanne Tucker Have Maybe, Possibly, Been Parents for Two Years Now
He and wife Joanne Tucker have reportedly been parents for years now.
---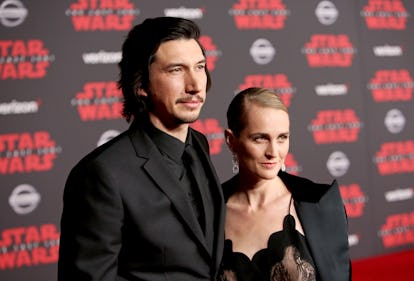 Jesse Grant/Getty Images
You've heard of secret engagements, secret weddings, and secret pregnancies, but now, prepare yourself for the latest trend in obsessive celebrity privacy: secret children. Adam Driver and Joanne Tucker are, allegedly, the current record-holders in the A-list competition to never share your spawn with the world; though stars like Ryan Gosling and Eva Mendes, Sacha Baron Cohen and Isla Fisher, and Keri Russell and Matthew Rhys previously attempted to keep their kids under wraps, they all spilled the beans within a few months by talking about parenthood in interviews, seeing their newborns' birth certificates leaked to the press, or just missing one too many parties. Driver and Tucker, meanwhile, made it two whole years before so-called pals of the couple told Page Six that they have a toddler son.
According to these unnamed friends, Tucker's pregnancy was documented fairly regularly on her and Driver's family members' private Instagram accounts. One such post reportedly showed Tucker and her sister both pregnant, with the caption, "Sisters. Nearly matching everything. #babyshowerx2." Another upload, apparently captured after the sisters had given birth and posted by their other sister, had the caption, "My sisters and new moms."
As is to be expected from the notoriously private couple, who met at Juilliard and tied the knot in 2013, neither Driver nor Tucker has responded to the reports or speculation. Still, as Page Six notes, the Star Wars: The Last Jedi actor has actually dropped a few hints over the past two years that he'd recently become a father. In an interview with this very magazine in early 2017, Driver was talking about his undying love for his dog Moose when he may have let slip the existence of his baby. "I look at my dog—this sounds so absurd, but it's not—I don't know that I could love anything more," he said. "Like, I have a kid—oh, uh, maybe—and will be like, 'Eh, you know.' But the dog!" (Nice save.)
In another 2017 interview, promoting Logan Lucky with costar Channing Tatum, per Page Six, Driver was asked about mixing cocktails when he quipped, "I don't have parties, because the world is a sad place and full of anger." After Tatum joked, "Can you imagine, you're just making martinis for your baby?" Driver replied, "'Stop crying. This is my party trick. You'll have your time. This is my time now.'" So he's not just a secret 2-year-old son, he's a secret 2-year-old son who, by now, can probably mix up a pretty mean martini. Cheers to that!
Related: Adam Driver, Andrew Garfield, and More Deliver Cher's Iconic Clueless Speech