Six Wonderfully Weird Facts We Learned About Alicia Vikander During the Tomb Raider Press Tour
Alicia Vikander's nicknames, childhood dreams, and even details about her bachelorette party have all been fair game for the notoriously private actress.
---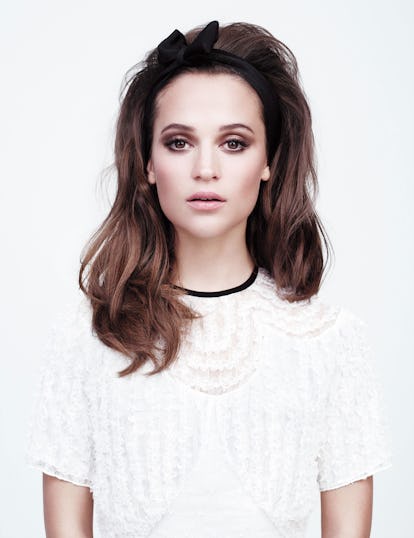 Photographer: Willy Vanderperre Stylist: Edward Enninful
Alicia Vikander is notoriously private about her personal life. But on the March 2018 press tour for her turn as the iconic Lara Croft in the latest installment of the Tomb Raider franchise, the actress has been sharing quite a lot of wacky facts about herself. In fact, thanks to countless interviews on the late night circuit, cover stories for magazines, and the general celebrity hubbub that follows the actress wherever she goes, the Oscar winner has taught us more about herself in the last week than we have learned about her ever since her acceptance speech at the 2016 Academy Awards.
Between her nicknames, her childhood dreams, and even details about her bachelorette party, it seems that just about anything counts as fair game. She may usually keep a low profile, but these surprisingly weird, yet simultaneously very endearing, stories about Alicia Vikander tell you everything you never knew you needed to know about her. If you weren't in love with her before, you certainly should be now.
She's known as "Mrs. Google."
In a series of rapid-fire questions with BuzzFeed, Vikander admitted that her friends sometimes call her "Mrs. Google." Typing a keyword into a search engine doesn't exactly require too many skills, but those typing fingers do need to be somewhat dexterous to get the proper search results. Vikander explained why her friends gave her the nickname, saying, "I'm really good at Googling answers on anything, and I'm very good at planning travels." Who knew Sweden had its very own Queen of Search Engines?
She wanted to be a florist when she grew up.
Vikander told Jimmy Fallon that before she made the decision to be an actor, she really thought she would have a career as a florist. But by the age of 8, when she appeared on a Swedish lip sync talent show (and won first place), she was telling everyone she'd be acting or singing for the rest of her life. Her mom still has that trophy, by the way.
Her bachelorette party involved a kidnapping.
Before she and Michael Fassbender became somewhat secretly hitched in Ibiza in October 2017, her bachelorette party was conducted in secret as well. In fact, it was so hush-hush that not even Vikander herself knew about it. "I was there [in Paris] for the Louis Vuitton show and suddenly got a text that says, 'Go out. We need you right now,'" Vikander said. Vikander was then "kidnapped" by her friends for a full 24 hours.
She's a chessmaster.
In a game of "two truths and a lie" with Marie Claire, Vikander admitted that she once went to a school for three years to learn how to play chess. Three years in chess school is no joke! As a matter of fact, even just three days in chess school would probably be a real test.
She technically didn't meet Michael Fassbender on set.
Everyone assumes that Vikander met her now-husband Michael Fassbender on set of The Light Between Oceans (the romantic drama in which they both co-starred and wore cozy knit sweaters while falling in love), but according to Wired's Autocomplete Interview, she met her betrothed on the dance floor. "What does Michael Fassbender dance like?" should have been the next question on that list of most Googled questions concerning the couple.
Related: Alicia Vikander Is Apparently the Best Part of Tomb Raider, According to Early Reviews of the Film