Amal Clooney Changed Met Gala Outfits in the Museum Gift Shop, According to Anna Wintour
What happens at the Met Gala…doesn't necessarily stay at the Met Gala.
---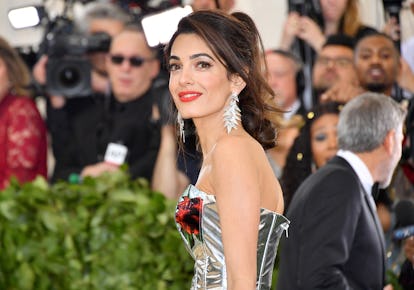 Dia Dipasupil/Getty Images
While most Met Gala attendees waited until after the event to trade their veils, crucifix necklaces, and pope hats for less pious afterparty looks, cohost Amal Clooney swapped outfits almost immediately after making her way up the Met's iconic staircase and into the museum. As Anna Wintour revealed on Wednesday night's episode of The Late Show, Clooney was so worried about damaging her gorgeous gown that she brought a back-up and slipped into it in a rather unusual spot in the museum.
The Vogue editor and high priestess of the Met Gala shared the story with Late Show host Stephen Colbert after he showed a photo of Clooney's second dress of the night. "Amal actually arrived on the red carpet in this amazing dress [by] Richard Quinn. That's not it, that's Tom Ford," Wintour clarified about the (equally amazing) gown in the photo. "She wore this incredible dress on the red carpet that was designed by a young British designer called Richard Quinn, but it was made of tin foil, so she was a little bit concerned it might rip during the evening. So she went into the gift shop and she changed into this extraordinary Tom Ford dress, which is designed to look like stained glass."
Colbert, of course, couldn't help but ask: "You sell this at the gift shop?! I thought it was just astronaut ice cream and, like, paperweights." "Only if you're Amal Clooney," Wintour quipped.
For reference, here are photos of both of Clooney's jaw-dropping ensembles. The first, Quinn's design, featured a shiny silver strapless bodice and a full skirt printed with large red roses and, per Wintour, made out of actual tin foil. Underneath the skirt, the human rights lawyer wore a pair of midnight blue cigarette pants, which Quinn said were designed to make a political statement. "Her decision to wear trousers was her way of depicting female empowerment and modern religion by referencing the stringent oppression that women faced," he told Harper's Bazaar the day after the gala. Clooney's second look was a floor-length, long-sleeved crimson number by Tom Ford that was covered in "mirrored micro shards," according to Vogue, giving it a stained glass effect.
While you can't buy a Tom Ford dress at the Met Gala store, you can buy designer makeup. Pat McGrath launched a line inspired by the theme that's currently on sale at the Met Store.
Related: Met Gala 2018: See What Celebrities Wore on the Red Carpet
Met Gala 2018: See What Celebrities Wore on the Red Carpet
Rihanna at the 2018 Met Gala. Photograph by Benedict Evans for W Magazine.

Benedict Evans
Cardi B at the 2018 Met Gala. Photograph by Benedict Evans for W Magazine.

Benedict Evans
Lily Collins at the 2018 Met Gala. Photograph by Benedict Evans for W Magazine.

Benedict Evans
Donald Glover at the 2018 Met Gala. Photograph by Benedict Evans for W Magazine.

Benedict Evans
Selena Gomez at the 2018 Met Gala. Photograph by Benedict Evans for W Magazine.

Benedict Evans
Katherine Langford at the 2018 Met Gala. Photograph by Benedict Evans for W Magazine.

Benedict Evans
Jasmine Sanders at the 2018 Met Gala. Photograph by Benedict Evans for W Magazine.

Benedict Evans
Rosie Huntington Whiteley at the 2018 Met Gala. Photograph by Benedict Evans for W Magazine.

Benedict Evans
Kate Upton at the 2018 Met Gala. Photograph by Benedict Evans for W Magazine.

Benedict Evans
Winnie Harlow at the 2018 Met Gala. Photograph by Benedict Evans for W Magazine.

Benedict Evans
Alek Wek at the 2018 Met Gala. Photograph by Benedict Evans for W Magazine.

Benedict Evans
Zendaya at the 2018 Met Gala. Photograph by Benedict Evans for W Magazine.

Benedict Evans
Priyanka Chopra at the 2018 Met Gala. Photograph by Benedict Evans for W Magazine.

Benedict Evans
Migos at the 2018 Met Gala. Photograph by Benedict Evans for W Magazine.

Benedict Evans
George and Amal Clooney at the 2018 Met Gala. Photograph by Benedict Evans for W Magazine.

Benedict Evans
Lena Waithe at the 2018 Met Gala. Photograph by Benedict Evans for W Magazine.

Benedict Evans
Ariana Grande at the 2018 Met Gala. Photograph by Benedict Evans for W Magazine.

Benedict Evans
Kim Kardashian at the 2018 Met Gala. Photograph by Benedict Evans for W Magazine.

Benedict Evans
Travis Scott and Kylie Jenner at the 2018 Met Gala. Photograph by Benedict Evans for W Magazine.

Benedict Evans
Blake Lively at the 2018 Met Gala. Photograph by Benedict Evans for W Magazine.

Benedict Evans
Bella Hadid at the 2018 Met Gala. Photograph by Benedict Evans for W Magazine.

Benedict Evans
SZA at the 2018 Met Gala. Photograph by Benedict Evans for W Magazine.

Benedict Evans
Kendall Jenner at the 2018 Met Gala. Photograph by Benedict Evans for W Magazine.

Benedict Evans
Janelle Monae at the 2018 Met Gala. Photograph by Benedict Evans for W Magazine.

Benedict Evans
Emily Ratajkowski at the 2018 Met Gala. Photograph by Benedict Evans for W Magazine.

Benedict Evans
Daniel Kaluuya at the 2018 Met Gala. Photograph by Benedict Evans for W Magazine.

Benedict Evans
Gigi Hadid at the 2018 Met Gala. Photograph by Benedict Evans for W Magazine.

Benedict Evans
Katy Perry at the 2018 Met Gala. Photograph by Benedict Evans for W Magazine.

Benedict Evans
Paris Jackson at the 2018 Met Gala. Photograph by Benedict Evans for W Magazine.

Benedict Evans
Madonne and Nicki Minaj at the 2018 Met Gala. Photograph by Benedict Evans for W Magazine.

Benedict Evans