American Horror Story: Cult Episode 2 Recap: Horror Ripped Straight From the Headlines
It feels like this show is happening in real time.
---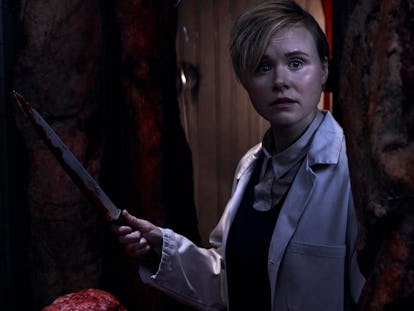 Copyright 2017, FX Networks. All rights reserved.
If September 2017 was a good time for anyone, it was for evil clowns (both fictional and presidential). Last weekend, It raked in over $130 million, a historic box office that smashed records for fall openings as well as for any horror film opening. For catharsis, send in the clowns. And at the top of this week's episode of American Horror Story: Cult, clowns we get, this time in the form of season four's Twisty, who terrorizes young Ozzie. But it's just a dream, or so we think.
Townie alt-righter Kai is on TV news talking about his beating—which he egged on last week—playing it as a brutal attack by migrant workers. "When President Trump called them criminals and rapists, he was viciously attacked by the PC police," Kai says vulnerably on the local news. (The attack was filmed by a white, 1%-type couple—we'll meet them later.) Kai announces that he intends to run for a seat on the city council, stretching his 15 minutes of fame into a bid for office. Sounds familiar!
New neighbors move into the Changs' former house, across the street from Ally and Ivy. They appear, as neighbors in horror often do, a little strange. It's the same couple that took the video of Kai, and they're tacky, gaudy, and mismatched. They wheel giant barrels into their garage, so Ally goes to check out what's in the house. They've moved in décor like red velvet, mannequins, and other ephemera. The husband, wearing a Hazmat suit, spots Ally and she runs off.
At the Butchery, a chef spouts racist rhetoric in the kitchen about speaking English only, fueled by Kai's attack. He singles out Pedro, a longtime employee. They get in a scuffle and Pedro pulls a knife, but the situation is diffused.
At the Mayfair-Richards house, Winter is somehow still Ozzie's babysitter, and says creepy things to him like, "People are going to believe want they want to believe. The trick is figuring out what they want and then giving it to them." Clearly, her failure in the Hillary campaign has taken a dark turn. Has she picked up her copy of What Happened yet?
She asks Ozzie to give her his pinkie, in an echo of what Kai did to her in the last episode. "If you lie, I'll know," she says. It turns out that Ozzie was telling the truth about the murders across the street: Winter did bring him to the house to watch. Later, when Ally and Ivy get home, Winter coolly tells them Ozzie is across the street with the neighbors, alone. Time to fire the babysitter.
But even though both moms rush over, it turns out everything's fine. Ozzie is excitedly learning about the beehives that the neighbors keep in the back. (The posters for this season, as well as the title sequence, hint at bees and hives playing a sinister role.) Meet Harrison and Meadow Wilton: They have a bee colony. Nothing to see here.
There's some awkward small talk between the Mayfair-Richards and the Wiltons, whose shallow, flamboyant manner reeks of reality-TV rejects. "I always say the best way to bring up property values is to have some lesbians move in," Meadow says, to Ivy's disgust.
The Wiltons apparently called the owners the minute they heard the news. We get glances between Ally and Ivy. "We had a feeling the owners would be motivated to sell," the Wiltons say, expecting everyone else to get the joke. In their crass materialism, there's something less-than-subtly Trumpian about these people, who freely admit they had bad credit and went bankrupt, hence their ruthlessness about the house. "You guys are so honest," the Mayfair-Richard's say. "That's the way of the world now,'" they answer. Zeitgeist hive.
Once inside, Meadow reveals that she had skin cancer. "It's global warming." The Wiltons are a weird metaphorical lot; they embody the self-righteousness of the left and the right simultaneously. "I work from home now and Etsy is my life," Meadow admits. Oh, and they're the chapter presidents of the Nicole Kidman fan club. "Have you seen Big Little Lies? She's transcendent," Harrison gushes. Wait, what? But no shark is jumped here: Meadow quickly reveals Harrison is gay. Apparently he goes to Detroit one night a week, and Meadow doesn't like to be touched because of her skin cancer. Uhh. The Mayfair-Richards need to go. The neighbors are sad—don't they want to watch Real Housewives (even Atlanta) or go to SoulCycle? Ally comes out with it, and says she's upset that they don't care about what happened to the former tenants. The blood, we notice, is still on the floors.
Later that night, Ozzie is scared and comes to sleep in bed with his moms. (There's plenty of room, it's a California king.) But they soon get a call saying that the alarm went off at the Butchery—and Ally, in an effort at tackling her fears, goes over to turn it off. And, of course she ends up finding a dead body in the meat locker. It's the chef from the previous scene. In the next shot, they're rebolting their doors at the house. The police suspect Pedro, given that he pulled a knife on him earlier, but Ivy is certain it wasn't. Ivy is also worried about Ally's anxiety—she has Dr. Vincent come over to the house to suss things out. Turns out Ally got a gun from those eccentric new neighbors. Her doctor is worried but can't do anything.
Later, Kai comes around to shop his candidacy, and greets Ally at the barred door. He gets his xenophobic, paranoia-tinged info and stats from Facebook, but of course. He plays with Ally's deeply rooted liberalism: It's all fine until they're coming for you, he warns, pointing out her newly installed barred doors, that she won't let him inside.
That night, Ally is home alone with Ozzie and Winter while Ivy works at the restaurant. Winter tries to seduce her, creepily showing up as Ally takes a bath. Are we to believe Ally's nerves only kick in when it comes to her kid and clowns? She's not alarmed by Winter's presence one bit. Winter has an especially easy time of putting Ally in a compromising position, and almost kisses her, when the alarm sounds. Power outage. The Wiltons claim it's the terrorists, whoever they are. Except we sort of do: the clowns.
Ally freaks out and tells Ivy to come back, but she's chained to the restaurant. Her phone dies, without the two getting to connect on what to do. Ivy has a coworker, Pedro, go over to bring Ally a charger pack and supplies.
Back at the house, Ally is in full-on flipping out, and Winter leaves despite Ally's pleas that it isn't safe. She, like, needs her laptop! The clowns are coming for Ally. After anxiety attack after anxiety attack, Ally tells Ozzie they're going to run to the neighbors across the street, but when she opens the door, a shadowy figure is there. Ally shoots… and the moment after, she realizes it was Pedro.
Is beating us over the head with political flashpoint after flashpoint the real horror story? The scariest part of American Horror Story: Cult, so far, is how steeped in reality it is.
Related: American Horror Story: Cult Premiere Recap
Photos: Sarah Paulson Won't Be Typecast, On Screen or Off
Sarah Paulson wears an Alexander McQueen bra.
Photo by Mona Kuhn, styled by Patrick Mackie. Hair by Dennis Gots for Kerastase at The Wall Group; Makeup by Jo StrettelL for Lancome at Tracey Mattingly.
Sarah Paulson. Photo by Mona Kuhn, styled by Patrick Mackie.

Mona Kuhn
Sarah Paulson wears an Alexander McQueen dress and bra.
Photo by Mona Kuhn, styled by Patrick Mackie.
Sarah Paulson in Altuzarra at the 2016 CFDA Fashion Awards in New York, New York, June 2016. Photo by Getty Images.
Sarah Paulson with Holland Taylor in New York, New York, December 2015. Photo by Getty Images.
Sarah Paulson with Holland Taylor in New York, New York, October 2015. Photo by Bruce Glikas/FilmMagic.
Sarah Paulson and Cherry Jones during Cherry Jones Reception Hosted by Paula Wagner at CAMPANILE restaurant in Los Angeles, CA, United States. (Photo by E. Charbonneau/WireImage for CW Productions)
Cherry Jones, Christian Slater, Sarah Paulson and Jessica Lange
See what's trending on W video: